05.28.10
Gemini version available ♊︎
"Why join the navy if you can be a pirate?"
–Steve Jobs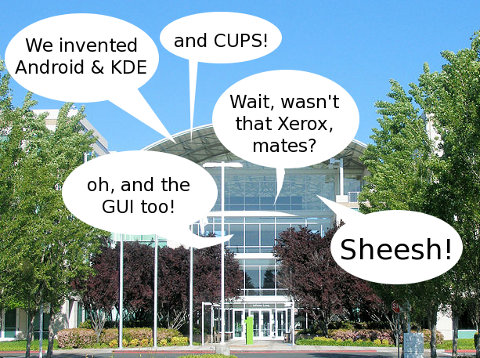 Summary: Apple's hoarding of control continues now that WebKit™ (originally KDE codebase) becomes a project it can control even by name
EVERYONE'S MOST POPULAR sect technology company is all about sharing love and distributing code — so much so that the code it took from KDE some years ago (leading to a controversy because it had not committed to giving back) is not only maintained in state where it's centralised under Apple (with Google increasingly participating too) but it's also becoming a real ownership of Apple in the naming sense. Need companies start asking Apple for permission in order to use the word WebKit™, which roughly translates to "KHTML the Apple way"?
Apple files for WebKit browser trademark

WebKit, the open-source project behind Apple's Safari browser, is a pretty obscure name to ordinary folks. And perhaps Apple wants to keep it that way, judging by Apple's May 18 WebKit trademark application.
Now that Apple is under fire for GPL violations (as stated by the FSF, which wishes to prevent Apple from illegally using GNU code against GNU itself), one ought to (re)think about Apple's role in Free/Open Source software — code which worked pretty well for Apple, as long it 'consumed' and gave little or nothing in return. █
"Theres always a group of people that wants to undo the forces of industry that have given us so much in terms of wealth, and theres always people who want things to be free. The open-source movement starts with those sort of people. But it still has such good points that have nothing to do with whether its free or not. The idea of developing something and then making your solution known. Spread the information so the world can grow from it."
–Steve Wozniak, Apple co-founder, 2007
Permalink

Send this to a friend