12.15.10
Gemini version available ♊︎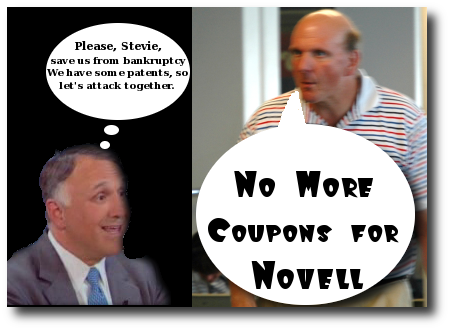 Summary: Microsoft's patents ally is falling on its face and fails to impress even in its last-ever financial report
Our call to "boycott Novell" is approaching its end of life because Novell is on the verge of being no more. It's down to administrative processes and there is more new coverage mentioning the Microsoft/AttachMSFT/Novell deal, e.g.:
There are still attempts to stop this takeover, with new litigation from Joseph Klein including posts attributed to him. There is also Shainberg's motion and maybe the deal won't go through (although compensation to the claimants is more likely as a compromise, if any).
This happens to have happened shortly before Novell's quarterly results (December 2nd), which got covered in the financial news, more recently in:
To highlight some particular news items, here is the forecast saying that Novell's sales will dip. With a press release coming it was rightly stated that: "In an earlier announcement, Novell canceled its earnings conference call to discuss these results. Novell has entered into a definitive agreement to be acquired by Attachmate Corporation." Here is some more coverage and Novell's press release [1, 2] preceding some informed analysis:
Software maker Novell – which is in the process of selling itself to Attachmate and Microsoft for $2.2bn – reported its financial results for its fourth quarter of fiscal 2010 ended October 31. Rather than face a lot of pesky questions from Wall Street analysts, the top brass at the company ducked out and just pumped out a press release.

Novell didn't do too badly in Q4, all things considered, with sales only down 4.2 per cent to $206.5m. Software license sales were $31.3m, down a smidgen from the year-ago quarter. Maintenance and subscription sales were off 4.2 per cent, mirroring license declines, at $153.3m, and services revenues fell by 9.7 per cent to just under $22m. In the quarter, Novell booked $308m in non-cash tax benefits related to "certain net deferred tax assets," which would have been interesting to explain.
The only positive point was due to tax benefits. Groklaw writes: "Partnering with Microsoft didn't work out, then? They made more money from Linux outside of the Microsoft arrangement? What a surprise." Groklaw cites and quotes this article:
Novell cancelled its scheduled analyst call to discuss the results and declined to comment to InternetNews.com.

[...]

Novell has a multi-year partnership with Microsoft to resell SUSE Linux Enterprise Server (SLES) support subscriptions. On an overall earnings basis, Novell's Linux business actually declined during the fourth quarter of 2010.
Tax benefits are also mentioned here. They are not indicative of any real success.
Novell Inc.'s fiscal fourth-quarter earnings surged as the software maker cashed in some tax gains before it's taken over by Attachmate Corp.
In a later post today (we have a lot to say about Novell) we will show that AttachMSFT makes Novell even more dangerous than the 'old' Novell. It's a matter of software patents, which we wrote about extensively this morning. █
Permalink

Send this to a friend