06.22.11
Gemini version available ♊︎
Captain patents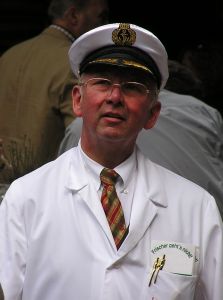 Summary: How the proprietary software cartel continues to harm adoption of GNU/Linux, mostly by aligning against Google
SHARING CULTURE is under attack. The companies that thrive in artificial scarcity just cling on to a retarded state of affairs. In a lawsuit that was mentioned here twice before [1, 2] (and also noted in Reader's Picks earlier today), Redmond attacks BitTorrent using software patents. Prof. Webbink's Groklaw has a more in-depth analysis of the case, starting with: "Peer-to-peer provider BitTorrent is somewhat familiar with being at the center of copyright controversies, but last Tuesday, June 14, it entered the realm of patent disputes when it was sued by Tranz-Send Broadcasting Network, Inc., a Delaware corporation, for infringement of Tranz-Send's U.S. patent number 7,301,944 (the '944 patent). The '944 patent, entitled "Media File Distribution With Adaptive Transmission Protocols," was filed on April 16, 1999, and issued November 27, 2007."
More interestingly, however, Groklaw has begun addressing the Google case again, in light of reexamination attempts. Watch what Google is doing to basically jeopardise software patents again (not for the first time):
Oracle has experienced another setback in its assertion of its patents against Google. In the reexamination of U.S. Patent 6192476 the USPTO has issued an office action in which it rejects 17 of the patent's 21 claims. The specifics of the office action are set forth below in text form along with an updated reexamination history. While Oracle has asserted seven different patents in its claims against Google, if this reexamination is exemplary of what Oracle can expect in each of the other reexaminations, Oracle will have a hard time finding claims that it can successfully assert against Google, and there lies Oracles conundrum. Oracle either has to agree with the court's directive to limit the number of claims it will assert at trial, or it is likely the court will simply stay the trial until the reexaminations are complete.
The above case, being a case against Linux, is something that Microsoft Florian promotes passionately, even with his old friend Dana Blankenhorn, who still offers a platform to Florian's lies and distortions. Does the bias not tell everyone who Florian's latest client is aligned with? Remember that this guy is a lobbyist. He has been doing this for selected clients for quite a few years now. He is still working to shoot down Google's acquisition of Nortel's patents (for defensive purposes) and now we see that Apple too — not just Microsoft — is standing in Google's way.
Nortel Networks Inc. has received significant level of interest in patents that can be used for smartphone technology. Accordingly, it postponed an action sanctioned by a bankruptcy court in the United States from June 20 to June 27, at 9:00 a.m.
Remember that Apple has two ongoing lawsuits against Android, one against HTC and one against Samsung. Oracle, Microsoft, and Apple are all patent aggressors; Google is not. Whereas the former 3 snatched Novell's patents, Google has so far attempted to even crush software patents as a whole. So whose side should a Free software supporter take? █
Permalink

Send this to a friend