09.25.11
Gemini version available ♊︎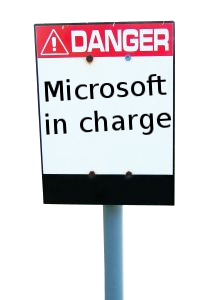 Summary: How Silverlight died and why it is highly probable that Microsoft will always fail in the mobile arena
OVER a year ago we explained the connection between Vista Phony 7 (WP7) and Silverlight. That was just before Silverlight died. What's amazing is that a lot of people forget that the fall of Silverlight is a prelude to the fall of WP7. One loosely depends on the other.
Windows Mobile was a massive failure that cost Microsoft a lot of money before Sidekick and KIN injured Microsoft as well (Microsoft tried to hide those losses). Just like in search, Microsoft keeps swapping brands, always with the same outcome and the same amazing losses.
According to this, Microsoft may have started a disinformation campaign for WP7. To quote Christine: "I can't swear this item is Microsoft FUD, but it sure smells that way. On Wednesday a writer on CNET's Microsoft beat reported on a study released by NPD Group. Although the article is never quite clear on exactly what is being studied (unless I missed something – tell me), the point seems to be that lots of potential buyers just can't wait to get their hands on Windows Phone 7. Again, I could be wrong, but this sounds like the beginning of some sort of Redmond financed campaign to me."
Since it is based on XAML to an extent, its fate is closely related to that of Silverlight, whose own people say was "destined to fail". Quoting the new blog post:
Why Silverlight was destined to fail and my time as one of its custodians.

[...]

Death of Silverlight is sad, but at the same time good. Yes I said it, as for years I've sat behind this product watching it grow in an amazing ways across the globe. It went from this science project existence that I remember saying it wouldn't last through tot his highly competitive technology that had both Microsoft and Adobe at each other's throats over.

The war between Adobe ended though and over time the technology become somewhat a questionable approach to solving a whole bunch of issues within the .NET community.

So how did we arrive at this point? Here's my mini memoirs of my time at Microsoft and in the Silverlight Product Management / Evangelism space.

It's a long read, but take some time to stick process it all. I've left out a whole heap of juicy crap, simply because it would turn into a novel!!! And you wouldn't believe me if I wrote it anyway.
The failure of Silverlight will cascade down to other Microsoft products. Vista was supposed to make a lot out of XAML and it failed. █
Permalink

Send this to a friend