11.23.11
Gemini version available ♊︎
Barnes & Noble vs. Mindless Gorilla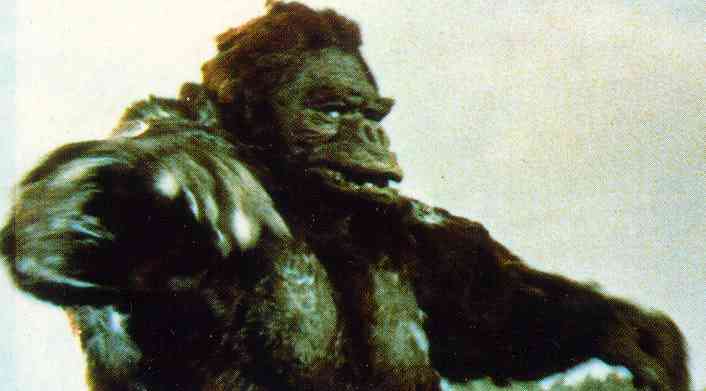 Summary: Barnes & Noble challenges specific Microsoft patents and other Microsoft patents are being ridiculed not just for triviality but for their daunting effect on society
EARLIER this month we became aware of an important development that could put to rest Microsoft's racketeering-type practices against Linux/Android. Microsoft uses patent trolls and threats (under NDAs) to raise the cost of the competition while making a cash cow out of it. The injustice is clear and action is required.
Mr. Pogson adds his 50 cents to this news which we already covered and correctly points out that:
The reason B&N can do that so easily is that there is rarely anything new in software. The machines limit the possible steps to what will fit in storage. Anything is possible and if you know how to do X and Y, you automatically know how to do X+Y. It's obvious and so unpatentable. It's so hilarious. At one point, B&N even lists IE 1.0 as prior art preventing an invention being patentable. It's true. M$ filed a patent application for something it had already inflicted on the public. Patents may only be issued for something novel. No matter how many hundreds of patents M$ claims Linux violates, Linux violates nothing because it's all been done before M$ even existed and patents if any from the good old days have long since expired.
Over at IDG, decent coverage exists as well. To quote:
Barnes & Noble has fired another broadside against Microsoft in its defense of accusations that the retail bookseller violates Microsoft patents in its Nook eReader device.

According to legal observer site Groklaw, Barnes & Noble has filed a supplemental notice of prior art that contains a 43-page list of examples Barnes & Noble believes counters Microsoft's claim that Nook violates five of Microsoft's patents.

Barnes & Noble is being particularly noisy about the patents Microsoft is leveraging against the Nook, as it sees Microsoft as launching this lawsuit against Barnes & Noble and co-defendants Foxconn and Inventec as an effort to derail the Android operating system and device sales, as opposed to a genuine need to protect Microsoft's innovation.
Barnes & Noble did a wonderful thing for the community (and itself) and Groklaw organised the evidence nicely for those who do not read legal documents.
Neil Richards has an interesting new article which states this:
Why Is Microsoft Missing From Good Causes?

[...]

Microsoft is one of those companies which failed to earn any respect from its users. People use Microsoft products because they are forced to use them. Every PC comes pre-installed with Windows thus you have to use it. They tried very hard in the early days to block and kill every other operating system. On the contrary Apple Mac and Linux is something people 'choose' to use. Same happened with IE, Bing and MS Office. The moment users started to get alternatives they switched.

Now Microsoft is using its FUD strategy and bogus claims to attack Android. Microsoft's Android extortion scam was exposed by Barnes & Noble, and it sends a message to all such companies who are being threatened by Microsoft to not sign any such deals with the extortion racket that Microsoft is running.

All these unethical business practices make one wonder what is Microsoft, as an abusive monopoly, doing to make the world a better place? You will find Microsoft missing from the picture. When you ask what are they doing to ensure freedom and openness of the web? You will find them on the other side, helping out the 'bad' guys to take control of our lives and make it miserable.
Microsoft was never quite so popular. The company's entire history is paved with stories about deceit, theft, sabotage, cheating, and obstruction of justice. Google is currently trying to catch up with the patent race [1, 2] and Microsoft lobbyists berate Google over it. It's all part of the spin. To quote an example of it: "Despite being a very vocal opponent of software patents and how they're used, Google recently applied for a patent on its variant of a slide-to-unlock feature. If you've ever participated in, or even observed, the heated debates over software patents, then you're likely familiar with Apple's slide-to-unlock patents (the first issued in 2010; the second issued this year). It's a controversial topic and Google's attempt to get into this patent space is interesting — so let's take a closer look at what's actually going on."
In this case, as Google never sues with patents and is only being sued (directly or directly) with them, it is reasonable to let it slide [pun intended]. As long as Google is vocally against software patents, its patents are no worse than Red Hat's, for example. Mike Masnick writes about the legal counter-action which we suspect is backed by Google:
Barnes & Noble Revealing Microsoft's 'Secret' Patents, Which It Believes Cover Android

Earlier this year, Microsoft continued its shakedown war against all things Android by suing Barnes & Noble for patent infringement over the Nook. As we discussed, B&N is fighting back in a big way, claiming that Microsoft's shakedown tactics are an antitrust violation. As that effort moves forward, it's beginning to reveal a ton of useful info. While Microsoft continues to try to keep the patents it's using in these shakedowns "secret," B&N has been revealing them.
Given that Google recently promised to help victims of Microsoft racketeering, it seems reasonable to assume that Google plays a role. That's good. Here is what one blogger writes about the pertinent patents:
Here's a rundown of the five patents in question:

5778372 – A browser remotely retrieves electronic documents from a remote computer network for viewing by a user. For enhancing responsiveness, the browser initially displays an electronic document without a background image so that the electronic document is initially displayed more quickly. The browser also prioritizes downloading of embedded images of the document by their incorporation in the currently visible portion of the electronic document. Further, the browser dynamically creates additional connections for retrieving resources incorporated into the
electronic document from the remote computer network.

5889522 – New varieties of child window controls are provided as system resources that application programs may exploit. The preferred embodiment of the present invention provides a dynamic link library (DLL) for implementing the new child window controls as part of an operating system. The new child window controls include a header bar control for providing header bars in application programs. The new controls also include a hot key control that allows a user to view and edit hot key combinations. The new controls further include a tab control for establishing tabs that differentiate amongst pages in user interfaces provided by application programs. An image list data type is defined and functions are provided for manipulating the image list data type. Image lists include multiple like-sized images that are stored efficiently in a single bitmap.

6339780 – Described herein is a portable computer having a limited display area. An Internet or other hypermedia browser executes on the portable computer to load and display content in a content viewing area. During times when the browser is loading content, the browser displays a temporary, animated graphic element over the content viewing area. The graphic element is removed after the content is loaded, allowing unobstructed viewing of the loaded content.

6891551 – A computer system and method for highlighting and selecting elements of electronic documents is disclosed. In one embodiment, a selection area identifies an initial selection of data, and one or more selection handles appear on the selection area to allow dynamic resizing of the selection area to select a larger or smaller portion of data or number of items.

6957233 – A system and method for capturing annotations for a non-modifiable document is disclosed. Once it is determined that an annotation is to be created, the system determines the file position of the selected object. The file position of the selected object is stored along with the created annotation in another file or a non-read only portion of a file storing the document. Using the file position, the annotation may be properly identified with the selected object without modifying the non-modifiable document.

For patent 5778372 alone Barnes & Noble offers up an amazing 172 examples of prior art, going all the way back to the Spyglass Mosaic web browser that Internet Explorer was based on. It seems that Barnes & Noble is determined to make Microsoft's patents seem 'trivial' and 'insignificant' and that the Redmond giant is using them to damage Android growth.
These should be easy to trash. If successful, this can derail Microsoft's previous patent 'deals' and end this whole madness. Google now knows the patents and it can work on abolishing those through re-examination (taking triviality and prior art into account). This might not help end against Microsoft's passage of patents to patent trolls, but this too is something that the complaint explicitly covers. It seeks to get regulators involved and the perpetrators get named. The Microsoft boosters who wrote about it just try to spin Microsoft out of this mess. It won't work. Microsoft's appalling antics are out there for the world to see. "When Barnes and Noble went public with their 43 page prior art against Microsoft claims of infringement through Linux based Android," explains one poster in USENET, "it contained a whopping 172 separate items of prior art [...] Proving those unbelievable patent trolls employed by Microsoft are retards [...] It wiped 6 billion off the share value of Microsoft while other technology firms gained or stayed where they were at.
"Was it worth going after Barnes and Noble and Android?
"Not any more it isn't!!!
"It immediately sank Microsoft shares $6 billion below IBM share value pushing IBM valuation to 218 billion dollars while Microsoft fell to 212 billion. Google shares in relative proportion pushed itself to 91% of the valuation of Microsoft Corporation."
There are reports right now of table-sized Android devices which further challenge Microsoft in yet another area. Homer writes in USENET that "Microsoft did not invent surface computing," as we also showed here some years ago (with examples). "It didn't even invent multi-touch [either]," he adds, providing several examples. "In fact, like Apple, Microsoft has never invented anything, ever, and therefore doesn't deserve even a single brass cent in "royalties" for any of its plagiarised and assimilated technology.
"Apple and Microsoft are not in the business of invention," I responded, "they are in the business of marketing and branding, not even mass production (this they just delegate to companies like Foxconn). The marketing is further assisted by back room deals (bribes), litigation, and other forms of extortion."
Following the move from B&N there was resurgence in the stock and RonB notes: "Comments, updates and disclaimers: This article was published on November 10th. Since then Barnes & Noble's stock value has risen to $16.58.
"Unfortunately, I don't think the DOJ has actually opened an investigation into Microsoft's patent troll tactics in this case (yet), but maybe the writer of the article knows more than anyone else?
"But the fact remains that, thanks to Android devices, Barnes & Noble's market in ebooks has risen to over 27% and now a company that was "on the ropes" is roaring back.
"Will be interesting to see how this antitrust case will play out. This could be the beginning of the end for Microsoft's and Apple's patent extortion."
There is some other news about outrageous Microsoft patentsand the 'Microsoft press' covered this positively along with other Microsoft boosters — people to whom Microsoft is like a family. Contrariwise, Homer says that "Microsoft patents Big Brother thoughtcrime technology". It is not just that Microsoft is patenting ridiculous things; these things are malicious, too.
We have touched on that some days ago and the patent was mentioned before, so we won't go into that again. To quote, "Microsoft has filed a patent for a system that monitors the behavior of employees via computers, phone calls, and physical gestures, and alerts human resources if anyone is behaving outside of preferred norms." The non-Microsoft sites are not particularly impressed. It is bad enough that Microsoft uses patents it never ought to have been granted to extort its rivals; but some of Microsoft's other patents are making our society worse. Let us remember what Microsoft does with its file system patents, taking payments from everyone for inferior file systems so prone to losing data. Tuxera played along with this and it continues to help Microsoft spread its tax to Linux and Android. Homer says that "Competition" is "a word Redmond is going to have to learn in a big hurry. …and, as mentioned, competing with $0 is *really* difficult.
"Microsoft found a way to compete with zero cost: It's called patent extortion to drive up that cost.
"Unfortunately for Microsoft, Barnes & Noble may have put the kibosh on that evil plan." █
Permalink

Send this to a friend