01.12.13
Gemini version available ♊︎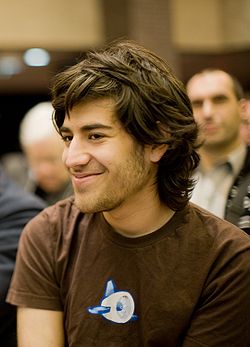 Summary: Aaron Swartz, a man of ethics, is no longer with us
MR. Aaron Swartz, a man of ethics, is no longer with us. What a tragic loss for the world. Here is Wikipedia's summary of Aaron's contributions, which themeselves make a massive — arguably lifetime-worth — contributions worthy of high praises and a special tribute.
"Swartz's father worked in the computer industry, and from a young age Aaron was interested in computing, frequently studying computers, the Internet and Internet culture. At the age of 14 Swartz co-authored RSS 1.0 Specification. He later attended Stanford University, however he left after one year of studying, stating "I didn't find it a very intellectual atmosphere, since most of the other kids seemed profoundly unconcerned with their studies." Instead he founded the software company Infogami, a startup that was funded by Y Combinator's first Summer Founders Program.
"Through the Y Combinator program, Swartz found himself working on the Reddit website. Initially finding it difficult to make money from the project, the site later gained in popularity, with millions of users visiting it each month. In late 2006, after months of negotiations, Reddit was sold to CondéNet, owners of Wired magazine.[3] Swartz moved with his company to San Francisco to work on Wired, but grew unhappy with the set-up[3] and in January, 2007, he was asked to resign from his position. Swartz described himself as being ill and suffering from a constant depressed mood throughout 2007. In September, 2007, Swartz joined with Simon Carstensen and launched Jottit. In 2010–2011 he was a fellow at Harvard University's Edmond J. Safra Center for Ethics.
"Swartz was also the creator of the web.py web application framework, and co-founded Demand Progress, a progressive advocacy group that organizes people via email and other media for "contacting Congress and other leaders, funding pressure tactics, and spreading the word" about targeted issues" █
Permalink

Send this to a friend