05.28.15
Gemini version available ♊︎
Censoring evidence of the censorship, too
"Bill Gates cites copyright enforcement to justify Chinese censorship. Microsoft executives used to call us communists, but they are now clearly revealed as the ones who support communist-style dictatorship."
Summary: Condé Nast has turned Reddit into a platform of censorship after the acquisition
A FEW years ago we published a reader's complaint about Facebook censorship. It is widely known that Facebook engages in heavy censorship (usually silently, e.g. by omission), not just in heavy surveillance. Today we have confirmatory evidence that Reddit is also overzealously censoring (deleting), blocking, etc. entire accounts. We have heard about this before, we have actually seen this before, but not much has been said or written about this as far as we can tell. Reddit is trying to hide what it does under Condé Nast's wing. Aaron Swartz, a Reddit pioneer, never liked Condé Nast when it became his employer (not by choice). It didn't take him to leave Condé Nast, which generally depressed him and gave him no room for creativity. Being a large corporation headquartered near Wall Street, nobody should expect Condé Nast to have turned Reddit into anything other than adjunct of corporate media, only a shadow of its rebellious (former) self.
Reddit's policy is somewhat sickening. A lot of people don't quite realise how many trolls and spam come from Reddit. Censorship there is directed against anyone who is not good to Condé Nast's business model (they own Reddit), not trolls or spam. Reddit even takes Microsoft money to advertise Microsoft under the guise of Q&A or whatever. The same previously was done with (or for) Bill Gates and pro-Microsoft agenda had run rampant for many years now (including negative comments about sites like Techrights). Condé Nast loves Microsoft and Bill Gates to the point of habitually grooming them, under the guise of 'journalism'. Last year it was revealed (by a whistleblower's account) that Microsoft employs AstroTurfers to leave posts favourable to Microsoft products in Reddit. It speaks volumes, does it not?
Our perception of Reddit it far worse than that of Slashdot after Dice took over. Reddit — like Facebook — is where bold ideas come to die rather than be spread. It's hardly a "social media", it's more like corporate media where advertising is embedded.
Today's story comes from an anonymous reader who has been gagged by Reddit. When he asked about the gagging he was further suppressed by Reddit (hiding evidence of the suppression). He is one of many others who have been treated like this, based on what we have learned over the years, so there needs to be an explanation out there of what Reddit actually does.
"See how Reddit hides messages," told us the reader, "except to the original poster… very sneaky. As far as I can make out, most of the posts are advertisements disguised as fake personal anecdotes. Adverts for the Credit Card industry under disguise as asking for financial advice, or in this case a free advert for the psycho-pharma industry."
Now you see the comment: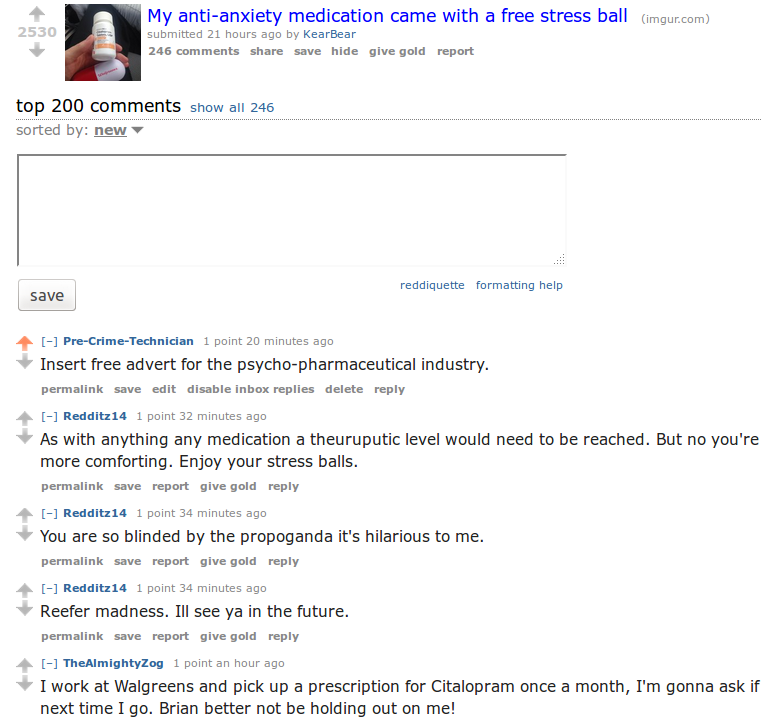 Now you don't (logged out):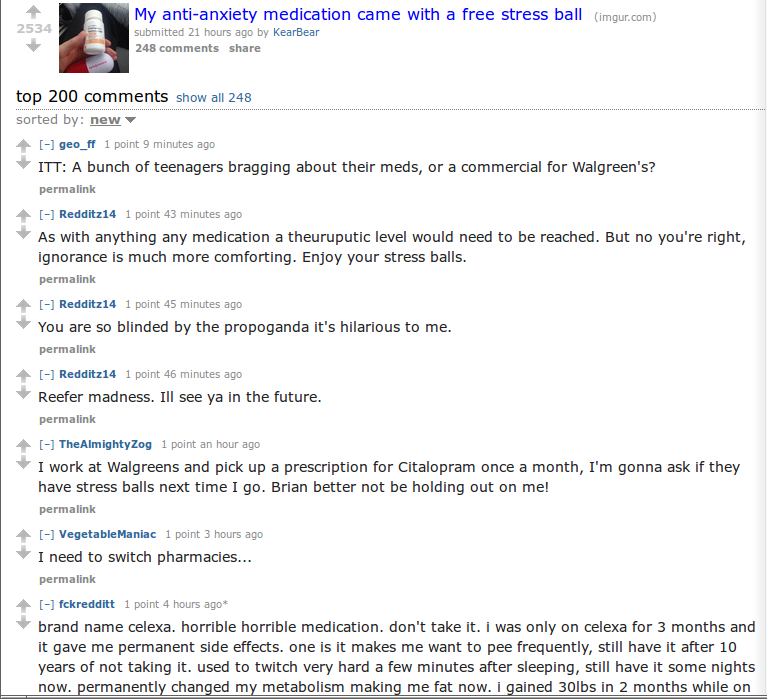 "Well then," he pleaded, "do a story on it over on techrights.org. Have people open an account and see when and if they become invisible. I think it's very sneaky making the posts only visible to the logged in user."
Here are 2 image attachment which show how Reddit deals with accounts. First this: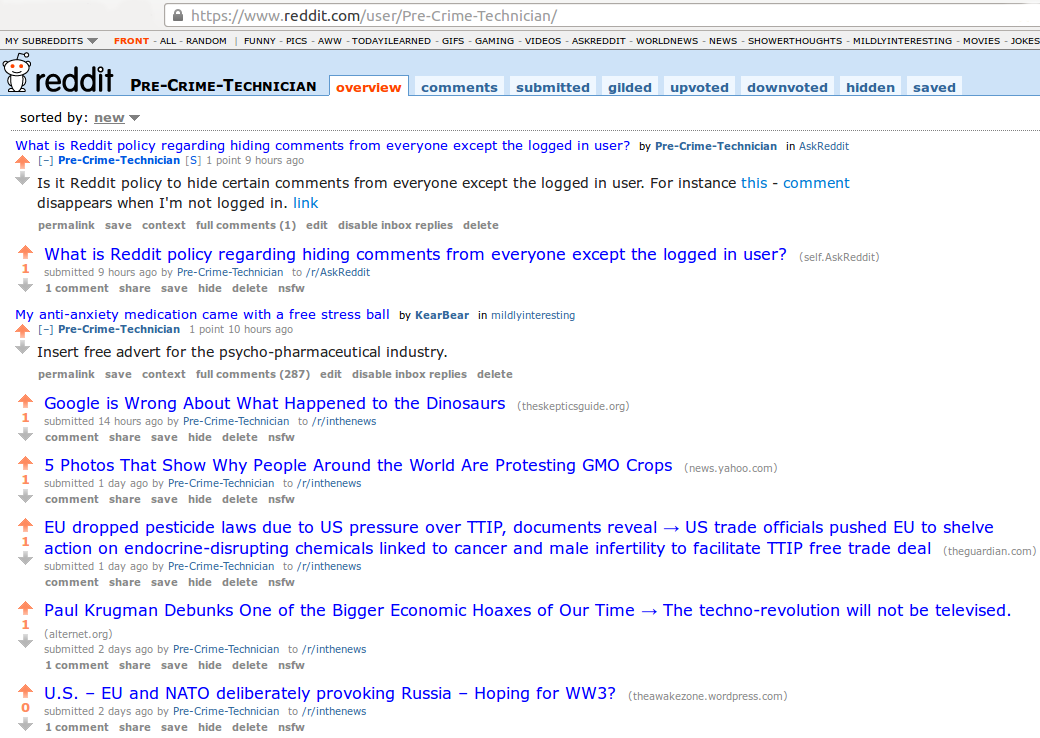 Now it's gone…
So it's virtually banned.
"And apparently the user home page doesn't exist," our reader said, "except only for the logged in user. Can you see the message posted on this link?"
Of course we can't, that's the intention.
This profile page returns a "page not found" error.
That's a ban. "And apparently the user home page doesn't exist," our reader concluded. He is not an agent of some company and he wasn't rude, either.
Reddit remains one of several nasty sites which pretend to be "activism" and pose as "community" while in practice doing the very opposite. Remember who owns Reddit.
We are proud to say that in nearly a decade of operation we never deleted a single comment here. All comments were approved, over 30,000 of them in total, even very vulgar ones. That's what free speech means. Reddit lost its way a long time ago, so free-thinking individual ought to stay out of there. █
Permalink

Send this to a friend