11.19.17
Gemini version available ♊︎
Of relevance and recent: US Patent Trolls Are Leaving and the Eastern District of Texas Sees Patent Cases Falling by More Than Half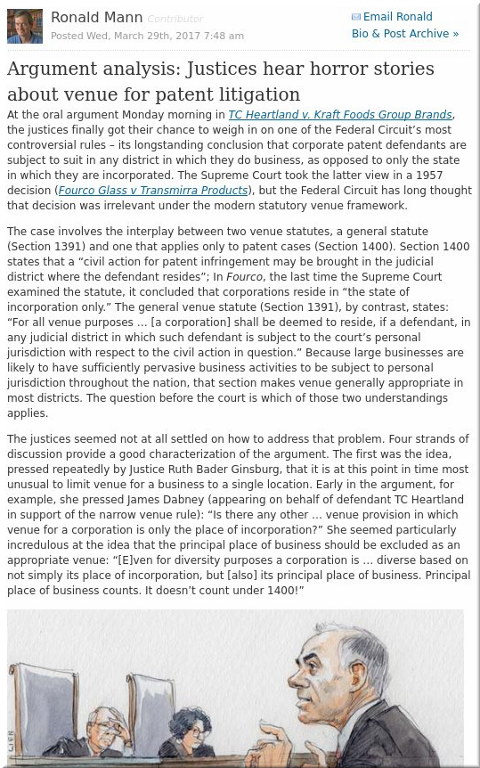 Reference: Argument analysis: Justices hear horror stories about venue for patent litigation
Summary: The latest situation in Texas (United States District Court for the Eastern District of Texas in particular), which according to new analyses is the target of legal scrutiny for the 'loopholes' it provided to patent trolls in search of easy legal battles
According to Lex Machina, which is an invaluable service as we said yesterday, there may be a massive patent troll in the making. Several days ago the patent trolls' lobby said that Alan Loudermilk is behind the entity named 511 Technologies, based in Marshall, Texas (where many of the trolls reside). It's not actually a company, even if it has the word "Technologies" in its name (we recently wrote about other trolls that do this). Loudermilk, who founded this troll, has since then created what looks like another troll, Ginocchio Properties LLC, based in the same place. Will TC Heartland help squash these? We certainly hope so, but in the meantime, we have this to worry about:
Among the segments Maxell no longer operates in is magnetic tape cartridges. Once one of the most recognisable products under the Maxell brand, the company shuttered the division in 2014. That decision left only Fujifilm and Sony competing in the market, and according to USPTO assignments records from September, it is the former company that has benefitted patent-wise from its erstwhile rival's withdrawal. Maxell transferred 53 US patents related to magnetic tapes to Fujifilm in two separate assignments on 1st September. Notably, Fujifilm is locked in a litigation fight with Sony over that same technology. As this blog detailed last week, the two sides are currently contesting an ITC investigation that could have huge implications for the availability of SEP injunctions in that venue going forward.

[...]

Loudermilk's most recent venture is 511 Technologies, Inc, which filed 11 patent suits over the past two years against companies including Huawei, Qualcomm and Microsoft, all of which have resulted in either a voluntary or stipulated dismissal, according to Lex Machina. Previously, he was CEO of Solid State Storage Solutions, Inc, which acquired a portfolio of patents from Japan's Renesas and asserted them against eight companies in 2011 and 2012 before transferring a portion of them to Acacia two years ago.
We wrote a lot about Acacia over the years. It is connected to Microsoft and it has repeatedly attacked GNU/Linux, which makes this troll particularly interesting to us. Another firm of interest is Rovi, which is connected to another Microsoft patent troll, Intellectual Ventures. According to news from four days ago, the ITC was called to potentially ban products. "Rovi asked the ITC to investigate the importation of certain digital video receivers and hardware and software components that use the inventions claimed in its patents," said the report. "Both complaints were filed by Rovi right before it agreed to acquire TiVo…"
Going back to Texas, there are serious and perfectly relevant questions about its fate (and the fate of patent trolls that are based/stationed there, at least on paper). "Texas law of unfair competition by misappropriation improperly extends to offer patent and copyright protections," Patently-O said a few days ago. This could get serious because it deviates from the national law:
On the patent side, the court cited to Bonito Boats, Inc. v. Thunder Craft Boats, Inc., 489 U.S. 141 (1989) statements that state laws that offer "substantially similar" protections are preempted by federal patent law and thus not enforceable.

As with copyright law, the appellate panel here suggested that torts that require "deceit" or "improper means" will be acceptable, but laws that focus simply on protecting the investment in product development and marketing will be preempted.
Of even greater interest, however, is TC Heartland, which is only months old and has already caused a collapse in litigation at Texas. The US will certainly be tougher on patent trolls after TC Heartland got told off at the highest level. This positive development (which is good for US technology companies) was mentioned by Dennis Crouch a few days ago when he said:
Regardless of this technicality, the rule appears now that district courts should be considering and granting improper venue decisions moving forward.
"Federal Circuit says TC Heartland changed the law," heralded another site of patent maximalists. The USPTO refuses to tackle patent trolls (no financial incentive to do so), but judges certainly will take on the issue and it's pleasing to see. Quoting Managing IP:
The Federal Circuit has granted Micron's mandamus petition stating: "We conclude that TC Heartland changed the controlling law in the relevant sense: at the time of the initial motion to dismiss, before the Court decided TC Heartland, the venue defense … based on TC Heartland's interpretation of the venue statute was not 'available'"
Obviously it's all known and visible to patent trolls, who prefer to maintain a low profile and extort/blackmail companies behind the scenes (avoiding challenge from judges like the above). Whether trolls get eradicated by a series of rulings depends on Congressional action (or inaction) too. That's where lobbying comes into play. We'll deal with that in our next post. █
Permalink

Send this to a friend