04.28.18
Gemini version available ♊︎
"Even if the UPC does gets [sic] passed, it is still going to take years and significant effort to repair the damage done by Battistelli."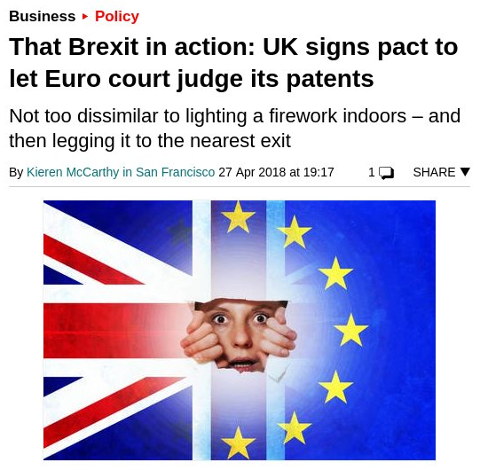 Summary: In the face of Brexit, which shows no signs of abandonment (not yet anyway), UPC is being pushed by the British Minister for Intellectual Property, Sam Gyimah, raising all sorts of legitimate and awkward questions
IT didn't take long for real journalists rather than stenographers of law firms and the EPO to write about this latest absurdity.
Well, published by Kieren McCarthy in The Register on Friday night (around 8PM when many people are already offline) was this article titled "That Brexit in action: UK signs pact to let Euro court judge its patents" and it's similar to what we have said in our two articles about it [1, 2] (so far, there's likely much more on the way).
To quote a couple of portions:
Britain has finally signed up to Europe's unified patent court (UPC) – a long-planned simplification of the continent's patent system – but big questions still remain thanks to Brexit and a federal court challenge in Germany.

"The Minister for Intellectual Property, Sam Gyimah MP, has today confirmed that the UK has ratified the Unified Patent Court Agreement (UPCA)," the UK government said in a formal announcement.

Soon after, the ratification appeared on the European Union's treaty webpage, confirming that it is a done deal.

But despite the UK government noting that "our ratification brings the international court one step closer to reality," the truth is that thanks to the UK's planned exit from the European Union, things are much messier than they appear.

While the UK is signing the treaty as a member of the European Union, by the time the UPC is up and running, it will almost certainly not be a member of said union, if Brexit is allowed to run its course. In other words, the UK has backed a court system that, come next year, may or may not have any jurisdiction over the country.

On one level, the UK – in pursuing its efforts to break free from European laws – has just agreed to abide by European laws: the patent court's decision will have the European Court of Justice as its ultimate decider.

[...]

Thankfully for the EPO, Battistelli will be leaving later this year but his determined drive to get more patents approved each year has led to a complete breakdown in communication between EPO staff and examiners and its management, a drop in patent quality, and earned him numerous rebukes from international organizations and European politicians.

Even if the UPC does gets passed, it is still going to take years and significant effort to repair the damage done by Battistelli.
As usual, comments on such articles are dominated by the anti-EU crowd rather than patent professionals, one of whom wrote: "The contradiction #Brexit <-> UPC cannot be kept under the radar forever. #UPC means: A Danish / … chamber, with a majority of Danish / … judges, on the basis of proceedings in Danish / …, under the surveillance of the #ECJ, can stop production in the UK."
Yes, exactly. This also makes UPC as a whole unconstitutional. How can one be subjected to rulings in languages one does not even comprehend? This among other things is grounds for the Constitutional complaint in Germany (FCC). █
Permalink

Send this to a friend