11.07.19
Gemini version available ♊︎
This morning: It Feels Like EPO Management is Trying to Distract the Media and the Staff From Today's Big Protest
This afternoon: PR 'Innovation': Bombarding the Media With Puff Pieces to Distract From EPO Staff Actions Against Corrupt Management
3 years ago (EPO money to control Dutch media): Battistelli's European Patent Office Broadens FTI Consulting Contract to Undermine the Media, Wastes Millions of Euros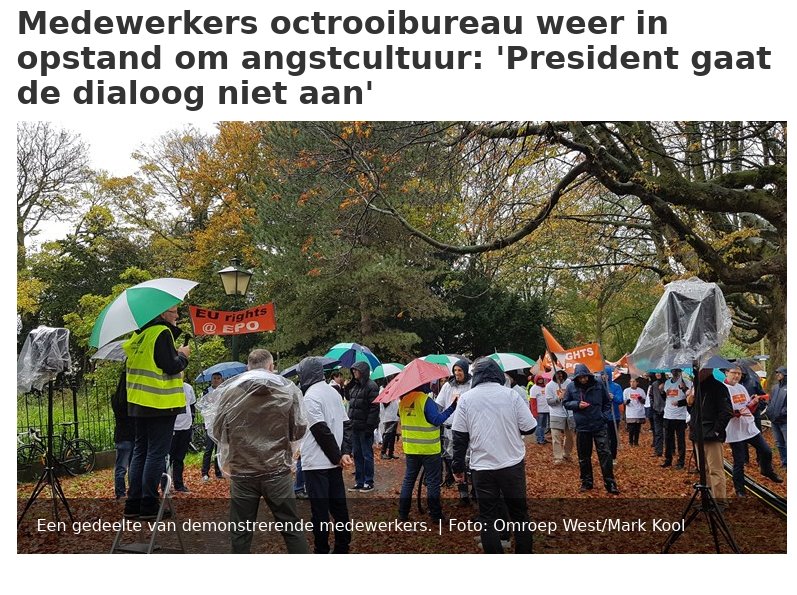 Via: "Medewerkers octrooibureau weer in opstand om angstcultuur: 'President gaat de dialoog niet aan' | #msservicesglobal #Nieuws #media #rijswijk #DenHaag #NEWS #EuropeesOctrooibureau #protest #Demonstratie #politiek #patents #Europe"
Summary: Signs that the EPO's attempts to distract the media (or from the media) aren't 100% effective; workers get their voice heard by some Dutch people
Well done, Dutch media (some of it anyway). Covering what António Campinos (EPO) tried hard to prevent the media from even touching/mentioning.
Will some Dutch-speaking people/workers translate this article into English? Are more such articles on the way?
Honderden medewerkers van het Europees Octrooibureau hebben donderdagmiddag voor de Portugese ambassade gedemonstreerd. Het personeel van het in Rijswijk gevestigde bureau wil dat de nieuwe president, de Portugees António Campinos, met het personeel in gesprek gaat. Binnen de organisatie heerst volgens de demonstranten al jaren een angstcultuur en gebeurt er te weinig om dit te doorbreken.
Permalink

Send this to a friend