08.19.22
Gemini version available ♊︎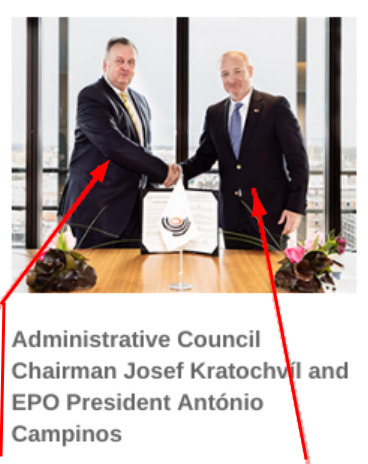 Czech dictator meets well-connected corrupt criminal based in Germany
Summary: The Czech dictator (left) was meant to oversee the friend of Benoît Battistelli (right), but instead he extended his term for another 5 years (after another massive bribery) while securing his own from corrupted delegates (bribed to maintain the cover-up); now we receive threatening letters from Germany, 'on behalf' of a Czech 'artist', targeting our articles about EPO corruption (a panel of ILOAT judges did confirm that it went against the law)
MANY readers wonder why EPO scandals haven't been covered here lately. There's some speculation about that; we too have speculations, but no way to prove them.
Over a week ago I received a bizarre letter. After (or subject to) some redaction (to protect me and my family) I will probably publish the whole thing for readers to see.
One could even make the totally unbacked assertion (no, I am not saying that! Proof/evidence insufficient and even if there was truth to it, they can easily deny it) that maybe some Czech photographer is weaponining copyright law (remember the head of the Czech 'IP' office is the enabler of António Campinos as the chief of the EPO's Administrative Council), having hired some German lawyer to harass me. It would not be unprecedented because the EPO already hired several British law firms — very notorious and aggressive law firms according to my pro bono lawyers — to constantly threaten me over "libel" (of course they backed off when they came to accept I too knew there was no merit for such an allegation). They used to send menacing letters late on a Friday, echoing much of the same script in the latest letters. If there was an attempt to cover up EPO crimes and corruption by leveraging "copyright" law, specifically by harassment and intimidation, wouldn't it be ironic which page/s they target?
Stay tuned. Lots more to come… █
Permalink

Send this to a friend