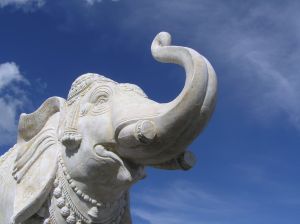 Summary: India does the right thing when it comes to RAND and the world ought to pay attention and mimic this Indian model regarding standards
THERE is some good news regarding software patents in India and also an admission from Microsoft that patents inside standards are not a good idea after all. We'll go through some of the news links we found and explain what they mean.
Glyn Moody, one of the more notable voices as of late against RAND terms ('GPL kryponite'), says that "Microsoft Demonstrates why FRAND Licensing is a Sham" in this
new post
regarding
the Microsoft versus Motorola lawsuit
(where Microsoft is a patent aggressor). As Dr. Moody puts it:
The key part here is that Microsoft accuses Mototola of failing to honour its commitment "to license identified patents related to wireless and video coding technologies under reasonable and non-discriminatory terms and conditions." That is, even when FRAND (called RAND here) has been agreed as the terms under which technology will be licensed, there is no guarantee those terms will actually be "reasonable" (or "fair") in everyone's eyes.

This is exactly what I was suggesting in my previous piece - but even worse here, because this isn't even about the non-availability of "special" terms for free software, but the squabbling amongst traditional proprietary vendors over what FRAND means in practice. Basically, it demonstrates nicely that FRAND means precisely and exactly nothing: grand-sounding though "fair" and "reasonable" may be, in the red-in-tooth-and-claw world of patent licensing, they are hollow words that offer absolutely zero guarantee for those that foolishly take them at face value.

Indeed, Microsoft's action shows that the only way to obtain "fair and reasonable" terms under FRAND is fight for it in the courts - which again is completely impossible for free software projects that are not bankrolled by major companies. This is yet another way in which FRAND is biased against such smaller, players that make up most of the free software world.

Microsoft's latest action provides one more compelling reason why the European Commission should not use FRAND for EIF v2 if it wants to create a level playing field for software in Europe through support for open standards. If it does, the only people who will benefit will be the big, bullying software companies that will simply ride roughshod over any sense of "fairness" or "reasonableness" - and the lawyers.
Simon Phipps too has just
written about RAND
the following remarks (the context being a little different from the above):
One of the unseen menaces to software freedom is bilateral (private) agreements that supersede apparent freedoms. That's a great reason to oppose RAND as a way of licensing patents in standards by the way – RAND ensures the market is not transparent and open becuase it compels participants to engage in bilateral agreements that supersede software freedom.
Fortunately, at least in India, sanity prevails and will hopefully expand to the West. RAND-type terms are being abolished as matter of law (although it's a bit of a stretch to say so). As Pranesh Prakash
put it
:
Very exciting! India's new Open Standards policy's finalized: http://goo.gl/4YfeD [pdf] #openstds
Here is how a Red Hat employee from India
put it
After three years of continuous running battles, India's Department of Information Technology has finalized the National Policy on Open Standards for e-Governance. This incorporates many of the key points submitted by Red Hat. Over the last three years, we worked with our friends in government, academic, civil society and the media to push the Indian government in favor of a policy that mandates a single, royalty-free standard. The final policy and the comments that Red Hat had submitted are attached.
Michael Tiemann, OSI superstar and colleague of the person above,
writes not on behalf of Red Hat
that:
This clause ensures that open standards do not discriminate against open source, which is great news for the free software and open source software communities. More importantly, as India's star continues to rise, this shows that a leading nation of the world can discuss, debate, and decide a policy that balances—and indeed strengthens—the interests of business and the rights of the people. The wisdom and courage of India are on full display today!
This will not stand without a fight from those who oppose software freedom or monetise unnecessary litigation. Our reader Satipera warns of "Pushing #swpats [software patents] in India" under
this new article
from a bias-filled source, obviously a person with vested interests. Dr Anu Vaidyanathan, who describes himself as "founder of PatNMarks, an intellectual property consulting firm," has just been given a platform by
The Hindu
, as if it's intended to provide/facilitate advertising/lobbying needs. To quote parts of this 'plug':
Patent law in India states explicitly that a mathematical or business method or computer program per se or algorithms constitute non-patentable subject matter. In the USPTO, various tests exist to check whether a certain patent is a business method or a software patent. These are applied after the tests for novelty and inventiveness, which are the first-level tests to be applied to any patent, worldwide.

In India, arguably, the precedents that exist for the successive application of these tests are very slim simply because we don't have a vast litigation history in this area — either in Business Methods or in Software. For future reference and purposes of discussion, these are important for two reasons (a) Litigation surrounding technology companies within India, most notably Google, is on the rise in the domain of Intellectual Property and (b) Indian companies are better off knowing the possibility of their patents being accepted based on historical data than to be first filers that set them up in a big way for litigation and other unexpected precedents.

[...]

For a software company, this is probably the best way forward because by applying for a patent, these companies are not trying to limit access to their technology, rather making the case of protecting their fort to avoid the nuisance of trolls or third-party objections to their code-bases, application programming interfaces or platforms.
These are the sorts of people who would rather see standards being 'contaminated' with software patents, in which case Free software gets excluded. Citizens of India should not let the RAND proponents get their way; it would harm all small- and medium-sized businesses, be they proprietary or free/libre. The EU will hopefully be inspired by India now that the debate there is ongoing (with Microsoft front groups pushing for RAND this fall [
1
,
2
,
3
,
4
,
5
,
6
,
7
,
8
,
9
,
10
]); "let's hope the EU gets it while it's hot,"
argues Glyn Moody
.
As you may have noticed, I've been writing quite a lot recently about the imminent European Interoperability Framework (EIF), and the extent to which it supports true open standards that can be implemented by all. Of course, that's not just a European question: many governments around the world are grappling with exactly the same issue. Here's a fascinating result from India that has important lessons for the European Commission as they finalise EIF v2.

As you might expect, the free software community in India has been fighting similar battles to those still raging in Europe.
The FFII has meanwhile found out that the US ACTA negotiator
said
: "I personally don't think there are any problems with the patent system." Yes, it figures. That's where a lot of the RAND trouble comes from.
⬆