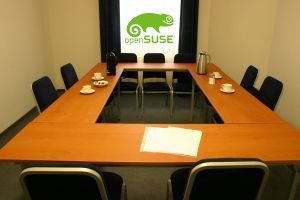 Summary: Advice to OpenSUSE now that a company without any affection towards free/open source software inherits the assets
AttachMSFT is a rather hostile (towards GNU/Linux) takeover and OpenSUSE should fork as soon as possible. It needs a new trademark to go by because AttachMSFT owns it and it might treat it just like Larry Ellison's Oracle treated OpenSolaris. When it comes to SLE* -- just like in Solaris' case -- it's an entirely different story because there is a lot of money to be gained, e.g. via IBM's mainframe business. Here is a new video about it:
SLE* and OpenSUSE should not be confused because they are quite different and as long as companies like Red Hat develop GNU/Linux SLE* does not really rely so much on OpenSUSE. Joe Brockmeier from Novell (he is the former OpenSUSE community manager) doesn't mince words when he says via IDG that
"Attachmate says openSUSE is safe"
and that it's a
"Sad end for Novell: Sold to Attachmate"
(Novell does not call it "sad").
Though many (myself included) had Novell pegged for sale to VMware, the company is being sold mostly to Attachmate with "certain intellectual property assets" being sold to a consortium backed by Microsoft. It's unclear what those assets are, but Novell holds more than 460 patents (according to a quick skim of the USPTO patent database online) and the copyrights to early UNIX, among other IP.
We are going to cover this later (UNIX and patents) because it's a broad subject which IDG
put emphasis on
(posted in several of its domains). The Microsoft booster from
ZDNet
looked at these patents
and
so did Erik Sherman from BNet
. His old headline was apparently "Did Microsoft Hit the Mother Lode with Novell's Patents" (now it is a lot gentler). In part it says:
Add those together, and you still end up with only 748 granted patents or patent applications, which at a minimum leaves another 134 unaccounted for. I have a call in with Novell in hopes of straightening out the question. But even if clarified, it wouldn't be surprising to see a lot of IP lawyers with technology clients searching through the list to see just how much trouble those companies might be in.
Well, that's just another aspect of it. Peter Judge does not seem to understand the WordPerfect case based on
this article of his
:
No official word, but it looks like Microsoft is getting out of a long-running lawsuit as a result of the sale of Novell
The case is not related to patents and there are many who confuse copyrights with patents. Fortunately they got their behinds handed to them. We'll expand on it later.
Going back to OpenSUSE, a publication where Brockmeier writes sometimes has had his colleague publish
"Novell's Acquisition by Attachmate Has A Microsoft Twist, But Red Hat is the Big Winner"
. Despite the increase in perceived risk from Novell patents, Red Hat's stock enjoyed a little rally.
As everyone digests the news of Novell's acquisition by Attachmate, valued at approximately $2.2 billion, there are many who will note that all the signs were there that Novell wouldn't be sustainable as an independent company. We wrote about the war drums surrounding Novell multiple times, and we noted that, since Sun Microsystems was acquired by Oracle this year, a Novell acquisition would leave one company in an advantageous situation: Red Hat. Among other things, the acquisition of Novell leaves Red Hat as the only public, U.S.-based company primarily focused on open source. There are also interesting Microsoft connections to the Novell acquisition, and more.
Brockmeier's other colleague, Susan Linton, who used and recommended OpenSUSE for a long time (along with other distros), wonders
"What Will Become of openSUSE"
, but it's
the update
which matters the most (already covered in the UK technology press [
1
,
2
]).
Update: Attachmate has addressed openSUSE in a statement released November 23. They said,

The openSUSE project is an important part of the SUSE business," commented Jeff Hawn, chairman and CEO of Attachmate Corporation. "As noted in the agreement announced today, Attachmate plans to operate SUSE as a stand-alone business unit after the transaction closes. If this transaction closes, then after closing, Attachmate Corporation anticipates no change to the relationship between the SUSE business and the openSUSE project as a result of this transaction.
Xandros also said that it would take good care of Linspire. It's not a legally-binding obligation, these are just words.
Susan
set up a poll
to inquire about an OpenSUSE future without Novell's commitment or help. The results at the time showed 24% (80 votes) saying that "openSUSE will survive". 4% said that "openSUSE will be axed", 14% said that "openSUSE will be starved", 28% said that "openSUSE will be forked", and 30% just didn't care.
Alastair Otter argues in the South African press that
OpenSUSE faces an "uncertain future"
(his headline boldly states this).
For its part Attachmate said in a brief statement that it planned on retaining Suse Linux as a "stand-alone business unit after the transaction closes." It also said that it foresees "no change to the relationship between the Suse business and the openSuse project."

While this might soothe fears of a sudden demise of OpenSuse in the coming months, there are also some fears that the deal will have far-reaching patent ramifications.

Novell already has a controversial 2007 patent agreement with Microsoft and now, as part of the sale of Novell, Attachmate has agreed to sell a raft of Novell's patents to CPTN Holdings, a Microsoft-backed consortium, for $450m. There could be as many as 882 software patents included in the deal with Microsoft, although for now there is no indication of which patents these will be.

Naturally the open source community is uneasy about this with some commentators suggesting that it may re-ignite the patent wars between Microsoft and the open source community.
The 451 Group
has its own analysis
and OpenSUSE members are trying to act as though it's business as usual in the blogs and mailing lists [
1
,
2
]. "Just a small story about my ambassador life" is
a post published just a couple of days before the big announcement
and Mr. Sascha Manns, an OpenSUSE ambassador, carries on as usual [
1
,
2
,
3
]. There is generally little news in the OpenSUSE world these days (security advisories
occasionally still put it in some headlines
) and Andy from the OpenSUSE community says that "openSUSE Needs to Rebel" in the controversial title of
this new post
.
Over the course of a few years, and after openSUSE was launched, the relationship of openSUSE internally has been one of constant rediscovery and also lethargy. openSUSE heaveily relies on the power of the community and their votes on certain issues, features, etc. Simply put, openSUSE is democratic.

In a sense, this means that openSUSE has developed a system that slows down the process of innovation and has become an acolyte of other Linux distributions such as Fedora and Ubuntu. Fedora, on the one hand, has the fairly advanced support from the Red Hat giant. A company that has enough capacity to make changes which are matured enough and set examples for other distributions to follow. Then Ubuntu has Mark Shuttleworth. A character with a strong personality and defying attitude to break the routine of being a "common" Linux distribution.

In turn openSUSE "had" Novell. A company which had slowed down its business quite a bit in the last years and has not recently been bought out by a company related to Microsoft. Consequently, openSUSE was born dead like a mummy. The problem was that the reliance on Novell to help openSUSE was great and Novell as a company never delivered as did Red Hat to Fedora. Also, openSUSE never had strong personalities to drive its distro development as does Ubuntu. Too fearful to change radically, openSUSE followed in the steps of its godfather Novell and lost personality, for everything was handled and voted on by the community.


OpenSUSE's reputation got 'tainted' by Microsoft, so it's probably a good time to fork. AttachMSFT will obviously not talk about layoffs just day after a major deal; it has not made any contractually-binding agreement, either. Words are cheap and OpenSUSE should not operate based on them. Later in this series we will explain just what type of people run AttachMSFT.
⬆