So the Mafia don leaves without jail time as Mafia tactics are exposed even further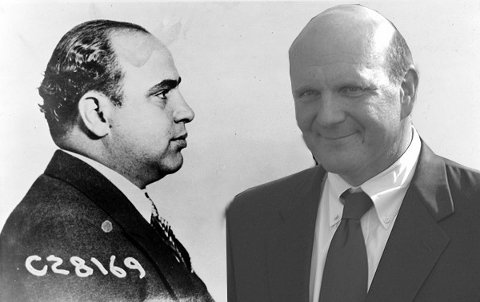 Summary: Interesting timing for Microsoft to announce the future departure of Ballmer, contributing to burial of massive news about Microsoft bribery in many countries around the world
FOLLOWING overwhelming unrest over Ballmer's decisions as CEO (including fraudulent financial reporting) this CEO -- quite expectedly -- is leaving, but the timing is interesting. As Simon Phipps, the head of the OSI, put it:
Ballmer to leave Microsoft



Honestly it's about time and exactly what the company needs if it's to get fixed. Let's hope they get someone who will truly embrace open source rather than firewalling it and paying lip-service to it while secretly attacking it. That's the change I have long said is needed to move beyond stage four of the journey.
The timing makes it sound like a potential decoy. Not only may Microsoft be facing multi-billion-dollar fines, but Ballmer himself may face jail time unless he flees and generates press buzz that hides the real news. What's the real news? Microsoft's sheer corruption again.
Ballmer is unlikely to be put in jail for racketeering and bribery because there is no justice, it's a system that's friendly to criminals who are allowed to get rich and never face consequences when caught (at worst a slap on their wrist). For a super-corrupt company like Microsoft (with track record to show it) that started its corruption under the leadership of Bill Gates it just makes sense to eliminate the old faces right now. And why? Well, some months ago we wrote about
allegations of Microsoft bribery in China
(a no-brainer, but this became a formal investigation, perhaps indicating the same is being done in the UK and elsewhere). There are bribes and gentle bribes and they are not unique to the Chinese market. Over the years we have covered many instances of Microsoft bribes, some of which qualify as "soft" or "gentle" bribes (like exchange of favours or deferred payments). Based on this
explosive report
, Microsoft is in the middle of a massive scandal that could land Ballmer in a jail cell. As
one site put it
:
Microsoft Corporation (NASDAQ:MSFT) bribe probe has now been linked to Russia and Pakistan, which indicates that the matter is actually not confined to just a few contracts but has a wider reach than was previously anticipated, according to a report from The Wall Street Journal.
Notice a
trend among the Microsoft boosters
(or staff), who try to use the groomed villain, Bill Gates, to somehow paint a gentle picture of Microsoft in light of the news, trying to focus on Ballmer leaving. Phipps posted the video to show what a monster this man can be, whereas
Slashdot
's Microsoft Nick (Nick Kolakowski)
already did some whitewashing for this criminal
, as usual [
1
,
2
,
3
,
4
].
"The controversial executive will step down within the next 12 months," says the booster, but where is his coverage of the latest crimes of Microsoft? None at all. Slashdot gave up on news coverage when it hired a Microsoft mole like this. Watch how he adds nonsense like "During Ballmer's tenure, Microsoft also launched the highly successful Windows 7" while adding the obligatory grooming of Bill Gates, which Microsoft Nick habitually does.
These boosters are like hyenas hanging around a bigger predator, hoping to get a bite of some prey leftovers (the predators are Gates and Microsoft, the hyenas smell money and stick close to it). Too bad they miss the real news, which is massive criminal activity. One wonders if Ballmer's mere
announcement
of
prospective
departure was timed to distract the press from other, far more massive news. As we wrote 4 years ago,
"Steve Ballmer Should Not be Fired, He Should be Arrested"
.
⬆