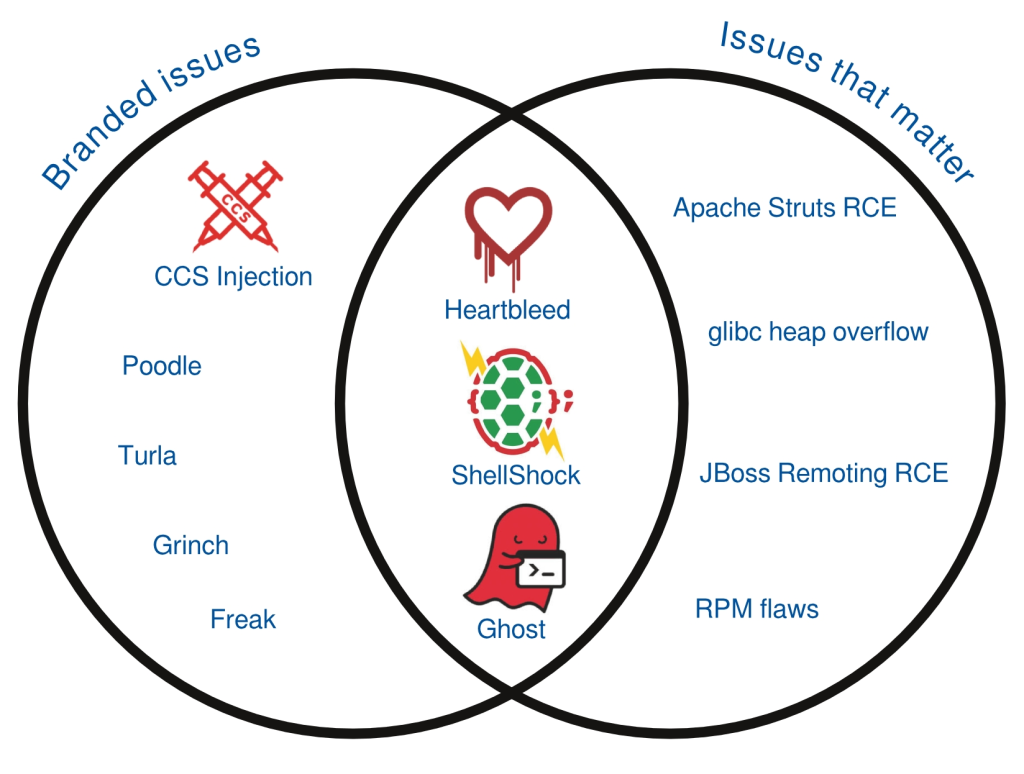 Image courtesy of Red Hat, demonstrating lack of correlation between severity and logos/brands
Summary: Some more FUD from firms such as Sonatype, which hope to make money by making people scared of Free/libre software
The corporate media is in the business of selling (for corporations), not informing. Advertising is the business model, as well as media 'partnerships' (euphemism for PR). Security firms too are in the business of selling, not informing. Misinformation often helps improve sales. We have already ranted quite a lot about media misdirection, designed to sell products or malign the competitors of those who try to sell unnecessary products. We must assume that this is happening because it has always been happening; it's just that it got a lot more frequent now that Free/libre is more widely used.
The other day IDG
published some promotion of Veracode
. To quote one paragraph: "The scale of the problem is significant. Cryptographic issues are the second most common type of flaws affecting applications across all industries, according to a report this week by application security firm Veracode."
This is not an independent security researcher; it is the
Black Duck-connected Veracode
(
Black Duck
came from Microsoft and VeraCode's co-founder recently joined Black Duck), which
overlooks security issues with proprietary software
. Veracode is not an objective observer; it is trying to sell something. Sonatype too, a nasty company which we wrote about before [
1
,
2
,
3
,
4
,
5
,
6
],
rears its ugly head in the media
, in an article provocatively titled "Open-Source Code Can Be More Dangerous Than Useful".
So Sonatype has launched yet another FUD attack on Free software, using myths and rhetoric, capitalising on gullible 'journalists' who would print just about anything, along with clueless pasting of bugs with logos (for extra fear), no discussion about severe bugs in proprietary software, and many other issues. This article is relaying marketing from Sonatype and dramatises it even further. "It gets worse," says the writer, "according to Sonatype: Many of the software companies that have built insecurities right into their products wouldn't be able to tell which of their applications are affected by a known component flaw because of poor inventory practices."
Well, proprietary software
deliberately
adds flaws to act as secret back doors. How about
that
in the discussion? The article totally omits that. The article then adds some talking points from the
FOSS-hostile Symantec
, another company which tries to sell its proprietary software based on perceptions of insecurity.
Thankfully, there are a couple of comments there (below the article) that highlight the issues with the article; both are titled "Not only open source..."
As Free/libre software becomes more mainstream we should expect more parasites like Sonatype to look out for fools who are willing to do their marketing, monetising trash-talk.
⬆