Large Corporations' Lobbyist David Kappos Disgraces Former Employer USPTO by Meddling in Their Affairs on Software Patents, Downplaying the Supreme Court
Dr. Roy Schestowitz

2016-08-26 10:56:54 UTC
Modified: 2016-08-26 10:56:54 UTC
Microsoft, IBM and few other large companies pay former USPTO officials to promote software patents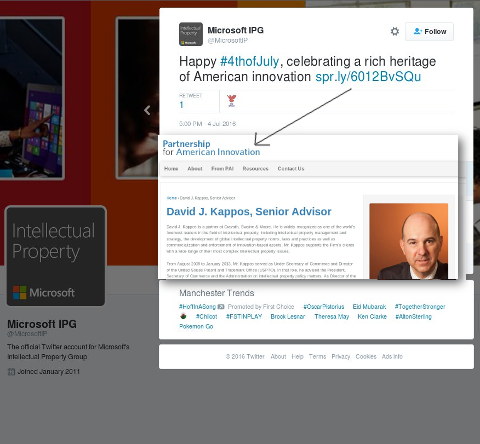 Summary: The latest lobbying from David Kappos, who blatantly exploits his connections in patent circles to promote software patents and work towards their resurgence after Alice v CLS Bank
LAST NIGHT we wrote about the demise of software patents in the US. The USPTO, which David Kappos had turned into more of a rubber-stamping operation (because of the growing backlog), finally had to accept that many patents were erroneously granted (if not fraudulently granted to increase measurable figures).
"The FTC PAE report should be the final nail in the coffin for Software Patents,"
AntiSoftwarePat wrote last night
in response to my article. He or she has been saying this for quite a while. PAE is a type of patent troll, for those who don't know.
"He doesn't want people to know what he does for a living in his capacity as a de facto lobbyist."Kappos deserves at least some of the blame for the terrible status quo. So many patents at the USPTO are junk and patent trolls needn't even go to court and face the burden of proof; they just target small businesses in secret (divide and rule) to shake these down using bogus patents. Kappos is absolutely fine with that and we wrote a lot about this nefarious activity of his quite a lot this year. He doesn't want people to know what he does for a living in his capacity as a de facto lobbyist. Instead, says his own description of himself: "Dave Kappos is a partner at Cravath, Swaine and Moore LLP and previously served as under secretary of commerce and director of the United States Patent and Trade Office."

He does not disclose he works for a front group funded by monopolists which support software patents. Yesterday, published in the Morning Consult Web site was this Kappos piece protesting Alice v CLS Bank. He took wonderful news, namely the gradual end of software patents in the US, and called it "the terrible" (not for software developers but for parasites like him and his ilk).

Once again he pretends it's a loss to software innovation and other such malarkey. He does not disclose who pays him to utter this nonsense. Here is the ending paragraph:


Rather than celebrate or mourn the anniversary of Alice, we should recognize that its overly broad application stifles software innovation in fields that require major, sustained investments to address humanity's truly daunting challenges—across industries from life sciences to information technology to transportation and beyond. There is some room for cautious optimism—recent decisions from the federal circuit in Enfish, Bascom and Rapid Litigation Management have upheld quality patents challenged on eligibility grounds—but unless the courts continue to provide clearer guidance, a long heritage of American innovation leadership will be at risk. We should seek balance by applying Alice narrowly, "lest [Section 101′s exclusionary principle] swallow all of patent law"— and let the other parts of the law do their work.
"When legislation and/or caselaw is up for sale we all lose."It's clear that he is asking for loopholes so that software patents can still be granted and asserted (successfully) in courts. It's not about "clarity" (we explained this spin of his before and also showed the so-called whitepaper he published last year to reveal his bias on this topic). Quick to promote this article was IBM's Manny Schecter, who is funding him through IBM (Kappos used to work at IBM, which now just pays him through a front group). Congratulating one's own lobbyist again? Does he not see ethical breach amid all that patent aggression by IBM? Microsoft is paying Kappos as well and it too is attacking even Android/Linux using patents, as recently as a few days ago.

What will it take for these companies to stop bribing former officials and hide behind them while they lobby for the resurrection of software patents? Who are those people kidding? Can one file a formal complaint for "revolving doors" kind of abuse here? We might try soon, perhaps once we identify the best authority/institution to address regarding the unprofessional (and likely unethical if not in breach of contract) practice. When legislation and/or caselaw is up for sale we all lose. ⬆