With Surveillance Recruits at the EPO, Are (or Were) DNA Tests Ever on the Agenda?
Dr. Roy Schestowitz

2017-10-11 06:54:51 UTC
Modified: 2017-10-11 06:54:51 UTC
Some insiders do wonder...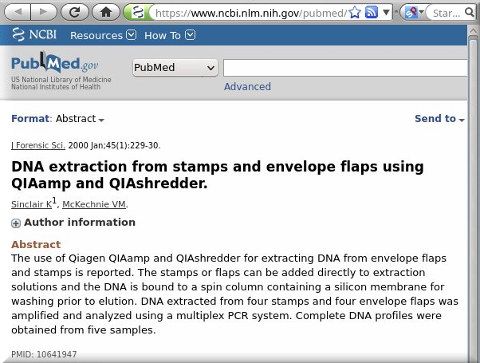 Reference: DNA extraction from stamps and envelope flaps using QIAamp and QIAshredder.
Summary: Since a lot of what's happening at WIPO has also happened at the EPO, and overlap between the two is growing, we recall tactics which are illegal but are miraculously protected by the veil of immunity
THE President of the EPO could probably pop another bottle of champagne yesterday. His (Battistelli's) French friend, Campinos, will become his successor (and new guardian of Battistelli's bar) and Battistelli likes to get drunk anyway. When the son of Campinos got drunk and crashed his car while drunk he wanted to 'borrow' his dad's immunity. That's why immunity can be a disgusting concept.
"The President of the EPO could probably pop another bottle of champagne yesterday."Battistelli seems to be deflecting again. What many people may not have noticed is that both the Office and he (as he then did a 'blog' post about it, promoted by the Office) were making some noise about CPC and PPH. (epo.org links)

That has the obligatory photo op with the 'king' (in his own mind) in the middle and it's about WIPO Assemblies, which may or may not indirectly relate to the king's upcoming Gurry lecture.

A few days ago a reader alerted us about a recent article titled "The anonymous letters that started a decade-long stoush (in the Australian media). To quote:


The question was absurd, and at the same time deadly serious. Australian intellectual property guru Francis Gurry was on the warpath and no stone was to be left unturned in unmasking the authors of the ugly, anonymous letters being sent to him – with copies landing on dozen of desks up and down Geneva's diplomatic row.

Gurry called the Swiss police. In a mysterious overnight raid, innocuous objects were lifted from the desks of three of Gurry's colleagues without their consent – a lipstick and lollies, a stapler and sticky tape, cigarettes. Stripped of diplomatic immunity, 10 staffers were ordered to present themselves for police interviews – but instead of being questioned they were fingerprinted, cheek-swabbed and sent on their way.

Forensic experts at the prestigious Hopitaux Universitaires de Geneva were engaged to run tests – did DNA recovered from the purloined desk items and staff swabs match traces of DNA extracted from stamps on the letters? Did fingerprints lifted from the envelopes implicate any of Gurry's colleagues?

It was 2007 and much was at stake. Kamil Idris, a Sudanese diplomat, had just been drummed out as director-general of the World Intellectual Property Organisation, a United Nations agency little known beyond the arcane world of patents and trademarks. Amidst a long-running brouhaha over alleged corruption, Idris was finally nailed, but only for mis-stating his age on joining the UN 20 years earlier – a charge that originated in another round of anonymous letters.

[...]

The DNA row festered at WIPO, becoming a witch-hunt that overshadowed the 2008 election for a new director-general. Gurry was one in a field of candidates vying for the votes of 83 governments that comprised WIPO's global co-ordination committee. In a final round of voting, he fended off his last challenger, a Brazilian, by the narrowest of margins: 42-41.

Despite his denials, colleagues saw Gurry as a key player in Idris' undoing. When Idris, while still in office, balked at lifting staff immunity to allow the DNA investigation to proceed, Gurry was furious, they said, because he was convinced several of his colleagues were behind the letters, written in the name of the previously unknown Watchdog for International Civil Servants.

The DNA tests absolved all the staff of any role in the nastygrams, but that was merely the start of serial controversies that have dogged Gurry.

The staff was unaware of the desk raids until months after the fact. But in pursuing her demands for an explanation of how staff had become suspects, senior Italian WIPO staffer Carlotta Graffigna won access to her Swiss police file – in which she found the DNA report and its revelation that her desk had been swept without her consent.
This was likely illegal (see for example
the scandal of spying on United Nations leaders by United States diplomats
), but WIPO's Gurry enjoys immunity.
Gurry and Battistelli not only competed for the same job;
a lot of what was happening in WIPO also happened at the EPO
.
"Gurry and Battistelli not only competed for the same job; a lot of what was happening in WIPO also happened at the EPO."The reader asked: "Does it ring an (EPO) bell?" Recalling this letter, the reader said that "at EPO too under Battistelli a specialist of (quote) "forensic science" was recruited in the Investigative Unit (now fakely branded as "Directorate Ethic and Compliance")."

Nothing is beyond limits in the eyes of EPO tyranny. It remains to be seen where Campinos will take things -- a subject we'll continue to explore in our next post. ⬆