Club Med Extraordinaire, a small world after all...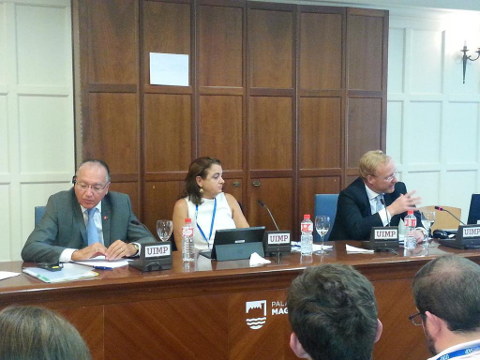 Summary: A culture of nepotism continues to thrive at the EPO, with García-Escudero Márquez (above) rumoured to be after Campinos' (also above) position now that he's taking Battistelli's (above) position; García-Escudero Márquez is also Battistelli's 'chinchilla' at the appeal boards, obliterating any illusion of independence
IGNORING yesterday's noise from the EPO and Battistelli's 'blog', as well as the daily lies (those lies about SMEs carry on; the EPO did it several times yesterday), the major news came after 6PM when the EPO wrote: "The Council of the European Patent Organisation elected António Campinos as the next President of the Office @EPOorg starting 1 July 2018" (we wrote about it around the same time).
Dutch media
then covered it
, focusing on the nationality of Campinos, calling him the "Portugees" (in Dutch).
He is also French
, but the media conveniently ignores that.
So who is taking the place of Campinos at EUIPO?
The EPO's former employee,
Christian Archambeau
, "is tipped as possible successor to Campinos at the EUIPO," one reader told us. "García-Escudero also mentioned as a possible candidate."
Archambeau
studied at the Universite Libre Bruxelles
(
warning
: clicking on this may reveal the clicker's identity), so we assume his French is strong.
This was thankfully enough covered by English media
yesterday
. To quote:
In July, the EPO officially announced its search for Benoît Battistelli's successor, with the incumbent president's term in office due to end on June 30 2018. Writing at the time, our sister title IAM suggested that Campinos would fit the bill. Today – at the EPO's latest board meeting – it emerged that Campinos was indeed a candidate for the role, apparently going head to head with Cuno Tarfusser, an Italian judge at the International Criminal Court. Given the IP experience of Campinos, he was the clear front runner and it has now been confirmed that the Administrative Council of the EPO has elected him to a five year term. Commenting on the appointment, Christoph Ernst, chair of the EPO Administrative Council, said: "I am happy that the Council was able to reach a decision today on this very important matter, and to find in Mr Campinos an excellent candidate. With him, I am confident that our organisation will add another thriving chapter to its continued success story."

[...]

German title Juve.de suggests that – according to several observers – some staff are concerned about Campinos' "close proximity to Battistelli". However, the EPO board will be betting on his ability to turn that perception around once he takes up the role.

[...]

World Trademark Review understands that Patricia García-Escudero Márquez, current president of the EUIPO management board – and director general of Spain's Patent and Trademark Office – could also throw her hat into the ring.


As a reminder, García-Escudero Márquez is generally dubbed Battistelli's chinchilla who is also a problem for the judges at the appeal boards. We wrote about her before, e.g. in:
Speaking of the appeal boards, there's this news about the Nike/Adidas dispute [
1
,
2
]. It's not about branding; oddly enough, it's about patents!
Well, the EPO appeal boards have just deemed EPs granted by the EPO invalid. Yet again! This is why
Battistelli attacks these boards
. They serve to expose the major decline in patent quality.
To quote
WIPR
:
A European Patent Office (EPO) board of appeal has confirmed that a Nike patent protecting breathable sports tops is invalid.

Adidas had opposed the patent, EP 1 746 909, which protects a garment with "zones of different air permeability which are to be determined using a certain measurement device", according to Adidas's representative Bardehle Pagenberg.

The full name of the patent is "Article of apparel utilising zoned venting and/or other body cooling features or methods".
Fashion Law
wrote about it too:
After topping Nike's Jordan Brand as the second most valuable sneaker-maker in the U.S. market, adidas has advanced against Nike on another front. The European Patent Office ("EPO") appeal board held last month that a Nike patent that covers "vented" sports apparel is invalid. The decision comes after rival adidas opposed Nike's patent, claiming that one of its own designs first made use of the technology.

The two sportswear giants have been in and out of hearings before the EPO since 2009 when the EPO first approved Nike's patent (EP 1 746 909), which covers an "Article of apparel utilizing zoned venting and/or other body cooling features or methods."


It's possible that there are many more reports about it out there. We expect more to come.
Kilburn & Strode LLP, in the meantime,
published this piece
about oral proceedings. They shoul know that appeals and oppositions at the EPO have become hard. EPO management wants low-quality work and does not want this quality to be questioned. Here is the latest:
The European Patent Office has issued a revised version of its Guidelines for Examination, which will come into effect on 1 November 2017. One key change has been made, which is that Examiners can issue a summons to attend oral proceedings as a first office action after the extended European search report (EESR).
Considering the fact that the EPO is now
canceling national holidays
, for the sake of so-called 'production' (by its own admission), it would not surprise us if Battistelli wanted to take the boards' job away from them too. People like Patricia García-Escudero Márquez would not object to it, would they? They are, after all, Battistelli's (and soon Campinos') chinchillas. Don't expect the fate of the boards (or the sanctioned judge) to change under Campinos. The same is true for staff representatives, who would likely have benefited from
an ICC judge taking Battistelli's place
.
⬆