Global Finance Magazine Spreads Lies About the Unitary Patent and German Constitutional Court
Dr. Roy Schestowitz

2019-04-12 13:58:00 UTC
Modified: 2019-04-12 13:58:00 UTC
The front page of Global Finance Magazine at this moment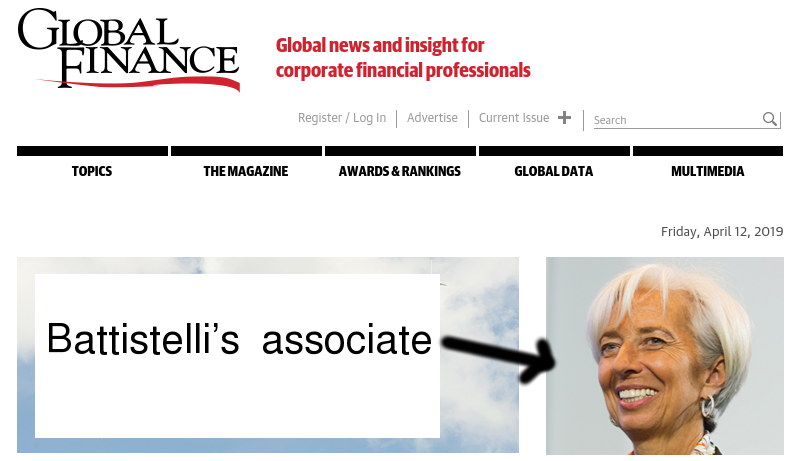 Summary: Alluding to the concept of a "unified European patent," some site connected to Class Editori S.p.A. and based in Manhattan/New York City tells obvious lies about the Unified Patent Court (UPC), possibly in an effort to sway outcomes and twist people's expectations
THE UPC is pretty much dead. UPC-related Twitter accounts are largely inactive, blogs associated with the advocates (Team UPC) have barely said a thing for a month, and the European Patent Office (EPO) never mentions it anymore. It is very rarely mentioned in news sites (in any form).
"Will these people stop spreading these patently false claims?"Yesterday we saw Global Finance Magazine (of Class Editori, an Italian publishing giant) pretending that Brexit can be overcome by shifting the court to Milan (Italy) and the German Constitutional Court (FCC) isn't an obstacle but just some temporary 'nuisance' -- both typical lies of Team UPC. We don't know the author of this terrible new article, but we've never heard of this publication called "Global Finance" before (it probably didn't cover UPC); we started wondering who owns it. Misinformation of this kind typically comes from "news" sites of Team UPC, such as The Law Society Gazette [1, 2, 3].

The author starts by spreading an appalling lie: "Long in the works, a unified European patent is now ready to launch, most likely in mid-2019."

Really? Based on what? Notice the future tense being used throughout (as if it's all a certainty, no "would... if"). It doesn't take a genius to say that the UPC is dead. Even some of its biggest cheerleaders admit so. More from that same article:


Courts with oversight over the European unified patent system will be based in London, Paris and Munich; although the German Constitutional Court must evaluate its constitutionality and the London Court could move to Milan for pharmaceutical patents.

The proposed Unified Patent Court will have power to take action on patent infringement, counterfeiting, ascertainment of invalidity and revocation, as well as related provisional and precautionary measures and application counterclaims. Damage claims related to supplementary protection certificates issued on the basis of a European patent will also be under the court's purview.
Will? It's not happening. Will these people stop spreading these patently false claims? Will they also mention just how terrible the UPC is, for a whole plethora of reasons? According to Wikipedia, this magazine has a circulation of about 50,000 people/subscribers. Who's seeding these pieces?
⬆