Imagine just one institution taking up almost two-thirds of the limited resources of ILO's Administrative Tribunal

Summary: The Staff Union of the EPO (SUEPO) shows the chaotic effect of a truly dysfunctional and corrupt Office management; ILO's Administrative Tribunal (ILO-AT) can barely keep up with the caseload
MANY people no longer remember this. In the final days of Benoît Battistelli as EPO President he was served a blow by ILO-AT, which belatedly and exceptionally ruled in favour of his scapegoats, the SUEPO leaders (representatives). They were vindicated, but a lot of personal and collective harm had been done.
The EPO will never forget and may never recover from this.
"The AC (Administrative Council) has become deeply complicit, as we've repeatedly demonstrated in recent days."Earlier today (this morning) we wrote about how IP Kat finally wrote about Friday's controversial hearing less than a day earlier. We mentioned that many blog comments would not show up. Some did. "The founding fathers of the EPO are spluttering in their cocoa or turning in their graves. Sad days," said one commenter. There was also this one:


Contrary to the view of the President's representative, a "dynamic" interpretation based upon secondary legislation is NOT possible in this instance.

The competence of the AC to amend Articles of the EPC is limited (by Article 33(1)(b) EPC) to amendments that are for the purpose of bringing the EPC "into line with an international treaty relating to patents or European Community legislation relating to patents". This criterion is NOT satisfied with respect to Article 116 EPC.

Perhaps the President's representative is aware of a really obscure international treaty (or piece of EU legislation) which relates to patents AND which specifies that oral proceedings can be conducted by VICO without the consent of parties to the proceedings. However, given that they did not mention any such treaty (or legislation), then I can only assume that they instead believe that Article 33(1)(b) EPC can also be interpreted "dynamically" (ie in whichever way happens to suit the current plans of the EPO President).
The sentiments are very negative. These are legal professionals, either active or retired. They're not happy.
Staff of the EPO isn't happy either. Far from it. There are still many complaints about EPO management. In fact, copies of new key decisions can be found in SUEPO's Web site [
1
[PDF]
,
2
[PDF]
,
3
[PDF]
,
4
[PDF]
,
5
[PDF]
] or the originals in
ILO's Web site
, which is trustworthy only for
long-term preservation
(not for access to justice, as history shows). We're
not
making local copies or videos, as explaining the full text would be hard (much studying required and the union is already doing that anyway, probably in cooperation with the aggrieved staff who would know the cases best). Here are the first pages (of each in turn):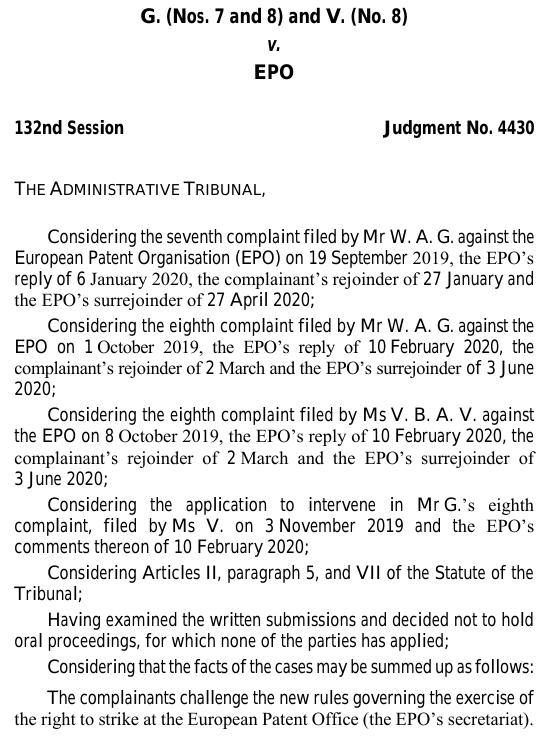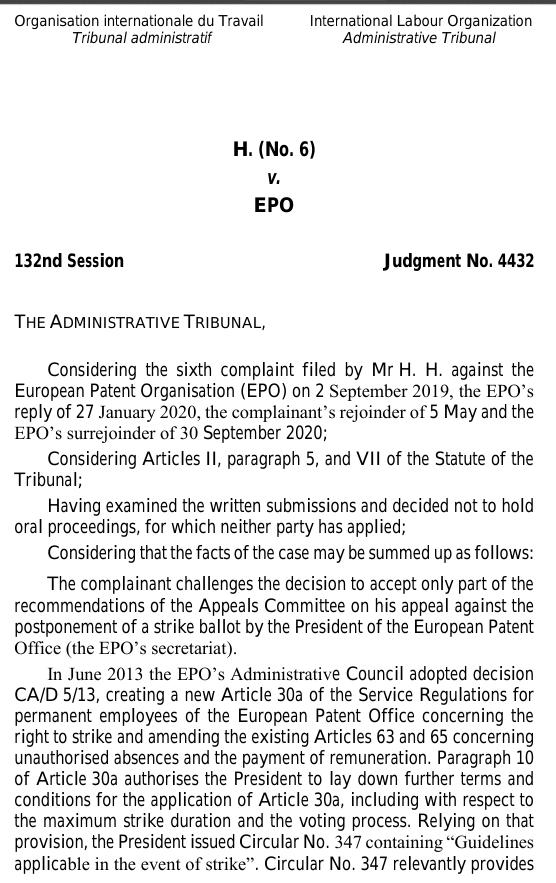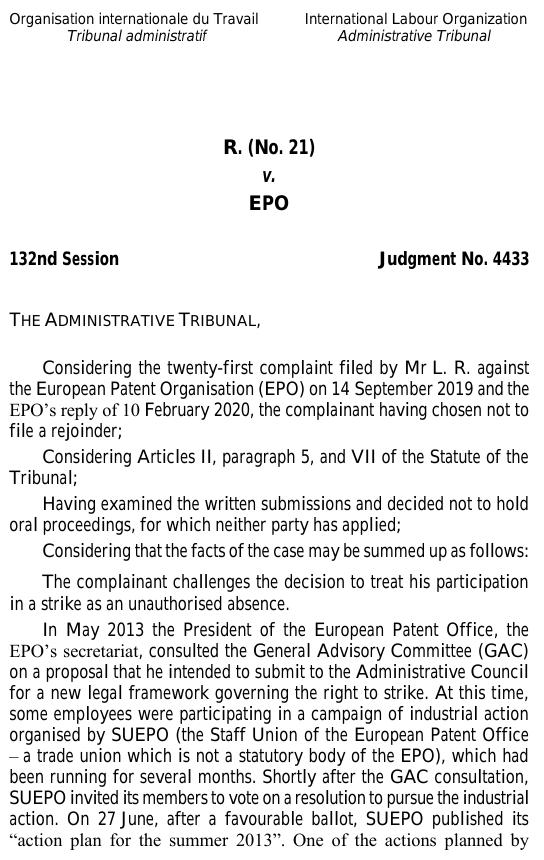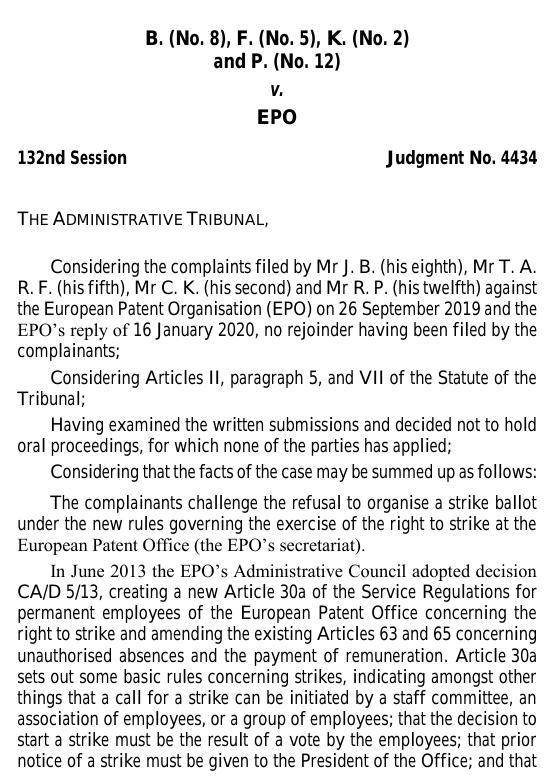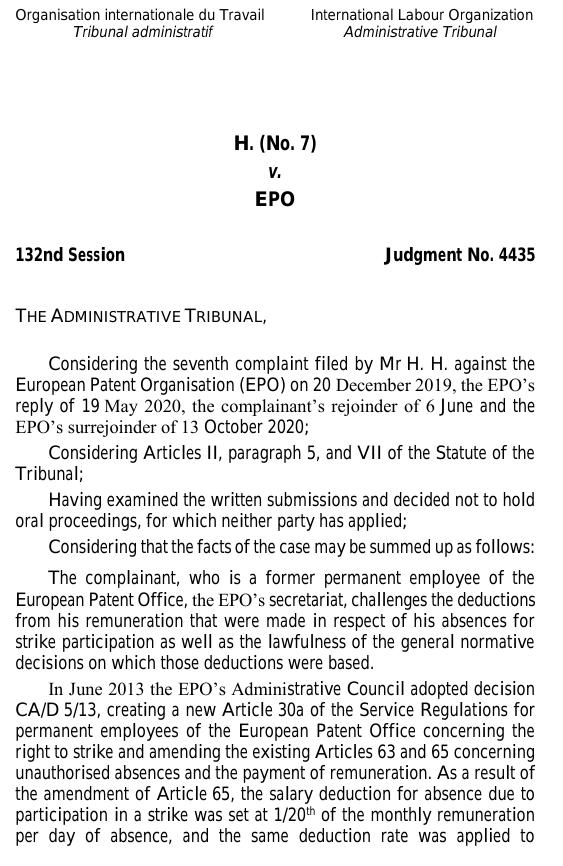 Two of these concern the notorious strike deductions [
1
,
2
,
3
]. They concern
many
members of staff. The other three concern
Circular 347
.
In its
public post about this
SUEPO notes (revised for a slight error earlier today or just to add a case mistakenly omitted earlier today): "In its 132
nd
session the Tribunal delivered a total of 43 judgments, of which 25 concern the EPO (many of which were in favor of the complainants). [...] A detailed analysis of the most significant cases involving the EPO will be published at a later date."
SUEPO focuses on the positive outcomes in isolation. This is normal. "The encouraging news from this session is that the following cases were ruled in favor of the complainants [i.e. the staff]," but we can assume the rest involved lots of legal fees (burden on staff) without a positive outcome. We already know that
António Campinos
is lawyering up the staff, wasting EPO budget to basically attack EPO staff a second time around (first in the Office, then in the tribunals). He clearly does not seek peace and reconciliation. To quote a
new comment
from
IP Kat
: "Had the present and the previous management team been at the helm of the EPO at its beginning, the EPO would never have become what it is was before 2010. It is sad to see those pseudo managers, by no means leaders, driving the EPO into the wall merely to satisfy their desire for power. The AC has completely given up its control function, it is as has been the said the tail wagging the dog."
Yes, exactly! The AC (Administrative Council) has become deeply complicit, as we've
repeatedly
demonstrated
in recent days
.
⬆