Video download link | md5sum f9b31c78ce1c951f2993bc638a842788
Summary: Spontaneous reaction (a first reading of and first time watching); who does the EPO think it's fooling and at whose expense?
THE EPO has come up with additional buzzwords and even acronyms that I have never seen before as those can help distract the public from the evil and corrupt nature of the EPO, including crimes of Benoît Battistelli and António Campinos (who covers up and adds some of his own).
If
Alan Turing
was still alive, his revelations might get him sued over
European software patents
.
The video above is a discussion about the EPO's latest
pinkwashing
effort. The fluff entitled
"Flying the rainbow flag"
(
warning
:
epo.org
link) and
"Raising the rainbow flag in The Hague"
(
warning
:
epo.org
link) got published less than a month apart, wasting a fortune (this has certainly cost thousands) on one-minute videos that hardly anyone even watches. At the time of writing, one week later, the latter video has just 70 views in YouTube. That's 10 views per day on the
very first week
(debut). How much money was spent per view? 100 euros per viewer??? How many millions of euros is EPO management throwing at reputation laundering projects and media campaigns?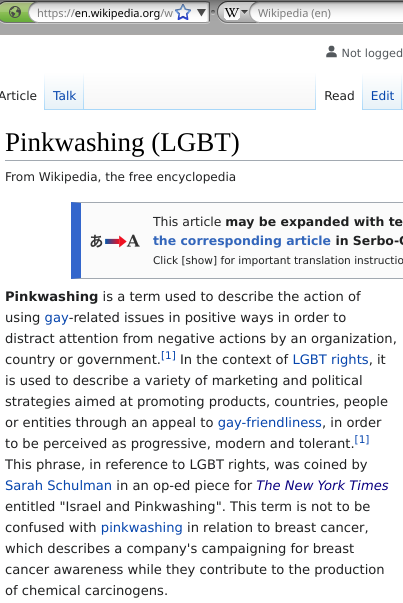 There is lots more fluff such as this -- including greenwashing and openwashing* -- in https://www.epo.org under "news". (warning: epo.org link)

As far as we're aware, EPO management does not have and has not had any gay people (or something that goes under the LGBTQ+ umbrella), they're just using repressed groups of people for PR.

I've asked Ryan, a Techrights reader who is gay, what he makes of all this. He saw the two press releases and said: "In my experience, it's harder to get promotions, even now, in many industries, even if your work is equally good. HR might not care, but low level supervisors and stuff probably will. At least in the US, we're not dealing with the "Moral Majority" anymore, but rather the foul stench of their legacy remains. They raised my generation, and while you can tell a big difference between gay people in the last generation and mine, there's still some angst to be found.

"The last couple generations still run around as if anyone finds out, their career will be over and they may even face criminal misdemeanors or something. But me? Well, I grew up hearing about how it was wrong and I'd burn forever, and it's hard getting over something like that completely once you've been threatened often enough. Even if it is completely ridiculous.

"These companies that have to attract customers who are gay, or actually want to hire employees who are (or at least don't mind it in the office), are a completely different world to working class stuff. I've read that many careers are bullshit and a surprising amount of it doesn't even need to be done.


"The EPO still causes a lot of chronic depression, physical disabilities, nervous breakdowns, and even suicides.""Personally, I do find it to be patronizing when companies go out of their way to say they're celebrating PRIDE or something, when they don't have any C level execs who are gay and nobody can crack that ceiling for a while. It's much easier for Coca Cola to put out a blurb to advertise their products than it is to live with those folks actually running their company. The EPO is cutting pay and benefits all around and laying people off and the morale sucks, but we want to be sure the LGBT workers feel as valued as everyone else!"

In conclusion, said Ryan, "there's a ton of pinkwashing going on these days. Companies know that the people who complain either don't buy their products anyway or won't actually stop buying them regardless of what they say they'll do. But pandering to LGBT customers may open up a new market. Like, take Disney. Conservatives spend as much money or more there as liberals. But they constantly complain about Disney brainwashing their kids and having gay month or whatever. Just as liberals complained of a pirate ride and a log ride with some loosely themed connections to Song of the South. Nobody's happy and everyone sees conspiracy and immorality wherever they go, but... if they have that much of a problem, then why do they complain and then post pictures of their $4,000 a week vacation to Facebook months later? Spending four grand on a week at Disney is rather stupid. Just as spending $9 on a 24 pack of Coke. We make sugar water and here's a gay pride commercial and whatever."

The EPO still causes a lot of chronic depression, physical disabilities, nervous breakdowns, and even suicides. Maybe the EPO should do a video about that; instead, the EPO worked hard to censor such videos. We got legal threats, too (for hosting such videos). ⬆ _______ * It's worth mentioning that there are many more like the ones shown above (from the past month; hard to keep track of and respond to them all!). They keep recycling these PR stunts to craft or construct a false image of the workplace.