04.18.08
Gemini version available ♊︎
OOXML: open as in "open for negotiation on patent tax tariff"
The SFLC has already informed us all that OOXML is clearly incompatible with the GNU GPL. But Microsoft seems to have just picked itself another smaller target (it's a pattern that we last mentioned days ago). It insulted the intelligence of the Groklaw crowd with some rude remarks on this issue. Pamela has just responded:
I wrote yesterday that RAND terms can be discriminatory, and that in fact due to the Microsoft OSP, OOXML is discriminatory against the GPL and Open Source licenses, despite being made available under RAND terms. Microsoft's Jason Matusow responded with a blog entry suggesting I need to bone up on standards and licenses. Why Microsoft folks can't be polite is a mystery to me, but I persist in responding with decency. He thought it would be helpful to hear from lawyers on the subject. So, I did some research for him, and I find that there are quite a number of lawyers who agree with me.

So here you are, Jason: what is wrong with RAND from folks whose credentials you will respect. They are not radical or extreme, and neither is Groklaw, as you will see. The problem, rather, is that Microsoft is wishing that time would stand still for it, and that the old, proprietary software model were all that there was in the world. However, like the music industry, Microsoft — and standards bodies — now have to cope with the new and modern software development model and licenses that foster and underpin it, not just the old-fashioned, closed, and patent-licensed model that Microsoft represents. And isn't it you at Microsoft, and your friends at CompTIA, who have told the governments of the world that one business model should not be favored over any other? How much less should a standard?
Since Jason Matusow made it personal, let's make a thing or two clear. Matusow seems like an unpleasant character [1, 2] for the lies he told in the past and also for defending Microsoft's 'aggressive' (to use the gentlest of words) push for OOXML. It's hard to understand why Microsoft continues to bully and to corrupt governments with lobbyists at a time when it has so much to lose.
You will probably be pleased (or relived) to hear that OpenOffice.org 3.0 has just been officially switched over to the LGPLv3, which addresses possible software patent issues. This was actually announced over a month ago, but changed have only just been implemented. Those who receive the nightly build will probably see the modifications that have been applied.
On a regular basis we provide developer snapshots to gather feedback on features and fixes that have been implemented on the way to OpenOffice.org 3.0.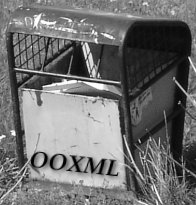 Going back to patents in a standard, OOXML is not the only such problem. Yesterday we exemplified this problem using 4G technology. Something must change and in the mean time OOXML must be shunned by FOSS users and developers alike.
As ugly secrets and truths about ISO begin to come loose, there's hope that OOXML will get trashed. Without the many corruptions, it would never have stood a chance of joining an existing standard that is a real one (ODF) as well as widely supported by the entire industry, as opposed to a single highly abusive company, a spoiled brat. █
Permalink
Send this to a friend