06.05.09
Gemini version available ♊︎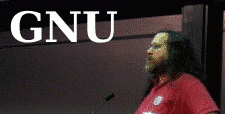 Summary: Where "copies" means 'pirates' there is a certain sign of weakness
MICROSOFT hardly believes in unrestricted sharing, so the following case of legitimate copying by Microsoft Bong[sic] is not only an admission of defeat (neglect of Encarta) but it is also a case of Microsoft linking to a GNU licence, which is just so ironic. Microsoft owes Richard Stallman some credit.
We all know that Google's search engine likes to push Wikipedia links to the top of its results pages. But Microsoft has gone a step further.

[...]

Microsoft doesn't appear to be editing Wikipedia pages and it's linking back to the GFDL license, so it would seem that Redmond is free to reproduce the content and even serve ads against it. "An inherent part of our license structure is that downstream commercial uses are allowed," one longtime Wikipedian tells The Reg. But the GFDL isn't easily navigated – even for the sharpest legal minds.
GNU is not UNIX and Bing is not Google, but there is more to it than just a playful recursive acronym. Goblin from Boycott Novell reminds us of the meaning of the word "Bing" (he is a Brit by the way).
Bing – "–noun British Dialect. a heap or pile."
Bing is really quite a pile of something [1, 2, 3, 4, 5, 6, 7] (not a Dogpile). It also piles up other people's resources. █
Permalink
Send this to a friend