06.26.10
Gemini version available ♊︎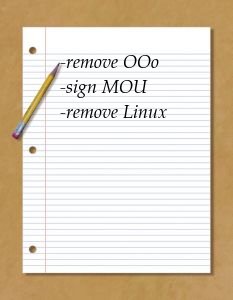 Summary: Telstra provides some examples of what 'former' Microsoft executives can do to a company; we also look at The 'Open' University, SIIA, and Yahoo!
ESTABLISHMENTS that get associated with Microsoft often react differently than those which do not. When former executives from Microsoft become part of another company's management (or when a deal is signed), decisions that are made eventually make less sense to the surroundings and more sense to Microsoft.
As we pointed out last year, a portion of Microsoft's executive ranks was entering Telstra [1, 2], which is of course parenting BigPond. This pair (Microsoft and Telstra) was then signing more Microsoft deals and getting closer to the companies' point of intersection, as expected.
A reader has just told us that "Australia's Largest ISP Ditches Linux Mirror," according to Slashdot:
An anonymous reader writes "Australia's largest ISP, BigPond, has decided to ditch its local mirrors of Linux and other open source operating systems, as well as various other open source software and Creative Commons media. BigPond posted a terse update on the service's website, citing reasons of low popularity and the existence of better services like download.com and Tucows. BigPond customers are not impressed by the move, given that the ISP is infamous in Australia for its high prices and relatively low monthly quotas of bandwidth (many users are on 10gb or 25gb per month plans) and all downloads from this service did not count towards their monthly limits."
Here is a forum thread and files index. As we showed 2 years ago, Bigpond had also removed OpenOffice.org. It would be hard to prove malicious intent which is caused by Telstra's relationship with Microsoft, recruitment of Microsoft executives, and subsequent deals, but it's reasonable to suspect a correlation.
Yesterday, Glyn Moody wrote about The 'Open' University serving Microsoft even more after adding Microsoft's Martin Bean [1, 2, 3, 4] as a vice-chancellor (highest rank in UK universities).
Naturally, offering such courses about closed-source software is an important part of providing a wide range information and training. And I'm sure there will be similarly courses and qualifications for open source programs.

After all, free software not only already totally dominates areas like supercomputers, the Internet and embedded systems, but is also rapidly gaining market share in key sectors like mobile, so it would obviously make sense to offer plenty of opportunities for students to study and work with the operating system of the future, as well as that of the past.

That's true for all academic establishments offering courses in computing, but in the case of the Open University, even-handedness assumes a particular importance because of the context:

The Open University has appointed a Microsoft boss to be its fifth vice-chancellor.

Martin Bean is currently general manager of product management, marketing and business development for Microsoft's worldwide education products group.
What a farce. The 'Open' University will teach young people to be proprietary. Oh, the irony.
Speaking of bad influence from Microsoft in Europe, the SIIA takes his international attacks on Free software to Europe this week.
Five months after expanded its policing of counterfeit software applications to Europe, the Software and Information Industry Association (SIIA) has filed a trio of lawsuits in Germany and the UK accusing online sellers of hawking stolen or knock-off versions of Adobe Systems' applications on eBay.

SIIA, a trade association representing roughly 500 software and digital content companies, has been on a mission to eliminate or at least reduce the rampant sale of stolen or counterfeit software on popular e-commerce sites — most notably eBay (NASDAQ: EBAY).
SIIA is a front for companies like Microsoft and Novell.
Last but not least, after Microsoft was displacing the leadership of Yahoo! to grab control of their search engine users we hear this predictable news from Joseph Tartakoff and many others:
One of Yahoo's key search executives, who sought to put the best light on its decision to outsource back-end search crawling to Microsoft over the last several months, is leaving the company.
Microsoft ruined Yahoo! from the inside. Why don't others learn? It's called entryism. █
Permalink
Send this to a friend