07.28.10
Gemini version available ♊︎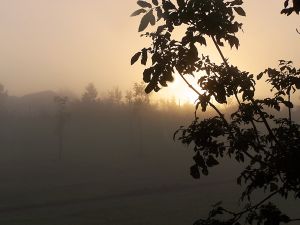 Summary: Novell is still schizophrenic about Fog Computing, but it continues to advance this freedom-hostile trend for better or for worse
"Fog Computing" is what we call the hyped-up phenomenon which was rebranded and marketed as "cloud computing" (dressing up a wolf as a sheep). To clarify, what "cloud computing" means is connecting to a bunch of servers somewhere else and usually leaving one's personal data on them. Sometimes it's about virtualisation too (for compartmentalisation; Novell is promoting VDI too).
Novell is very hardcore on "Fog Computing" these days. Many posts in Novell's PR blog (this new one for example) talk about "cloud" and we previously covered the news about the Fog Computing centre in China. That's one of Novell's latest accomplishments which it bragged about to generate a lot of press [1, 2, 3, 4, 5, 6]. There is also bad press [1, 2].
The strange thing is, when Novell loses a contract due to someone else's 'cloud' (e.g. to Google), then it starts saying negative things about that so-called 'cloud' and those who choose it (former Novell customers). Here is a timely excerpt from a new article:
Top 10 Reasons Cloud Computing Deployments Fail

[...]

Michele Hudnall, solution marketing manager for BSM at Novell, emailed me to emphasize the importance of well-defined SLA's. According to Hudnall, things you should watch out for are a lack of SLA's, vague SLA's and poor overall service management.
Will Novell ever decide whether it loves or hates the 'cloud'? It sure has many products which it markets as "cloud" something. For instance, just days ago Novell was seemingly promoting Fog Computing for identity and security management:
Also of note: Novell's Intelligent Workload Management (IWM) strategy includes identity and security management for physical and virtual systems located on-premises or in the cloud, according to Chief Marketing Officer John Dragoon.
Another area where Novell follows the Fog Computing trend is inspired by Google's Wave. Novell calls it Pulse, but it can integrate/interoperate with Wave.
Google offers IE [Internet Explorer] users faster Wave gravy

[...]

Wave has a number of early adopters – including Novell, SAP and Accenture – who've likely emphasized the need for better IE support.
Novell sometimes recommends Internet Explorer, but that's another story.
At any rate, Novell is still preoccupied with proprietary software and Fog Computing (which is somewhat of a subset of proprietary software, depending on the licence). As Mark Pack put it some days ago:
The world however is full of companies which used to be massive, even dominant, but fell from grace. Remember the days when Novell dominated the server market?
Novell's friends continue to rely on legacy alone, so it won't last forever. Novell could possibly be part of the World Wide Web revolution, but instead it is losing even to Ubuntu. CentOS is said to be most dominant in Web servers now; Techrights too runs on CentOS. █
"Forty percent of servers run Windows, 60 percent run Linux…"
–Steve Ballmer (September 2008)
Permalink
Send this to a friend