09.20.10
Gemini version available ♊︎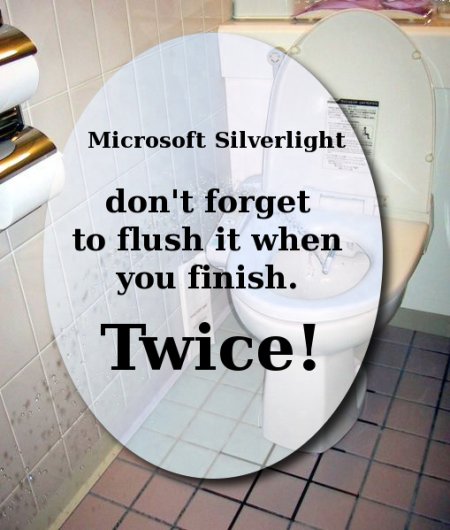 Summary: Silverlight is sliding down the toilet, but Flash continues to be a major barrier to reliance on Web standards alone; Nokia's new CEO (Macromedia COO and then Adobe executive, Microsoft president) seen as a threat to the Web, too
Silverlight dying is a subject we explored quite a lot recently [1, 2]. Techrights was cited quite a lot on these matters and Microsoft entered into "damage control" mode, soon stating that Silverlight is not dead and that it can co-exist with HTML 5 (there were several articles about it this month and that's just about the only news, except announcement of some third-party products that depend on Silverlight). As we explained a fortnight ago, Windows Presentation Foundation (WPF) is dying/dead and Silverlight seems likely to collapse with it because they are closely tied to one another.
Microsoft's friend suspects that Microsoft will "embrace and extend HTML 5″ in order not to surrender to Web standards that everyone can use. But either way, "In Flash-HTML5 Battle, Silverlight Is the Big Loser," says this new article. Yes, Adobe Trash is still a major obstacle to Web standards, especially in video streaming.
While Apple and Adobe bicker over whether HTML5 or Flash is the best platform for delivery of video, games and other interactive applications, Silverlight gets nary a mention — even from its own team. And Microsoft itself has increasingly moved to HTML5 for new interactive applications in its products.
The 'Microsoft press' desperately craves for Nokia to save Silverlight now that it's run by a former Microsoft president and has a Silverlight deal. Microsoft — like Adobe — is going against Web standards and it's rather telling (Adobe circulates a new PR story at the moment, something about HTML). Remember where Microsoft's president who recently became Nokia's CEO came from. That's right, Macromedia.
It is worth working to ensure that Nokia never falls into the trap of promoting a binary Web and dying technology like WPF (like Vista Phone 7 [sic] does). Actually, the subject of the next post will be the impending death of Microsoft's next mobile venture, which is negatively affected by WPF's demise. I was rather disappointed to receive the E-mail below 6 days ago because it turns out that some hedge funds foolishly rely on WPF (and .NET), but then again, this is England. Microsoft software thrives the most in English-speaking countries. To the world at large, Silverlight is niche or unheard-of product. █
Hi Roy,

Leading Hedge Fund in West London has a new requirement for a Matlab developer with good technical experience of C# and/or Java.

This role requires solid working knowledge of Matlab and C#/Java, and it would be advantageous to have experience of WPF and .Net. Prior use of TDD would also be beneficial. A strong mathematical background is preferred, however, prior banking experience is not essential.

This role is based in Germany 3 days per week – all accommodation and expenses will be provided. The other two days will be spent on site in West London.

This position is for an initial 6-month contract and is paying up to £500/day dependent upon experience.

[...]
Permalink
Send this to a friend