10.28.10
Gemini version available ♊︎
In Soviet Russia, Microsoft Office crashes YOU!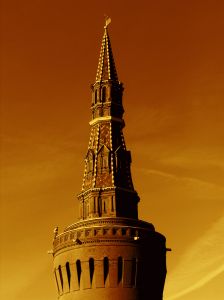 Summary: A story of tyranny and monopoly abuse in Russia (courtesy of Microsoft Office lock-in), news about OOXML in Malaysia, and a quick word about Microsoft's results, which lag behind Apple's
Vladimir Sorokin, a Russian teacher who stood up for his students' rights, has just been sacked. His only alleged misdeed is that he did not accept the illegally-obtained monopoly of Microsoft, which nobody has an excuse for being a prisoner to anymore.
Natalya Krainova of the Moscow Times claims:
A battle over whether open-source or proprietary software should be used in Moscow's public schools spilled into the open Wednesday when a schoolteacher said he was forced to quit for complaining about being forced to use Microsoft programs.

Vladimir Sorokin, deputy director at School No. 572 in southeastern Moscow who teaches computer science, said by telephone that education officials had pressured him into resigning after he complained to President Dmitry Medvedev about an online training system for students that requires Microsoft Office to run properly.

The federal government decreed in 2007 that all schools nationwide have to switch to software based on the free operational system Linux by next year. Sorokin said the training system Moscow schools are forced to use defies this order.

"The education directorate is giving preference to Microsoft," Sorokin said.

"There has to be freedom of choice," he added.
The British press has covered this too and this story seems likely to go viral.
A Russian teacher claims he was forced to quit his job after he complained about being made to use Microsoft software.

Computer science teacher Vladimir Sorokin, who was deputy director of School No. 572 in southeastern Moscow, told the Moscow Times that education officials had pressured him into resigning after he complained to president Dmitry Medvedev about an online training system that required students to use Microsoft Office.

"The education directorate is giving preference to Microsoft," Sorokin complained. "There has to be freedom of choice."

Sorokin claims the training system forces Moscow schools to defy a government directive originally issued in 2007, which requires schools to use the open source operating system Linux, as part of a drive towards a 'national OS'.
Recall the very recent Microsoft NGO spin [1, 2, 3]. A few years ago a Russian teacher was sentenced to prison for the same reason those NGOs were. Microsoft provides ammunition and supports actions that put those people in jail. And it actually gets worse in Russia because to name some related posts:
Microsoft and Office are far from benign, but as we pointed out earlier, even the Gates Foundation is pushing if not imposing its use by people who cannot afford it. That's lock-in and it must not be tolerated in schools whose burden parents are taxpayers are taking. In a private business it's another story, just not in the public sector. When will Russia abandon Microsoft at the federal level? This might happen soon. The relevant couple of links from yesterday's news are:
The Russian government has decided it is going to develop its own operating system as an alternative to using Microsoft Windows.

Rather than opting for an existing Linux distribution instead, Russia will invest $4.9 million creating its own OS based on Linux for use across all government departments.

A meeting is planned in December where vice-prime minister Sergei Ivanov will discuss the details and plan of action for the development. The key aims are to remove the dependence on Windows and allow for better security, while at the same time not becoming just another Linux distribution.

The Russian state plans to revamp its computer services with a Windows rival to reduce its dependence on US giant Microsoft and better monitor computer security, a lawmaker said Wednesday.

Moscow will earmark 150 million rubles (3.5 million euros, 4.9 million dollars) to develop a national software system based on the Linux operating system, Russian deputy Ilia Ponomarev told AFP, confirming an earlier report in the Vedomosti daily.
It is encouraging to see that the state tries to distance itself from proprietary software.
Yoon Kit, who was among those who stood up against OOXML in Malaysia, now says that "the OXML beast is finally dead in Malaysia as a National Standard. Approval by ISC-G to kill the project was agreed today." For some background about OOXML in Malaysia see posts such as:
The head of Microsoft Malaysia quit the company not so long afterwards and the OOXML corruption index ought to show that Malaysia was not unique when it comes to OOXML-related abuses. It's a fight against ODF.
Just earlier today ThistleWeb spoke about the importance of standards, not Microsoft's own way of doing things.
Standards are important, they avoid duplication of effort and increase interactivity between various different devices. Imagine if every TV network broadcast it's own standard of TV signal, so you'd need a different TV for each network, or cars were made with their own standard of petrol so you had to fill up at a petrol station who sold fuel for your brand of car. This is the retarded world of vendor lock-in, it's what happens when companies put their own profits above the needs of their customers.

[...]

One of the "reasons" Microsoft often give in their attacks / smears on their competition is that they "don't work right with standard formats". Of course by "standard formats" they mean "Microsoft created, patented, licensed and undocumented formats". So of course any office application has to try and reverse engineer .doc and .xls to get them to work. Microsoft were heavily fined for ignoring a court order to release (in this case smb / Samba) documentation to allow others to make their software compatible with Microsoft's own. Again vendor lock-in in full effect.
Earlier on today we posted the latest ODF newsletter and LWN finally has this summary of the very recent ODF Plugfest, which is available to non-subscribers now.
ODF has hurt Microsoft's cash cow and it shows. Microsoft's results are out (shortly within the results of Apple, which easily advanced beyond Microsoft's), but it reshuffled the chairs on the deck a few weeks ago (divisions merging, bucket games, etc.), so if one looks beyond the expected spin in the corporate press it is evident that Microsoft just beat expectations that simply did not exist after it had been downgraded repeatedly. As Joe Wilcox puts it, "For more than 18 months, Microsoft has provided no guidance to Wall Street analysts, in a move that is highly unusual for so large and so successful a public company. As such, Wall Street analysts had to rely solely on their wits to call the quarter. Average consensus was $15.8 billion revenue and 55 cents earnings per share. Revenue estimates ranged from $15.32 billion to $16.18 billion. So Microsoft topped the Street." Do not forget that Microsoft has just taken more debt. Why would a profitable company keep borrowing money and pay interest on that? █
Permalink
Send this to a friend