05.02.11
Gemini version available ♊︎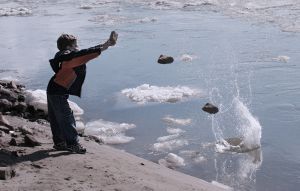 Summary: Why Google should toss Mono in the lake and also work to abolish software patents rather than acquire patents
THIS post is an unintended continuation of prior ones on the subject. It deals with Novell's promotion of Mono and Moonlight for Android , as recently covered by Paul Krill.
SUSE has failed to spread further since the Microsoft patent deal, so Novell uses other platforms as "hosts" by which to spread the disease. In Ubuntu, for example, there is a new Mono Trojan horde called Banshee (a Novell project), but according to this one blogger, removing Mono from Ubuntu 11.04 is maybe "intentionally easy". The blogger writes:
There are many people who are unhappy with Canonical Ltd's inclusion of Mono in Ubuntu and furthermore there are many who avoid using/promoting Ubuntu as a result.

Thankfully Ubuntu is not heavily dependent on Mono and removing it is easy, particularly in 11.04.
Compare that to the ravings of OMG Ubuntu, whose Mono contributors (they have tactlessly appointed Mono people to work among the authors) are launching off-topic personal attacks on yours truly this week. Here is more Banshee promotion from that site:
The new Banshee development cycle has official begun and within comes a number of big changes. Before you read any further, if you are currently using the Banshee Daily PPA now is probably a good time to disable it. With that said, let's look at what is already in the tree now and which will be in the first development release 2.1.0 (currently listed on the Banshee calendar as landing on the 11th of May).
First we had the pollution of Ubuntu with Mono and now that a lot of people embrace Android there is also an increased focus at Novell — focus that puts Android in a lot of Mono press releases. For shame. Google should know better, especially now that Microsoft and others try to use patents against Android. We already know that Mono is a patent liability. Brian Proffitt addresses one of the latest lawsuits against Google:
If there were ever a week where anyone could see just how remarkable stupid patent infringement litigation had become, this would certainly be it.

First, there was the $5 million jury decision against Google in the patent infringement case filed by Bedrock Computer Technologies, LLC.

The suit alleges that a patent that Bedrock owns, US 5,893,120, is infringed by Google and the other defendants in the suit (Yahoo! Inc., MySpace Inc., Amazon.com Inc., PayPal Inc., Match.com, Inc., AOL LLC, CME Group Inc, Softlayer Technologies, Inc., and CitiWare Technology Solutions, LLC) because such a method is employed by the Linux operating system and as major users of Linux, the defendants are liable for damages.
Microsoft is also attacking Google directly using patents. Well, it does not sue Google directly, but it is using its own legal department to sue Android distributors with patents that should never have been granted in the first place. Groklaw looks for prior art/research summaries while we continue to communicate with someone from MIT whose very broad tablet patent Microsoft seems to be interested in buying (more on that at a later date).
Check those dates, Barnes & Noble! No. I will do it for you. The patents that Microsoft hilariously claims are being infringed by Android were issued in the following years: 1998, 2002, 1999, 2005 and 2005 respectively. I am looking at my calendar. OMG. The year 1994 comes before all of them. My, my. That predates all of Paul Allen's patents too. Check out the video. I see a "Tell Me More" column. And it had a Personal Interest feature. It even had a touchscreen. Say, Google, are you aware of this? If not, here's a present for you and Android, I hope.

And here's the interesting part. I just checked Microsoft's patent No. 5,778,372, and I don't see this Knight-Ridder tablet listed as prior art. That, of course, is the issue Microsoft has raised in its appeal to the US Supreme Court in the i4i v. Microsoft case, what level of evidence is required to toss overboard a wrongly issued patent that was not considered by the USPTO examiner prior to its issuance. Talk about conflict. If this turns out to be relevant prior art, what will Microsoft want to happen now, I can't help but wonder?
Katherine Noyes has good coverage which also blames the system, not just the patent or Microsoft. Mike Masnick is meanwhile claiming that Google's strategy is unfruitful. The headline says "Unintended Consequences Of Google's $900 Million Nortel Patent Bid: Creating New Patent Trolls":
A few weeks back, Google got a ton of attention for offering a $900 million bid for a bunch of Nortel patents. Google made it pretty clear that it was seeking these patents largely to keep them out of the hands of someone else who might start suing everyone. However, there may be some unintended consequences. The publicity around Google's role and the size of the bid (which rumors say has already been surpassed by others) has drawn some renewed interest by some companies in "monetizing" their own patents. Greg Sandoval over at News.com has the story of a company called ReQuest, who claims to hold patents (7,577,757 and 7,136,934) on syncing — and is now sending out letters to companies asking for licensing fees. The letters apparently make it clear that "patent lawyers" are interested in buying up the patents, which is a pretty transparent threat: license up or we'll sue.
We have already said why Google's strategy is misguided. Instead of legitimising and adding to the so-called 'value' of patents, Google should help fund groups like the FFII. It is possible that RIM will get those Nortel patents at the end, and maybe that would be for the better. RIM is a proprietary software company; the patent strategy for a company like Google ought to be antithetical w.r.t. patents. Here is a group of recent videos about WebM and software patents [1, 2, 3, 4]. Basically, the whole idea behind WebM is to dodge patent thickets that typically come with multimedia codecs. Google has done a good job there, so why be hypocritical with a massive patent purchase?
The patent system is broken. Google knows it, everyone else knows it, except the patent lawyers and the monopolists whom they serve. The latter group can just pretend and even convince itself that it is doing the right thing. Watch this latest Federal Appeals Court cock-up:
Among the fastest growing problems within the realm of malignant monopolies is the disturbing frequency of abuse that lawyers now use to try and keep court documents under seal and away from public scrutiny. This results in a monopoly of information that is often abused by corporate powers within the legal system.

It is gratifying to know that the Federal Circuit Court of Appeals has sanctioned at least one attorney for abusing that process in the course of a patent infringement lawsuit.
Patents are not for the market anymore, they are for lawyers. To quote Bob Hauck from a few hours ago, "that is not the purpose of patents or copyright. The purpose as defined by the US Constitution is to "promote the progress of science and the useful arts".
"So patent protection should be offered only to the extent that the gains from offering it oughtweigh the costs of monopoly to society. It is not something inventors are automatically entitled to."
Google should help achieve some real patent reform; it oughtn't buy patents. It oughtn't accept patent traps like MonoDroid [1, 2, 3, 4, 5, 6, 7, 8, 9, 10, 11, 12, 13, 14, 15], either. █
Permalink
Send this to a friend