05.09.11
Gemini version available ♊︎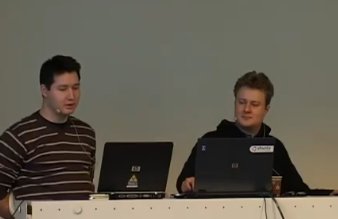 Summary: IBM and Google are still missing a wonderful opportunity to make the platform a commodity and defending this commodity by putting an end to software patents
SOFTWARE patents are the greatest-bar-none threat to software freedom and companies which defend their existence are definitely part of the problem. They usually work against the interests of those whose plan is to eliminate software patents altogether (FFII being an exception).
Last month we criticised Google for its bid to take Nortel's patents. If Google fights patents with yet more patents, then it merely legitimises the existence of thickets, patent lawyers, and government-protected monopolies. We have been critical of Google's stance for quite some time.
Google's latest patent pool for WebM is different however. Like the OIN's pool, it comes with certain commitments. From the official site: "CCL members are joining this effort because they realize that the entire web ecosystem — users, developers, publishers, and device makers — benefit from a high-quality, community developed, open-source media format. We look forward to working with CCL members and the web standards community to advance WebM's role in HTML5 video."
"IBM does not like to talk about its pro-patents policy and when I asked Dr. Sutor about it he refused to answer."It is a tricky one to defend, but since the alternative is hostile towards free software and proprietary software, WebM is by far the better choice. The same argument goes for the patent strategy of IBM, which is not against software patents (the same goes to some degree for Oracle and Red Hat). The spinners, such as Microsoft Florian, try very hard to distort the facts. They want people to believe that the hypocrisy extends to the whole Free software world. In fact, IBM and its cross-licensing with Microsoft does not quite make it part of the cartel because there is also OIN, which was created by a man from IBM. The OIN does commendable work. That's why the OIN is loathed by Microsoft boosters.
Another touch-worthy point about Google and IBM has a lot to do with their open source efforts that are not entirely open, let alone free. The Microsoft spinners try to generate 'dirt' based on that, mostly for smears against those top competitors. IBM prefers something like the Eclipse licence and not the Apache licence like Google apparently favours. This is perfectly acceptable although the patent issue remains uncovered. We discussed this in IRC last night. IBM does not like to talk about its pro-patents policy and when I asked Dr. Sutor about it he refused to answer. He was not comfortable with the question. It's not as though he was ignoring, as we had had a mostly amicable relation for years. Based on his CV, IBM changed the title from of his job (VP) from "Open Source and Standards" to "Open Source and Linux" and then to "Open Systems and Linux" (2010 to present). From standards to Linux and from Open Source to Open Systems, eh? Different explanations could be given for that.
IBM is a friend of Open Source, but its patent policy has room for improvement because now that the #1 person at the USPTO is from IBM, it is made abundantly clear that the company has no interest in ending software patents for good. While that is the case, Free and proprietary software developers alike (small players) will continue to suffer. Here is a company announcing that it is going to own another "over the Internet" patent:
DoctorsXL said May 3 that its web-based software MobileXL 3.0 is now patent pending.
We need more large companies that speak out against software patents. But patents are beneficial to cartels with many employees, so it is unlikely that mega-corporations will lift a finger for real reforms.
IBM and Google are not menacing to Free/open source software, but in conclusion, they deserve a lot more pressure. They should join the fight against software patents rather than act like FOSS defenders (with patents) and its babysitters. █
Permalink
Send this to a friend