03.31.12
Gemini version available ♊︎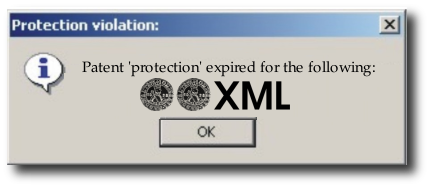 Summary: An update on what Microsoft is doing in the UK and what it is trying to do to HTTP
IN ORDER to delay the inevitable, Microsoft has been fighting against industry standards.
Here in the UK, Microsoft corrupted the BSI (resulting in a lawsuit) and according to this new report, Microsoft is now trying to override government policies:
Microsoft has been trying to persuade the British government to break its promise to back a single document format, Computer Weekly has learned.

If Microsoft's lobbying succeeds it will require the Cabinet Office to erase yet another crucial element of its flagship ICT Strategy, giving the software giant trump cards over the standard that set the terms of competition for its competitors.

Microsoft advised the UK Cabinet Office to appoint two official document standards, one of which should be its own Microsoft Office Open XML format. The other, Microsoft said in private lobbying, should be the one government officials have favoured and has been widely assumed to be the one sure thing in the coalition government's technology policy: the Open Document Format.

The government's ICT strategy made a single, open document format the primary objective of its open standards policy when it was published last year.

"The first wave of compulsory open standards will determine, through open consultation, the relevant open standard for all government documents," it said.

Though Cabinet Office since retracted its open standards policy after lobbying from Microsoft on another issue, putting it out to public consultation, it has given no sign that its promised official document standard may also be up for grabs.
This is yet another example of Microsoft's OOXML abuses in the public sector. On the Web too, based on reports like this one, Microsoft is trying to deviate from the standard and the summary at Slashdot says:
MrSeb writes "HTTP, the protocol that underpins almost every inch of the world wide web, is about to make the jump from version 1.1 to 2.0 after some 13 years of stagnation. For a long time it looked like Google's experimental SPDY protocol would be the only viable option for the Internet Engineering Task Force to ratify as HTTP 2.0, but now out of left field comes a competing proposal from Microsoft. Lumbered with the truly awful name of HTTP Speed+Mobility, or HTTP S+M for short, Microsoft's vision of HTTP 2.0 is mostly very similar to SPDY, but with additional features that cater toward apps and mobile devices. 'The HTTP Speed+Mobility proposal starts from both the Google SPDY protocol and the work the industry has done around WebSockets,' says Jean Paoli from the Microsoft Interoperability team. Basically, the S+M proposal looks like it's less brute-force than SPDY: Where server push, encryption, and compression are all built into SPDY, Microsoft, citing low-powered devices and metered connections, wants them to be optional extensions. Judging by the speed at which the internet (and the internet of things) is developing, I think MS's extensible, flexible solution has its merits."
Microsoft is using Google's behaviour as an excuse for its own. Nobody benefits from this. Knowing Microsoft's history, its control of so-called 'standards' leads to disasters. The same cannot be said about Google. █
Permalink
Send this to a friend