01.31.13
Gemini version available ♊︎
Time to sue Microsoft?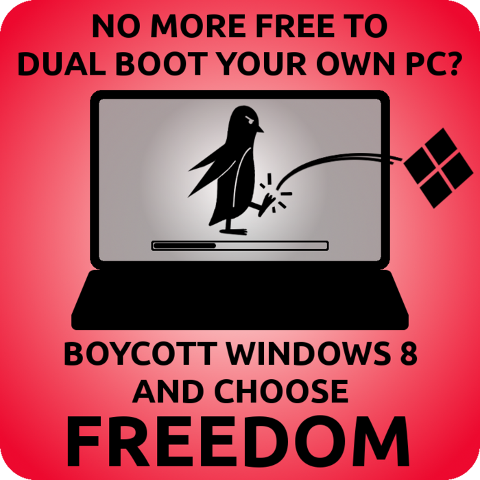 Summary: New lows for Microsoft's low blow against Linux
Now starts the sabotage stage. Microsoft should be seriously nailed for this obstruction of fair competition, but instead we see spin while cowardly Canonical and Red Hat play along (it is not clear if Red Hat really intended for this now that Dr. Garrett no longer works there). See this seminal report:
Booting Linux using UEFI just once on various Samsung laptops is enough to permanently stop them working. Several reports have been posted on the Ubuntu bug tracker, but the problem is likely to also be present in other Linux distributions, as it appears to be caused by a kernel driver for Samsung laptops. Kernel developers are currently discussing a change which would disable the driver when booting via UEFI.
Ubuntu developers were informed of the problem by one user last year, after he had tried to UEFI boot Ubuntu 12.04 or 12.04.1 on a Samsung 530U3C live from a USB flash drive. He had prepared the drive with Ubuntu's Startup Disk Creator, which sets everything up for booting via BIOS or EFI. Ubuntu froze shortly after loading the kernel and the user then powered down by holding down the power button. Thereafter the laptop refused to boot and the firmware would not even show basic startup information. Samsung repaired the laptop, which was under warranty, by replacing the motherboard. When the same thing occurred with the repaired machine, the user alerted the Ubuntu development team.
This has spread to more news sites [1, 2], one of which says:
Ever since Microsoft's Windows 8 OS arrived, many Linux users have been asking which distribution they can download and install that will just work out of the box on their new certified Windows 8 machines. That's been a difficult question to answer, thanks to the whole UEFI Secure Boot BIOS implementation found in Windows 8 machines, which prompted last year's post "Will Windows 8 Lock Linux Out of PCs?"

The Linux Foundation and others have been slow about delivering solutions to the problem, but some Linux distributions have appeared that provide a reliable workaround. Now, though, there are reports that Samsung machines–which are popular among Windows 8 users–can be completely bricked if you attempt to boot just a single time via UEFI into Linux.
Garrett tells his story where there is focus on recent work that legitimised UEFI. How proud is he now? To quote the SCALE Web site, "We had a chance to sit down with Matthew Garrett, SCALE 11x keynote speaker, to discuss his upcoming keynote "The Secure Boot Journey" as well as a host of other topics including the future directions of Linux."
UEFI was widely opposed by many while Garrett helped make it seem legitimate. As Will Hill puts it: "Don't let anyone tell you Restricted Boot is something people are getting around."
There is another new nightmare story:
Setting up multi-boot on UEFI-based systems has turned out to be quite an ordeal. Here is what I have learned so far.
Linux backers should file complaints against Microsoft, not explore workarounds. █
"I once preached peaceful coexistence with Windows. You may laugh at my expense — I deserve it."
Permalink
Send this to a friend