03.22.13
Gemini version available ♊︎
Staging a connection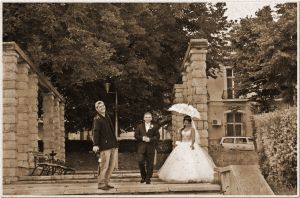 Summary: Shameless, dangerous hijacking of the voice of Free/open source software by Microsoft and its notable proxies
Mac Asay, who had applied to work for Microsoft, was too soft on the company amid the latest openwashing attempts. There seems to be a big campaign right now to make Microsoft seem like an open source player, with Microsoft allies doing a lot of the work.Microsoft Gavin promotes and grooms Miguel de Icaza this week and Microsoft's mole in FOSS, Mr. Walli [1, 2, 3], calls FOSS freeloaders in this new article. Yes, freebies is how Microsoft wants us to perceive Open Source, as if freedom is all down the trash along with the GPL and the FSF. There is something called "Future of Open Source Survey", which is being promoted right now without revealing the Microsoft connection. Black Duck is pushing around this stuff in social networks (using its corporate account). It is a recipe for trouble. The openwashing of Azure, as seen here, may be the reason, or one among several. Black Duck, which is openwashing its partner Microsoft, is behind some of it and here it is interjecting itself into the press. It says: "Perhaps no one knows this better than Dave Gruber, Black Duck Software's Director of Developer Programs. Black Duck is a software management and consulting firm. The company does not specifically market its own open source product line. Instead, it focuses on helping software developers build better software faster through open source."
No, it is exploiting FOSS, patenting software, and taking away other people's word (Palamida for instance) while openeashing partners like Microsoft. Black Duck is scooping up data analytics and forums related to FOSS to speak on everyone's behalf and form a pseudo-authority. No wonder Black Duck was founded by a former "Evangelist" of Microsoft, a euphemism for AstroTurfer.
The "Open Source Think Tank" too is Black Duck-controlled and Red Hat makes a mistake by participating. Here are some older posts about the Open Source Think Tank:
Microsoft's Gianugo Rabellino, in the mean time, finds a way to promote his new paymaster's agenda by openwashing in ZDNet with this:
SINGAPORE–The pervasiveness of multiple device ownership has made mobile a key area to further the open source and open standards momentum, and one project Microsoft Open Technologies is driving is the introducing specifications related to enabling Web pages on any browser to understand different inputs such as touch-based movements.
What utter nonsense. This has nothing go do with open source, it's just called Open Technologies and it brings code into Microsoft's proprietary stack. Microsoft does not invite FOSS developers, it invoices them.
Resist Microsoft's abduction of the Open Source message or see the term dying, even in governments which claim to adopt open source software. █
Permalink
Send this to a friend