06.20.14
Gemini version available ♊︎
Many patents killed in a fire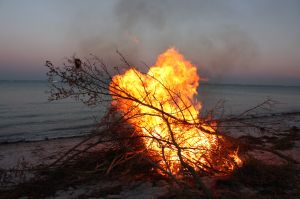 Summary: The US Supreme Court has just ruled a lot of software patents "invalid" (by generalisation), raising hopes that things are improving
WE are exceedingly delighted to learn that the Supreme Court (SCOTUS) ruled against software patents. Before lots of law firms (patent lawyers) issue their revisionist 'articles' on why it doesn't change anything let's look at what happened.
SCOTUS has, without exception among the Justices, decided that some software patents are too vague to merit a win in court. Essentially, they're rendered toothless, by precedence. It is possible that hundreds of thousands of software patents have just been rendered dead. Since SCOTUS is the top court, not even the software patents-friendly CAFC can reverse this decision. As one good writer (patent matters expert) put is: "The most-anticipated patent decision from this Supreme Court term was published today. The decision involves finance-related software patents that were being used against CLS Bank, a key part of the global financial infrastructure."
Here is the response from Red Hat's site, an Android-hostile site, a Linux-friendly site, and from the FSF, which says "more work needed to end software patents for good". There was a lot of coverage in the corporate media too, including [1, 2, 3, 4, 5, 6, 7, 8, 9, 10, 11, 12, 13, 14, 15, 16, 17, 18, 19, 20, 21, 22] and the message is quite uniform. Not even lawyers' sites can deny the truth here. They will surely try later. We have done an extensive media survey and the media is as unanimous about this as the SCOTUS is. Here is the response from TechDirt, which sheds light on why it's not enough. To quote the headline: "Supreme Court Rejects Software Patents On Performing Generic Functions; Pretends That Lots Of Other Software Must Be Patentable" (lawyers are going to have a day field around the latter part).
This is clearly not the end of software patents, but it's a good start. Let's enjoy this small victory while it lasts. A future patent case can be escalated to SCOTUS again, shedding doubt on this decision. It doesn't happen quite so often though (In Re Bilski was half a decade ago). █
Permalink
Send this to a friend