08.06.15
Gemini version available ♊︎
SCOTUS changed everything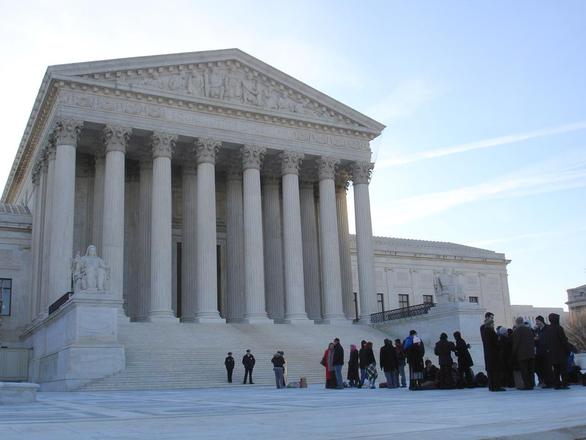 Summary: A comprehensive look at the past week's news, including new cases that serve to weaken software patents in their country of origin
THE very existence of software patents is troubling. Not everyone can understand that because not everyone is a software developer. If the notion of a global patent system ever becomes a reality, then we must ensure that this system does not have any software patents. Therein lies the importance of the fight in the United States, by far the most influential country in international politics.
A couple of days ago some Microsoft-friendly media (paid by Microsoft for a lot of advertising) published the post titled "Copyright is enough for software". It is not a bad post and it helps echo the feelings of many software developers. To quote the opening part: "Now I will fully admit that software patents are getting more restrictive, and the patent office, working with members of the community, has offered up a few ideas to make software patents less offensive and broad. This is a good thing, as in the past we've had some truly horrendous software patents issued for utterly mundane things that every developer uses every day."
As we are about to show later in this post, the US patent office is indeed narrowing down scope in some areas (such as software) and courts support such a move, which they quite likely motivated in the first place.
Patent lawyers are, quite understandably, nervous. They try to lure people into conducting patent searches and fall into the wasteful trap which is software patenting. See this new article from the technical press, suitably titled "Patents: Exercises in Futility and Incomprehensibility?"
They are a waste of time and they achieve nothing but collective fear, which slows down development. "Learning anything from patent documents has to be one of the world's least productive endeavors," explains the author. "But there are a few techniques by which you can squeeze out what useful information may be hidden there."
Better yet, never look at any patents at all. It only increases liability in case of infringement. This isn't an act of civil disobedience but a matter of setting priorities correctly. Software developers should write code, not read patents. Imagine patents on recipes and cooking, leading chefs to endless reading of patents (instead of cooking), whereupon some forms of cuisine will be deemed too risky to do, making food more expensive and stale. Who benefits? Certainly neither chefs nor the public. Such a system would result in cooking 'conglomerates' and hoarding by their facilitators like lawyers.
International Trends
In BRICS nations there is resistance to software patents, although based on this new article, China is allowing patents on software in some cases. China has been trying to artificially elevate the number of its patents for quite some time, even by lowering the threshold/bar of what's patentable. It is, in part, a PR exercise. It's part of the national agenda, seeking to rid this growing economy and great nation of the "knockoff" reputation.
Not many Western companies bother patenting their work in China (unlike, say, Korea and Japan, where companies also love to patent their stuff in Europe and the in US). Not many people or companies in China get sued over patents, at least not based on what we can see. Western companies very rarely get sued in China (over patents or anything else for that matter); there are only few cases that are seldom covered (on very rare occasions), usually involving some big brand like Apple because such stories 'sell' better.
Quoting the above: "The first [patent] is from the Chinese State Intellectual Property Office (No. 200880126543.0) entitled "Method, System and Computed Program for Identification and Sharing of Digital Images with Face Signatures", while the second patent is from the Canadian Intellectual Property Office under the same title (No. CA 2711143)."
It is interesting that Chinese patents are sought by companies for the same ideas that are patented in Canada. Depending on which application was made first, we may be able to deduce or at least guess the intention. Not too long ago Apple was sued over patent infringement in China, where Apple is clearly losing to Android players like Xiaomi (now exceeding Apple in terms of sales). Before China was fighting back against patent aggressors like Microsoft Chinese companies like ZTE surrendered to Microsoft without a fight. It helped demonstrate the role of software patents in China. Microsoft can try to ban imports from China until or unless products are castrated (features removed), money gets paid to Microsoft, or Android is dumped in favour of Windows (or a Microsoft-centric version of Android, with a lot of Microsoft malware preinstalled). Overall, China has nothing to gain from software patents. It merely suffers from these. Thankfully, China isn't falling for all these horrible 'trade' deals (misleadingly marketed to the public as "against China"), where increase in patents and their scope/range of applicability is paramount.
According to a new article from IAM, China's ZTE is now fighting a battle with a US-based troll. It's the Microsoft-backed Android/Google-hostile Vringo. Patent Buddy called this "ZTE's Plan to Disparage Vringo and Change US Patent Law (to make it anti-patent)" (so again, US patent law is relevant here).
Over in India, another BRICS nation that does not in principle allow software patents, Google has just received a software patent. "Google has secured an Indian patent," said the Financial Express, "for an invention regarding a method and system for transferring annotations associated with video files. "
There seems to be some kind of confusion when Western companies come to BRICS nations and attempt to patent software. Are patent examiners aware at all of the fact that software is ineligible for a patent where they are? Perhaps we need to focus more on the source of this influence, which fools examiners into granting patents on software, gradually taking these global, even against the law.
USPTO Guidance 'Reform'
The US patent office, the USPTO, is trying to keep up with the courts. It plays catchup with the law, keeping abreast of big judgments more than a year later (because the USPTO, like the court system, is far too slow). Here are the concerns of Barnes & Thornburg's Intellectual Property Law Department (i.e. patent lawyers), among others. It's about Alice and software patents (§ 101). This is again input from patent lawyers (Finnegan, Henderson, Farabow, Garrett & Dunner LLP), also echoed here. What we basically see here is a lot of responses from patent lawyers to changes that are happening at the USPTO, based on new guidelines for patent examiners. Snow Christensen & Martineau (more lawyers) chose the title "New examination guidelines from the USPTO on subject matter eligibility: what it means for the patentability of your inventions" (the most desperate headline came from the most shameless promoters of software patents).
For the uninitiated, software patents are gradually dying in the US, for the courts repeatedly rule against them, invalidating a lot of patents in the process (even by extension, through precedence). The USPTO is just trying to keep abreast here and refrain from granting more patents that would later get invalidated because 1) it damages the credibility/reputation of the USPTO (granting patents in error) and 2) it lowers, in due course, the incentive to file/apply for patents at the USPTO, for they may not be honoured by the court system, deeming them a massive waste of time and money.
Courts Continue to Crush Software Patents
As another week goes by, another case serves to show that software patents are not potent enough for winning a case, not even in the US. Invaliding patents on invisible things (like algorithms) is the big trend these days and here again is a reminder of that in lawyers' media. "It is very important to provide adequate disclosure when using "means-plus-function" claims in a U.S. patent," says the author, "particularly in the field of software."
According to this same publication, more software patents are about to get invalidated. To quote the opening paragraph: "On July 9, a judge in the district of Oregon granted two motions for summary judgment finding that the claims of United States Patent Nos. 7,346,766 and 6,728,877 fail to state an inventive concept sufficient to satisfy the Supreme Court's test for patentability of an abstract idea under Section 101, and are therefore invalid. The patents-in-suit involve technology related to the migration of user configuration settings from a source computing system to a target computing system. In granting defendant's motions for summary judgment, the court followed the Supreme Court's guidance in the landmark Alice Corp. Pty. Ltd. v. CLS Bank, Int'l, 134 S. Ct. 2347 (2014) decision."
No wonder patent lawyers worry. Alice has been doing this time after time. "The Supreme Court has made changes to patent law and how it's interpreted, he says, which makes the interpretation of patent laws more uncertain, particularly where software is involved," corporate media wrote the other day.
Here is another new article about this. "To be granted a patent for software," it says, "the patent application had to overcome objections based on a 2014 US Supreme Court case holding that the mere computer implementation of a business method is unpatentable. The US patent examiner has judged Arria's "Method and Apparatus for Configurable Microplanning" to be an innovation that contributes to the field of computer science. The innovations underlying this and Arria's two other US patents enhance the quality and authority of the plain English narratives being written by the Arria NLG Software Engine without human intervention."
We gradually get to the point where most software patents are worth $0 and no new ones (or very few ones) actually get granted. In this trend broadens in the US, then software patents will be universally (globally) dead. It's only a matter of time.
Lobbying Persists
The USPTO has been changed and perturbed over hundreds of years, with scope expanding to millions of patents on mere ideas (not physical, no mechanics), but some people live in the past and pretend that no correction is required. Martin Goetz, who has been making a career out of speaking in favour of software patents, is now enjoying support from patent lawyers who give him their platform. The man who started software patents (Martin Goetz got the first one) wants us to stop saying "software patents" as if trying to just dodge the debate by changing words will make these patentable again. CII? Computer-implemented inventions? That term never caught on. Just like "NPE" for trolls, or formerly patent sharks.
Patent lawyers are having an 'ACTA moment' right now, realising that what they tried so hard to defend has got a very bad name, so they try to rename. This basically means they lost.
It is going to be interesting to see how the rest of the world responds to the post-Alice status quo in the US. Software patents are in the process of rapid demise, but it may take half a decade for this plague to be totally eradicated. These systems are very slow to adapt to change. █
Permalink
Send this to a friend