09.15.16
Gemini version available ♊︎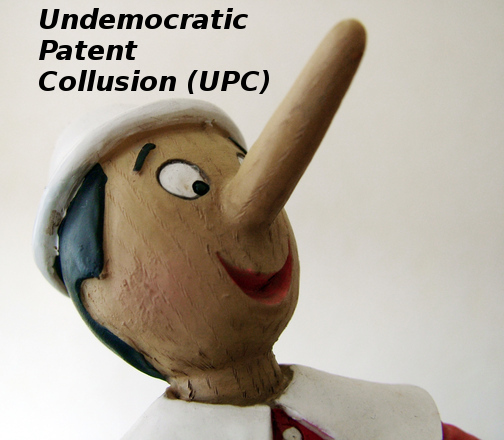 Summary: The crazy theory or baseless belief that somehow, somewhere, by some truly miraculous means, UPC will suddenly become a reality, damaging the whole of Europe for the sake of patent law firms
IT IS TRULY SAD to see that Team UPC and the EPO's President are still living in a delusional world, surrounding themselves only with equally delusional people (echo chamber/choir). They want us too to live in a fantasy, and maybe even believe that the UPC still has a chance. We refuted/debunked this fairy tale many times in July (after Brexit) and to quote a comment we've received this week, "Germany will not ratify the UPC treaty. Thus the project is dead." It seems rather obvious, but when one has an agenda, reality has a distortion field. Unlike Team UPC, yours truly has no financial stake when it comes to the UPC. It's just that the UPC is unjust, it is undemocratic, and it would render many patent examiners (i.e. scientists) redundant. The UPC is very harmful to Europe, even though it will never happen anyway. It's just a lot of effort and resources down the drain.
Madman in chief Battistelli is still lobbying for the UPC. He never gets tired of this, having done so since before he was even a President at the EPO. "European Patent Chief Wants Post-Brexit UK In Unified Court" is the headline of a new article from Law 360 and some people are distorting this headline to suit their agenda ("EPO wants UK to ratify Unified Patent Court agreement despite Brexit" is not what the original said), equating the "EPO" with Battistelli as if it's a one-person organisation (Battistelli has 0% approval rating at the EPO, so clearly his own workers strongly disagree with him). To quote Law 360: "The European Patent Office is urging the U.K. to ratify an agreement to create a Unified Patent Court system for the European Union, even though voters in the country passed a referendum to leave the bloc, EPO President Benoît Battistelli said Tuesday."
Team UPC is desperately trying to float this dead project (Germany won't ratify it) and Italian elements of this team speak up amid new reports like this one ("Changing places: why Milan should host a UPC central division court"). We have heard it before (about Milan as a theoretical substitute for London), but it's not so suitable a substitute and it requires a massive overhaul of the UPC and what it stands for (not even renaming Milan "London" would shift all the skilled people to Milan). Found via Twitter was this firm of "Intellectual Property Consultants" (their own description) trying to convince us that the UPC is somehow coming because, in their own words:
Italian Parliament's lower house passes ratification of Unified Patent Court Agreement

The lower house of the Italian Parliament has approved a bill on ratification of the Unified Patent Court Agreement, a passage through the upper house is necessary for final approval.

Yesterday the Italian Parliament's lower house, the Chamber of Deputies, approved the draft law on ratification of the Unified Patent Court Agreement (UPC Agreement), with 302 votes in favour, 108 against and 25 abstentions.

The Unified Patent Court is the supranational tribunal that will eventually have exclusive jurisdiction on both European and unitary patents.

[...]

The Committee for EU Policy asked the government to consider the opportunity, within the United Kingdom's Brexit process, of requesting that Italy forward its candidacy for the seat of the Unified Patent Court's central division originally assigned London.

The bill must pass through the Italian Senate before final approval.
Several other Italian patents-centric firms want the UPC and spoke about it today. Why? Because it would pass Europe's wealth into their pockets while retarding science, technology, medicine, etc. The Unified Patent Court is not about Europe but about some European lawyers. Not even all of them…
For reasons we laid out before, the UPC is almost certainly dead and unlike some others who deny it here's one firm which at least acknowledges the role of Brexit in burying the UPC, probably in the whole of Europe if not just in the UK. "Netherlands ratifies #UPC agreement with press release noting uncertainty over Brexit," says this tweet, linking to a Dutch article. Watch what Bristows (probably the most vocal among Team UPC) wrote about it a short while ago. Certainly, especially in the UK, the UPC is a dead (Trojan) horse and Bristows speaks of a "Great programme from BBC radio4 on Brexit's impact on the #law including the #upc"
All this UPC lobbying is intended for Team UPC "to get what they want – the UPC in operation asap," said a new comment today. This rightly speaks of "delusions of grandeur":
I fear that delusions of grandeur abound. Much of the analysis (but not all) is based on how to get what they want – the UPC in operation asap. That seems to require the UK to sign up quickly, while the UK government is dealing with a Brexit scenario! There seems to be a lot of yes, yes but we are more important so the UK will act against its citizens' mandate as that's in our best interest. They may be surprised to hear that the UK government, irrespective of its personal opinion, is facing a new reality and may have reasons not to help them on this matter.
It astounds me that there is such a lack of appreciation for the changed framework. All those pushing for change and acceptance of change appear to be the least able to accept change when it involves them.
No matter what self-serving patent law firms are saying, the UPC (or the unitary patent) is basically dead in the water. They try to mislead the public and confuse politicians. They tried this on David Davis here in the UK (Bristows). It's rude if not just pathetic. "UPC will not replace EPO patent opposition procedure," one person wrote, "further view from pharma industry" in the Managing IP UPC advocacy events in France and Germany last week [1, 2, 3, 4]. These lobbying events with the EPO inside were filled to the rim with Team UPC. To quote one person: "Thanks @ManagingIP for an excellent #patent forum http://bit.ly/2bUxYpI including key updates from @EPOorg on #UPC + industry perspective" (lawyers are not an industry but a meta-industry).
These patent law firms are trying to perturb patent law to increase their profits (more damages, more lawsuits) and one such firm published Unitary Patent, Unified Patent Court, and "Brexit", having noted (from the lobbying events) that "British EP patent attorneys probably in better position to represent at #upc than English solicitors!"
We expect the conspirators behind the UPC to rename and restructure it, maybe start from scratch or try to patch the whole thing in vain. They won't know the impact/outcome of Brexit for years to come, so this is tremedously premature and they don't even know whether to include the UK or not. It's almost a non-starter.
Remember. Mark our words. The UPC will never happen, not under this name and not in this current form. It's just reality distortion. █
Permalink
Send this to a friend