02.08.17
Gemini version available ♊︎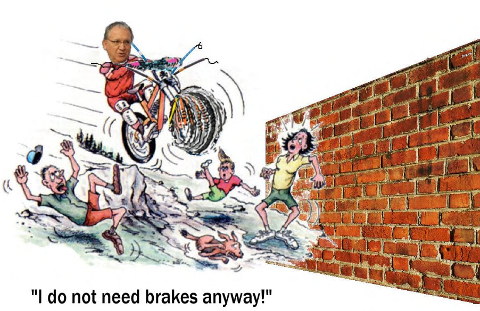 Summary: ILOAT (of the International Labour Organisation) once again fails EPO staff, having neglected to even issue a judgment on cases that got appealed (referral to external body)
THE EPO is everything which is wrong about bodies that enjoy immunity; it's being exploited to the max, in fact to the point where many people take their own lives.
One reader looked at the latest (today's or this week's) ILO decisions, which usually turn out to be useless to EPO staff. It's all ""dismiss" "dismiss" "dismiss"," the reader told us. "I looked (VERY quickly) through all 97 judgments, almost all of the EPO cases were dismissed for irreceivability (time barred or not individually applicable), only a couple of decisions were set aside, and they were very old, dating from pre-Elodie Bergot times. What we can learn is that it is completely against any basis of fair justice to rely on the ILOAT when it either takes so many years or can't be used to challenge general decisions (despite what the Supreme Court in The Netherlands says)."
So will the Dutch reassess their recent decision? Their decision was contingent or heavily dependent on the illusion that external resorts to justice exist.
In the mean time, the out-of-control "Battistelli [...] is deliberately trying to turn the EPO into a mere registration system (like France's)," said this new comment; in other words, any dimension of justice at the EPO would be eliminated and all they would require is a bunch of clerks who can file papers on a shelf. The following comment linked this to Battistelli's dangerous UPC ambitions. To quote:
I am surprised that you think that association with the EU would be a solution. To my mind it is the problem. I do not believe that the formalization of EU-EPO links with the UPC and Battistelli's arrival and actions are a coincidence. I do not think Battistelli is irrational as some have suggested. He is deliberately trying to turn the EPO into a mere registration system (like France's), the better to favor big corporations (remember his instruction to examiners to treat such applicants preferentially). If he succeeds then a Europe-wide patent system vastly skewed in favor of big business and against small and medium-sized applicants is a huge prize.

Oversight by the European Parliament? Don't make me laugh. There have been many objections raised against Battistelli in that toothless talking-shop, with no result. If the EU were to act as a bloc they could put a stop to his gallop immediately. But that won't happen. Also, France could withdraw him at any moment. The fact that they don't means that have something to gain by his continuation. Maybe they think the UPC court is a plum, or his political chums are being "encouraged" by those who would benefit from a Europe-wide registration system. I dunno. But considering the EU as a remedy for injustice is just plain daft. As someone has mentioned, one need only remember its accounts scandal.
One reply to it, citing a part that says Battistelli "has tried to push through more patents at a faster rate and at lower cost," a reader wrote: "Saw this before at the USPTO during the Reagan years that caused a lot of rubbish to issue."
Yes, on many occasions before we wrote that Battistelli was emulating the worst aspects of the USPTO (before it began repairing itself). Further down in the comments one person wrote:
I don't know enough about their inner working or accountability but can imagine, 'nice patent application ya got there gov, shame if something were to happen to it'.

I'm currently writing a patent so I've followed this story with interest. I wonder if so much of our governments are corrupt how could my patent application be screwed around with.
Applicants should definitely be concerned that the EPO does not serve justice or even do a proper job anymore. Examiners are depressed and overworked, 'thanks' to Battistelli. His EPO is even attacking its own judges (a Battistelli policy) and one separate comment from today said something interesting about Battistelli's attempt to collectively 'punish' these judges by sending them to exile:
How likely is a legal challenge to the ability of a board of appeal to sit in Haar?

I am sure an enterprising attorney will request a question be submitted to the enlarged board pointing out that under Art. 6 EPC it is required that the EPO be located in Munich (with a branch at the Hague) and under Art. 15, the boards of appeal shall be set up "within" the EPO. Since Haar is not in Munich but "Landkreis München". If so, what is the betting that the members of the EBA, who presumably are not in favour of moving, would agree that under the EPC, they must be located in the city of Munich rather than be shunted out.
In summary:
Staff of the EPO enjoys no access to justice
Staff of the EPO is actively bullied by management
EPO management enjoys immunity and impunity, taking advantage of (1) and (2) to instate an atmosphere of fear
Judges of the EPO are constantly under attacks which cloud their judgment (see 3)
Examiners at the EPO are unable to do their job properly
The EPO has become the very antithesis of what it was supposed to be and do. It's a shame that the Dutch government is so obsessed with the perks it receives as a host nation that it's unwilling to smell the coffee. █
Permalink
Send this to a friend