04.30.17
Gemini version available ♊︎
Hailo lawsuits guaranteed
Summary: The (mis)use of software patents for "easy money" is being challenged and it does not look particularly encouraging to those who rely on such patents in 2017
THE resurgence of software patents in Europe, due to the EPO's abhorrent attitude (the management not obeying the law), is a very serious issue, but it's one that we regularly cover. In the US, for example, the sheer abundance of software patents (granted before Alice) continues to feed patent trolls and other parasites. It's destroying the industry.
The momentum against software patents may have been lost (albeit courts continue to squash these) and sometimes we see both software patents and patent trolls tackled at the same time. "Stupid Patents of the Month," for instance, are now these patents which the EFF mentions as follows:
With all the attention ride-sharing has been getting lately, some might think Uber and Lyft were highly inventive apps. But according to at least one company, the apps are just highly infringing. Who's right? Probably neither.

Hailo Technologies, LLC ("Hailo") has recently sued both Uber and Lyft, alleging they infringed Hailo's taxi dispatch patent, U.S. Patent No. 5,973,619 ("the '619 patent"). The patent claims a method for a "computer system" that: (1) displays a list of transportation options; (2) asks the customer for a number of passengers; (3) shows destinations graphically; (4) displays the approximate fare; (5) calls a selected taxi company up for a ride; and (6) gives an estimated arrival time. A few months ago, Hailo also sued a few other companies for infringing a different patent, U.S. Patent No. 6,756,913 ("the '913 patent"), which claims a method for keeping track of available taxis on the road. More specifically, it claims a method where a computer (1) determines if a taxi is free (i.e. currently has no rider); and if free (2) sends the current location of the taxi to the taxi dispatch server.
We looked up details about Hailo Technologies and found nothing except the above lawsuit and prior ones. As it turns out, Hailo has been around for a number of years (there are even puff pieces about it) and "Hailo Technologies" is its trolling alter-ego. The patent goes back to 1999 and is a software patent that's not just obvious (see the EFF's explanation) but is also meritless after Alice. The EFF says the patent is on "a method where a computer (1) determines if a taxi is free (i.e. currently has no rider); and if free (2) sends the current location of the taxi to the taxi dispatch server."
This is the same thing taxi companies already did with or without a computer prior to the patent. Nothing innovative here…
We feel pretty safe to guess that Hailo walks on broken glass here. We predict these patents will be invalidated soon.
Qualcomm's Glasses Shattered
The following chart is almost self explanatory. As soon as Apple said it would stop paying Qualcomm the following thing happened.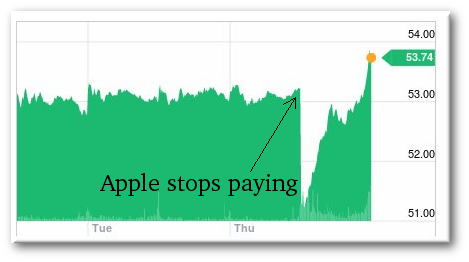 Notice the volume in this chart. There's a massive panic.
Expect more of the above from Qualcomm, which is seeing erosion in 'protection' money. It's already way below its 52-week high. Apple has apparently stopped paying, sending Qualcomm's stock into a tailspin on Friday (down almost 5% in just one hour). Having sent Florian Müller a couple of links about it (also included in our daily links), yesterday he published "Qualcomm reduces quarterly forecast by $500 million as Apple stops license fee payments" and said:
Bloomberg reports that Apple confirms having "suspended [license fee] payments [via its contract manufacturers in China to Qualcomm] until the correct [fair, reasonable and non-discriminatory = FRAND] amount can be determined by the court" and that Qualcomm therefore has reduced its revenue forecast for the quarter ending June by $500 million. Given that the spring quarter is not the strongest one for mobile phones (the closest the next iPhone model is, the more customers wait until they buy), this indicates more than a $2 billion impact on Qualcomm's annual revenue and profit.

Just like the analyst quoted by Bloomberg, I've previously described patent disputes as an "all-out war," but I try to use the term sparingly. I'm not saying that's not what it is. I just want to wait and see how the dispute unfolds. There can be no doubt, however, that the stakes are high.

The $500 million figure for a quarter that is not the strongest one of the year is not really inconsistent with what I recently estimated to be Qualcomm's royalty demands.
Qualcomm is a parasite which we hope will lose even if we don't generally support Apple. What's at stake here is FRAND with software patents. Qualcomm needs to justify its existence by making actual products, not just taxing products. █
Permalink
Send this to a friend