10.04.17
Gemini version available ♊︎
They could have, instead, adopted Android back in 2011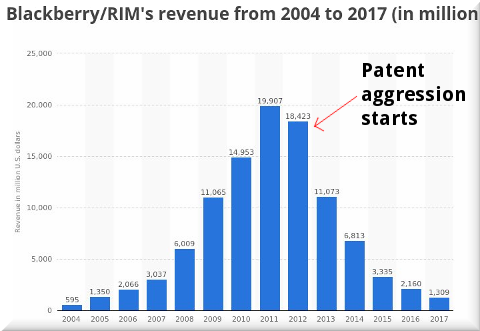 Summary: The collapse of BlackBerry and the failure of its plan to prop itself up by patent lawsuits and general aggression
THE business model of BlackBerry is a big unknown. Reuters was very, very late to pick up this news regarding the departure of BlackBerry's patent chief/strategist. IAM mentioned it again yesterday. To quote: "This year, things were made even more complicated by three high-profile corporate moves in late summer: Allen Lo's switch from Google to Facebook, Brian Hinman's decision to leave Philips and Mark Kokes's sudden departure from BlackBerry."
To put it simply, now is a bad time for patent predation. Patent trolls are on the decline and there's little/no hope for software patents (higher courts never tolerate any of them).
Here is what Reuters wrote:
The man who was leading BlackBerry Ltd's efforts to make money from its patent portfolio has left to join a health technology company, two sources with knowledge of the move said on Monday.

Mark Kokes left the Canadian company last month to join privately held NantWorks LLC, the sources said. NantWorks was founded in 2011 by billionaire Patrick Soon-Shiong and houses a string of startups looking to transform global health information and develop next-generation pharmaceuticals.
So now we know where he was going. All that blackmail by BlackBerry (like frivolous patent lawsuits in Texas) gave them just a few millions of dollars. Hardly enough to keep the company alive. Mark Kokes (who has left the company) gave his employer some 'protection' money, but the company's name is tarnished and in technical circles BlackBerry is now viewed as evil. It's viewed as a patent parasite, not an innovator.
The trolls' apologist, Richard Lloyd, said this a few days ago:
BlackBerry saw its IP revenues almost double in the second quarter, jumping from $32 million in the first three months of the fiscal year to $56 million for the period ending August 31st (the company accounts on a March to February fiscal year). On a call with analysts BlackBerry CEO John Chen revealed that the company had recognised IP revenues from three licensing deals with Ford, Blue and Timex and added that the business had "a good pipeline of opportunities".

[...]

While Kokes was responsible for building a licensing team in-house, several outside observers suggested that a number of more senior executives were closely involved in the commercialisation efforts. Kokes reported into Sandeep Chennakeshu, president of BlackBerry Technology Solutions, while Chen himself is thought to have kept close tabs on the licensing efforts.

[...]

That message clearly didn't reach Kokes who was known to be particularly bullish about the monetisation prospects for BlackBerry's IP assets and told IAM earlier this year that his mandate was simply to, "monetise the BlackBerry portfolio using every means possible". That saw him strike a number of licensing deals but also sell some assets such as a 2015 disposal to investment firm Centerbridge Partners
Lloyd tries to make it sound like a great success, but to put things in perspective, just half a decade ago the company was making 20 billion dollars per year. Tens of millions are just a drop in the ocean and after suing in the Eastern District of Texas the target base of BlackBerry probably knows it better for litigation than for actual products. █
Permalink
Send this to a friend