06.18.18
Gemini version available ♊︎
American (US) pharmaceutical patents on Canadian soil are meanwhile at risk as a result of Trump's trade war that invites retaliation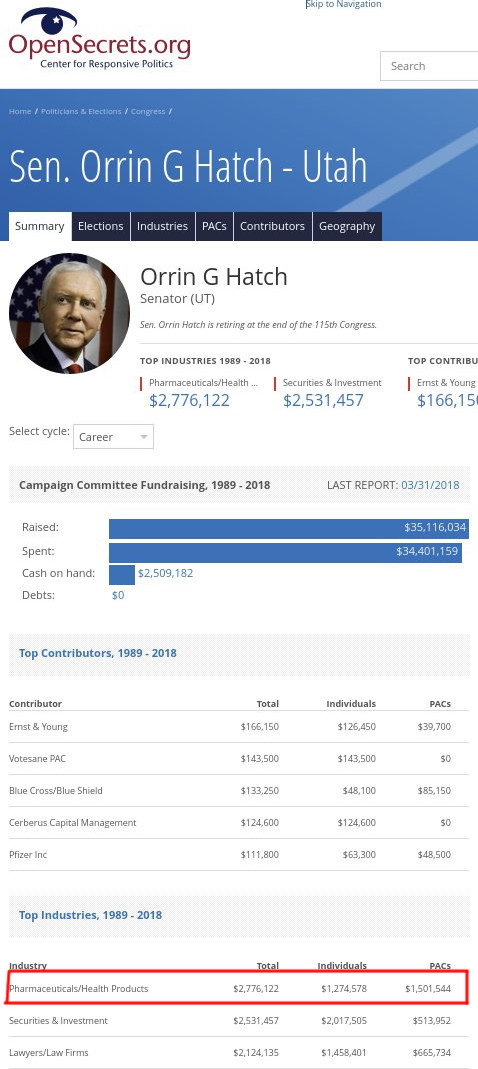 Source: OpenSecrets
Summary: Orrin Hatch is the latest example of laws being up for sale, i.e. companies can 'buy' politicians to act as their 'couriers' and pass laws for them, including laws pertaining to patents
THE SCOTUS issued some important rulings such as Alice and Mayo, which meant that patents granted by the USPTO may, in retrospect, be invalid. The Saint Regis Mohawk Tribe is attempting to shield Allergan from the Patent Trial and Appeal Board (PTAB), the only tribunal that can render Allergan's patents invalid unless Allergan sues. All sorts of pharmaceutical patents are under a similar threat from PTAB and Mr. Kyle Bass made headlines some years ago when he used PTAB as a 'weapon'. His 'threat' was ending a monopoly.
The subject of immunity from PTAB is now at the Federal Circuit and we need to question the motivation of politicians who take Allergan's side, even based on their sources of funding alone.
"Watchtroll likes to heckle politicians who receive money from technology firms, but what about pharmaceutical firms?"To be clear, in the area of technology pretty much all the companies — both large and small — support PTAB, except a few like IBM, which nowadays relies on patent shakedowns rather than sales (we have been saying this for years [1, 2, 3, 4, 5]). Watchtroll likes to heckle politicians who receive money from technology firms, but what about pharmaceutical firms? Or law firms (third in Orrin Hatch's list)? We'll come to that in a moment. In case it's not obvious, in the pharmaceutical sector the notion of patent trolls is rare and practically ineffective because the number of producing firms is relatively small. It just doesn't scale. So PTAB is of virtually no use for large pharmaceutical firms; it mostly puts them under the 'threat' from generics (we use scare quotes because this the real threat is a threat to people's lives due to the price of certain medicine — monopolised medicine).
The USPTO's SAS decision "isn't good for the efficiency of the PTAB inter-partes review (IPR)," Florian Müller wrote a short time ago (as noted in yesterday's post of ours), unlike Oil States. Here are some passages:
Samsung challenged multiple claims of two of Huawei's patents-in-suit. The USPTO decided to institute reexamination with respect to some of them, but it had to issue a supplemental order in the wake of SAS and look–nolens volens–at all challenged claims, though it encouraged Samsung to drop its challenge to the ones with respect to which the USPTO was originally unconvinced.

Huawei had actually focused, for the purposes of infringement litigation, on the claims the USPTO viewed more favorably, but the SAS decision changed everything.

As I wrote in my commentary on SAS, this isn't good for the efficiency of the PTAB inter-partes review (IPR) process, but the conservative Supreme Court majority was right that the way the law was worded didn't leave room for any other decision, short of legislating from the bench, which most justices declined to engage in.
There have long been attempts to slow down if not shut down PTAB. These attempts came mostly from pharmaceutical giants and the patent microcosm. Days ago we named involvement by Hatch. This anti-PTAB move is now being covered by Dennis Crouch and Watchtroll, who spent his Sunday badmouthing the cause of generics. To quote Crouch's take (something we already covered twice in recent days, saying we'd check Hatch's contributions to know if indeed he's in the pockets of big pharmaceutical companies):
The basics of the amendment is that the results of an IPR/PRG proceeding cannot serve as its Paragraph IV certification that the patent is invalid. A parallel provision is designed for biologics under the BCPIA.
Suddenly everyone starts talking about this; it's seen as the latest anti-PTAB angle. See Bryan Helwig's "Life Sciences Court Report" (published hours ago) and this Twitter exchange involving Senior Lecturer Luke McDonagh (who comments a lot on UPC), patent attorney Alexander Esslinger (Team UPC), and Jonathan Kimmelman (Bioethicist/Meta-scientist). "Canada is discussing to make pharmaceutical patents unenforceable in Canada aiming at US pharmaceutical industry as retaliatory action against Donald Trump's tariffs IP [sic] trade war," Esslinger wrote in relation to this article from CBC (Canada). To quote:
And so Attaran is suggesting that Canada take aim at U.S. drug patents.

The U.S. holds more pharmaceutical patents and other intellectual property licences than any other country. But that strength could become a vulnerability if Canada took action to suspend American patents on Canadian soil. Canadian companies would then be able to produce those drugs.

"You hit us on tariffs, we hit you on patents," he said.
Hours ago Keith Speights published "Big Pharma Stock Investors Beware: Another $250 Billion Patent Cliff Is Coming" — an article in which he says:
How scary is the impending patent cliff? It's not as bad as you might think.

The worst brunt won't be felt until 2023. Total sales at risk due to patent expiration will actually be much lower than in recent years in 2020, 2021, and even 2024.

Also, just because sales are at risk doesn't mean that those sales will completely be lost. EvaluatePharma projects that roughly $139 billion in sales will be lost between 2018 and 2024 for drugs that go off-patent. That's a big number, but it's also much lower than the $250-plus billion in sales that are at risk during the period.

Humira, for example, is still expected to be the world's No. 1 drug in 2024, with sales of more than $15.2 billion. EvaluatePharma thinks that Revlimid will slip a spot from No. 2 to No. 3, but will still grow robustly and generate revenue of close to $8.2 billion annually seven years from now.

Johnson & Johnson has demonstrated the ability to hold on to most of the revenue for Remicade despite losing patent exclusivity. However, J&J's tactics have been controversial and spurred Pfizer to sue for alleged violation of antitrust laws.

EvaluatePharma's report noted that many analysts aren't too concerned about Novo Nordisk's patent cliff. The firm stated that sales expectations for Novo's drugs that have or will lose patent protection continue to remain relatively high, probably because of "the historical sales erosion seen for injected diabetes therapy."
The bottom line is, the value of many companies associated with medicine depends greatly on patents. We do not generally oppose such patents, but we certainly oppose making such patents immune from PTAB. This effort from Hatch is currently being exploited by the anti-PTAB lobby and Hatch seems to be motivated by bribes rather than concerns for public health. Millions of dollars for Hatch to help guard multi-billion monopolies certainly make "business sense". █
Permalink
Send this to a friend