08.27.18
Gemini version available ♊︎
Are the so-called 'inventors' walking around and entering random buildings in an effort to identify "infringers"?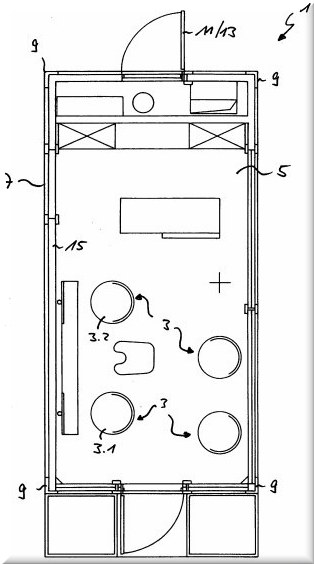 Source: EP 2700769 B1 [PDF]
Summary: Adding a window to a room is apparently an "innovation" and thus patent-eligible in the EPO; the absurdity of some European Patents now demonstrated visually, too
THE EPO suffers severe patent quality problems, but almost nobody talks about it anymore, certainly not António Campinos. He pretends that no such issue even exists. Other people are afraid to even bring up the subject and as a result, inevitably, every single day the EPO grants patent monopolies which oughtn't have been granted.
"So an alternative title for this patent would be "Added Window"."We're not neglecting EPO coverage; there's just not very much to report. We aren't about to start a "Stupid European Patent of the Month" series (like the EFF's in the US), but there certainly isn't a lack of questionable European Patents (EPs), such as a recent one on chewing gum. Take a look at this patent titled "Hairdressing salon and mobile building for the same" (assigned to Bernd Andrich and Ralf Dieter Mehlmann) and look at the picture (above). Well, this grant from August 2016 and information about it circulated internally in the past. It's about a mobile hair salon. The inventiveness (improvement over the prior art) is apparently a window. Yes, a window. Because adding a window to the room is apparently not obvious to the skilled person. So an alternative title for this patent would be "Added Window".
Welcome to the Campinos-Battistelli EPO. Anything is now an "invention"; neither Campinos nor Battistelli invented anything (one is a banker, the latter a politician), so they might not see what's wrong with this patent, either. █
Permalink
Send this to a friend