11.11.18
Gemini version available ♊︎
And the EPO isn't much better at the top (banker as President)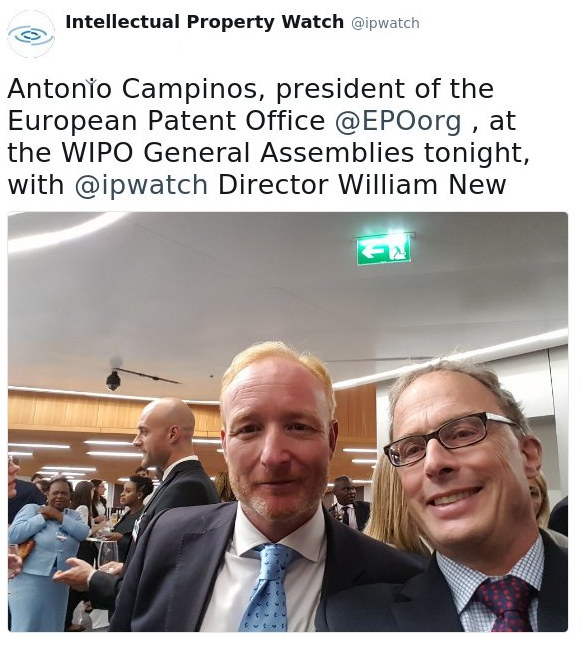 Summary: Patent offices do not seem to care about the law, about the courts, about judges and so on; all they care about is money (and litigation costs) and that's a very major problem
THE previous post noted that patent lawsuits had significantly decreased in number because the confidence associated with USPTO-granted patents (certainty of validity) just isn't there anymore. Many lawsuits go astray.
The litigation 'industry' fights back with misinformation and 'moles' (entryism). Sure it can't change the courts/judges, but it certainly can lie to the public and to firms, encouraging them to file more patent lawsuits (even frivolous ones are profitable to lawyers). The other day we saw the headline "Experts Assess Coming Changes In US Courts And Patentability" (it's mostly behind a paywall) — a rather mystifying claim that appeared on Friday. "Experts" in this context means patent/litigation 'industry' insiders; they express what they want to happen, not what is actually happening. We're very disappointed to see IP Watch going along with this although not so surprised anymore; they stopped covering European Patent Office (EPO) scandals and their chief takes selfies with António Campinos (see above), who persists with union-busting and software patents in Europe. Hours ago Michael Loney from Managing IP (patent maximalists) referred to aggressors, trolls and thugs as "patent monetisation market", citing the notorious IP Dealmakers Forum, an event of predators and trolls (even led by them). This is what Loney wrote about the think tank that's just next door to him:
The average price of a US patent is down 30% to $176,000 this year. The reason this may not be bad and what is driving "realistic optimism" among patent monetisers were some of the takeaways from the IP Dealmakers Forum

The mood among attendees and speakers at the IP Dealmakers Forum in New York on November 7 and 8 was a marked contrast to the downbeat tone in recent years.
Maybe they've noticed who's being put in charge of the USPTO; but that doesn't change what courts/judges are saying. For those who missed it, the USPTO has just chosen a Deputy Director who used to work for (arguably) a patent troll. As Benjamin Henrion put it: "USTPO is now filled with patent trolls in the top level position, Laura Peter, here an article from 2007 http://actonline.org/2007/02/22/immersion-corp-gives-small-biz-innovators-a-bad-name/ …"
He cites a Microsoft AstroTurfing group, which does not like this troll, having already (almost 12 years ago!) specifically named Laura Peter:
On February 20, the Wall Street Journal decided to publish an Op-Ed by the Patent Counsel for Immersion Corporation – a tech and patent shop which most famously owns the patent on the "force feedback" technology we all turn off on our gaming consoles. And while I am sure Ms. Peter and I would agree on the importance of IP, our mutual affection for patents, and the passion that only a good licensing deal can bring, she does an enormous disservice by equating patent trolls to technology creators. In a ham-handed attempt to attack the patent system reforms currently under consideration in Congress she suggests that "small business" will be harmed by the myriad of suggested reforms, and we should look more kindly upon the creatures dwelling under the bridge.
Laura Peter will of course be praised by the patent trolls' lobby, which views her as a potential ally if not 'mole'. Here we have Watchtroll reposting press releases from the USPTO again. This promotional piece makes it clear that corrupt Wilbur Ross is once again responsible for the pick:
Secretary of Commerce Wilbur Ross today announced the appointment of Laura Peter as deputy under secretary of commerce for intellectual property and deputy director of the United States Patent and Trademark Office (USPTO), effective November 13, 2018. Ms. Peter most recently held the position of deputy general counsel of A10 Networks in Silicon Valley and provided counsel on worldwide legal matters, including commercial transactions, intellectual property (IP), licenses, litigation, and regulatory compliance.

"Laura Peter brings a breadth of experience and a deep understanding of intellectual property issues to her new role as deputy director of the USPTO," said Secretary Ross. "She will be an asset to our administration as we look to increase reliability and balance in the intellectual property system, as well as provide more predictability so that businesses can grow and invest with confidence."

Ms. Peter has practiced IP law for over 20 years. Among other positions, she was previously vice president and general counsel of Immersion Corporation, where she led all aspects of the company's legal issues, including its IP portfolio. She was also assistant general counsel and director of intellectual property at Foundry Networks, where she built their patent portfolio and led successful patent actions against large competitors. She began her career as a commercial and intellectual property litigator at Townsend, Townsend and Crew (now Kilpatrick Townsend & Stockton LLP).

"I am thrilled that Laura Peter will join the USPTO as deputy director," said Under Secretary of Commerce for Intellectual Property and Director of the United States Patent and Trademark Office Andrei Iancu. "Her thoughtfulness, business sense, and keen understanding of the important role intellectual property plays in today's economy will be extremely valuable to the USPTO and the IP community."

"I am honored to be chosen as USPTO deputy director at a time when intellectual property matters are at the forefront of national and international affairs," said Peter. "I look forward to working with Director Iancu and the nearly 13,000 employees of the USPTO to protect and improve our IP system, which is a crown jewel in the American economy."

Ms. Peter holds a bachelor's degree in industrial engineering from Cornell University and a master's in public policy from the University of Chicago. She is a graduate of Santa Clara University School of Law and received a Master of Laws from King's College London.
So there is now a Director and a deputy who are both proponents of patent trolls. Great.
Iancu denies that patent trolls exist or that they're a problem.
"Sorry, Director Iancu," says this new article from yesterday "trolls are real." Iancu is being somewhat of a troll by belittling the problem of trolls. The following article was composed by "Kenneth R. Carter [who] is the general counsel to Bitmovin, Inc., a multimedia technology company that provides services that transcode digital video and audio to streaming formats using cloud computing and streaming media players."
That's software — a domain in which trolls prey on just about everyone, especially small companies that cannot afford a long legal battle (or are reluctant to contest the claims because settlement is cheaper).
To quote:
I live in an enchanted and magical land of rainbows and unicorns called "Silicon Valley." In addition to unicorns, Silicon Valley is also inhabited by trolls, who emerge from under their bridges to threaten the denizens of the valley with lawsuits based on dubious patents.

I was shocked to read that Andrei Iancu, director of the United States Patent and Trademark Office (USPTO) gave a recent speech where he complained that people who call non-practicing entities (NPE) patent trolls are "storytellers" who are "scaring our inventors and our entrepreneurs …". Given how far this is from reality, I could not imagine what kind of fantasyland Director Iancu lives in.

Patent trolls exist in Silicon Valley and are a very real threat to innovators. I should know. I have fought off two patent trolls, most recently this past summer as the general counsel of Bitmovin.

[...]

These three protections have helped companies like mine and Congress, and the USPTO shouldn't allow them to be weakened. Sorry, Director Iancu, trolls are real. They don't just exist in fairy tales, and the real ones are a threat to innovators. And that's not crying "wolf."
So, in summary, the litigation 'industry' may be happy that a couple of unqualified nobodies whose sole accomplishment is suing companies now run the Office. Courts and judges, however, equipped with 35 U.S.C. § 101 (or Alice/SCOTUS in case Iancu waters down § 101), will just further lower the certainty associated with US patents. We are pretty certain that the Federal Circuit will persist, even if Iancu keeps vandalising the Patent Trial and Appeal Board (PTAB), e.g. by discouraging or pricing out of reach inter partes reviews (IPRs).
What we see in the US right now is a bunch of villainous lawyers, who used to work for Donald Trump, declaring a war on law, on justice, on courts and on judges. This won't end well. There's an "innovation wave" coming. █
Permalink Send this to a friend