US Senate is still in rubber-stamping mode
(even Sen. Claire McCaskill,
who should certainly know better
)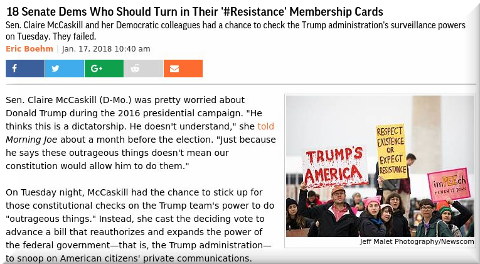 Reference: 18 Senate Dems Who Should Turn in Their '#Resistance' Membership Cards
Summary: Having lost its ability to actually assess and scrutinise Trump's picks (Neil Gorsuch for instance), US Senate just lets Iancu become the Director of the USPTO, without any scrutiny whatsoever
THE risk of conflicts and nepotism are high when working for a large firm/employer. Yesterday, for example, when Saurabh Vishnubhakat wrote this article about ۤ 143 at the USPTO he was careful to disclose that he had been "advisor at the USPTO until June, 2015" (he emphasised upfront that his words should not be mistaken for the Office's).
The upcoming Director of the USPTO also has some questions regarding his appointment. As
The Hill
put it
late last night
:
Iancu is an intellectual property lawyer at the firm Irell & Manella, which once defended Trump, Mark Burnett Productions and NBC Universal in a case involving copyright claims over the reality TV show "The Apprentice."
We watched the process closely, only to realise that
Iancu's potential issues
weren't even raised in the meeting. What is even the point of an appointment process if nothing whatsoever is being scrutinised? It's like watching Senate reauthorising (and even broadening) mass surveillance for another 6 years. As
one watcher put it
: "49, 50, 51! Andrei Iancu just got Senate majority vote to become next @USPTO director. Zero no votes so far."
Trump nominated a person, then Senate voted 94-0. So much for "The Resistance". There's no opposition at all. Nothing substantial was even being asked. The first article about it seems to have come from Jan Wolfe, who
recently gave a platform to patent extremists
. The
original
and
licensed copies thereof
said absolutely nothing about the issues. To quote:
The U.S. Senate on Monday confirmed lawyer Andrei Iancu as the next head of the U.S. Patent and Trademark Office, clearing the way for him to lead an agency tasked with deciding who owns the rights to inventions in areas like software, pharmaceuticals, and medical devices.

The Senate voted 94-0 to confirm Iancu, 49, who was nominated by President Donald Trump in August.

[...]

Iancu is regarded as a "consensus pick" who will balance the rights of patent owners with the concerns of large technology companies often accused of infringement, said Robert Stoll, a lawyer at Drinker Biddle & Reath and former patent office official.

[...]

Iancu will succeed interim director Joseph Matal, who took over from Michelle Lee, a former patent lawyer at Google nominated by President Barack Obama to the position in 2014. Lee resigned in June 2017 following months of uncertainty about whether Trump would keep her in the position.
Did they even check and scrutinise the choice, or did they just take the word of Watchtroll-connected loudmouths like Robert Stoll? They're all patent maximalists. That's like asking oil companies for their opinion while passing a bill to un-tighten drilling regulations.
This patent microcosm 'mole' "has been welcomed by associations" of the patent microcosm,
wrote Managing IP
, quoting a bunch of them. Patent maximalist Dennis Crouch
posted a fairly neutral comment
, noting that "Iancu takes over from Joseph Matal who was instrumental in development and passage of the America Invents Act in his role as General Counsel of the Judiciary Committee under Republican Jeff Sessions."
Watchtroll
said
that "Joe Matal, who has been in charge at the USPTO in a quasi-Acting capacity is expected to ultimately become the next Deputy Under Secretary of Commerce for Intellectual Property and Deputy Director of the United States Patent and Trademark Office."
Matal only became the leader after Watchtroll
et al
had bullied Michelle Lee (a scientist) out of her job.
So where are the actual voices of opposition? Any balancing act?
The CCIA wrote about Iancu early yesterday, in
a post
titled "Dear Director Iancu" before he was even confirmed! The CCIA is trying to pressure him on PTAB instead of attempting to antagonise the appointment (while still possible). To quote:
So, you're Andrei Iancu, about to be the newly confirmed Director of the United States Patent and Trademark Office. What are the first things you put on your agenda?

I have some suggestions.



Eliminate Contingent Amendments



As an initial matter, the PTAB's practice of allowing contingent amendments needs to end. Essentially, this allows patent owners multiple bites at the apple; if their first version of a claim isn't patentable, well, they can try again with their contingent amendment.

It's also contrary to the statutory language. The statute says that a patent owner can propose a "reasonable number of substitute claims." Let's engage in a little bit of statutory construction here. Substitute means, per Merriam-Webster, a "thing that takes the place or function of another." What it doesn't mean is an alternative possibility, or a backup that takes the place only when the first one fails. The statute says a claim that takes the place of another claim, and that's exactly what should be allowed.

If a patentee would prefer an amended claim, let them make their substitution and show why that substituted claim is patentable. But they need to decide whether they want to stand on their claims or ask for different ones—allowing them to do both is contrary to the statute's expressed intent and imposes unnecessary additional burdens on parties and the Board.
We certainly hope that things won't turn out as badly as we expect, but Iancu -- being loyal to the patent microcosm he came from -- is not likely to change things for the better. Already, under Matal, the costs of PTAB were raised (that was effective less than a month ago), thereby reducing access to a pretty essential procedure (IPR) that startups threatened by patent trolls must rely on.
⬆