12.22.18
Gemini version available ♊︎
The war on the EPC carries on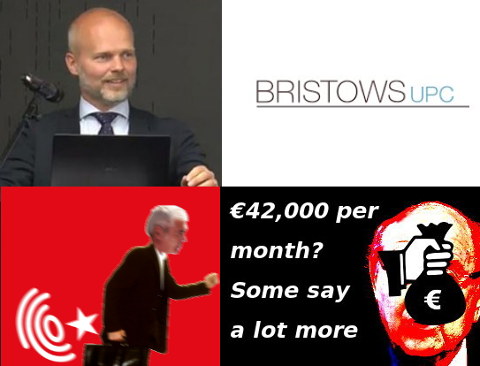 Summary: Why the "UPC Preparatory Committee Update for 2018″ is laughable and it's time for Team UPC to accept that it has been stopped in its tracks; the main problem is, the EPO continues defying the law as if courts do not exist (or don't matter)
TO still herald an upcoming/imminent arrival of UPC is delusional and downright dishonest. Even the dishonest European Patent Office (EPO) no longer does this. SUEPO says absolutely nothing on the matter. So why is the subject still being brought up? Only Team UPC. These people are insane.
Gemma Barratt from Bristows, for example, has just repeated more or less what they probably wrote anonymously in the blog that's not theirs a few days ago, taking note of Alexander Ramsay (another dishonest person) and promoting it without even a link (how unprofessional). They are desperately trying to distract from the downfall and their disappointment when they write this:
In other ratification news this year, France, Italy, Luxembourg and the UK deposited their instruments of ratification for the Protocol on Privileges and Immunities (PPI) of the Unified Patent Court (UPC) and Bulgaria deposited its instrument for ratification of the Unified Patent Court (UPC) Agreement's Protocol on Provisional Application (PPA) with the Secretariat.
That does not matter because there are constitutional challenges (several of them, even successful ones). Moreover, Brexit voids it all (UPCA) and the ratifier quit his job about a month ago. Here we are at the end of 2018; 'unitary' patents do not exist and UPC is by far the biggest political crime in Europe — a crime which nobody in the mainstream talks about (because they use cryptic language and spread lies to effectively keep critics out, repelling truth-tellers whom they anonymously demonise and slander).
"Team UPC hopes that dubious new courts will bypass national laws and allow software patents like the patent office does."As it turns out, FFII "Will give a session on the Unitary Software Patents Urgency next week 28 dec at #35C3 #swpat #ffii #swpatv3 …"
To quote the abstract: "We will discuss the third attempt to install software patents in Europe, via the Unitary Patent Court (UPC). The thousands software patents of the EPO will be made enforceable. Litigation will be more expensive. We will have a dependent and uncontrollable European Patent Court. We will see patent trolls and US style litigation in Europe."
Team UPC hopes that dubious new courts will bypass national laws and allow software patents like the patent office does. This is their plan (among others).
This is a very big deal because as the quality of European Patents (EPs) goes down there's a growing danger that patent trolls equipped with software EPs will ruin Europe's software industry.
"The biggest prize went to (or was stolen by) Battistelli."Just before the weekend the EPO wrote: "Congrats again to European #InventorAward winners Agnès Poulbot and Jacques Barraud†!"
The biggest prize went to (or was stolen by) Battistelli. He must be counting his millions of Euros (even aside from his very fat bonuses and departure gift) somewhere in France. He passed millions in EPO budget to his threatre (at his other employer). How was he never punished for such blatant corruption? Well, welcome to the EPO and the UPC. Justice exists no more. The EPC doesn't matter, ILO-AT is a joke, national laws don't exist, and even international law is routinely violated.
Regarding patent scope, it continues to get yet worse over time. Over at JD Supra, McDonnell Boehnen Hulbert & Berghoff LLP's Aaron Gin and Margot Wilson (yes, it's Aaron Gin again, always with that same agenda) have just published "Global Artificial Intelligence Patent Survey", presenting "AI" as "CII" at the EPO, which increasingly allows software patents in Europe under the guise of "AI" (more so under António Campinos). To quote the most relevant portion:
While Europe may not be a leader in terms of number of AI-related patent filings, patent applications in Europe that relate to IoT and 4IR technologies grew at a 54% annualized rate from 2014 to 2017.[32] Germany, France, and Great Britain, in particular, have significantly increased the number of AI-related patent filings in recent years.[33]

The EPO has expressed a dedication to developing examination practices which are friendlier to computer implemented inventions (CII), which include AI-related subject matter. For example, recently the EPO adopted a new approach to interdisciplinary software patent applications. Specifically, such applications can now be examined by a team of three examiners with diverse technical backgrounds. Additionally, recognizing the urgency and fast-pace of the industry, the EPO has indicated it aims to speed up examination according to a 12-18 month timeline from filing to either allowance or final rejection.

Furthermore, in May 2018, the European Patent Office (EPO) held a conference entitled "Patenting Artificial Intelligence."[34] The conference centered on the challenges and opportunities of patenting AI-related innovations. Speakers shared lessons learned and strategies for approaching AI related patents.

European examination of all computer related inventions includes a two-prong approach. First, examination includes an eligibility determination of whether the invention is directed towards, for example, a mathematical process or an abstract concept. Second, the invention must be directed towards a technical solution to a technical problem.[35] While the first prong traditionally represents a relatively low bar,[36] European practitioners can encounter more issues with regard to the second prong. During the EPO conference, a heavy emphasis was placed on claiming as specifically as possible. In particular, AI-related innovations should be described and claimed as being developed for a specific implementation. Furthermore, the AI-related idea should be shown to be motivated by technical considerations of the internal functioning of a computer, such as speed and/or computation load.[37]
Sam Jones (GJE Intellectual Property) was also promoting software patents in Team UPC's favourite blog. It's that same trick ("AI") and it was published yesterday:
The European Patent Office (EPO) is receiving ever increasing numbers of patent applications that include a 'programmed computer' as a key part of the described invention. Moreover, this growth in filings is being seen in technical fields that are not traditionally considered to be computer-centric. For example, according to EPO statistics, 40% of new patent applications filed in the healthcare space have an AI or machine learning aspect to them.

[...]

This has always been the position of the EPO when handling the exclusions to patentability, and so it is not surprising that the AI and machine learning section of the new Guidelines is largely business as usual. Inventions involving AI and machine learning will be patentable so long as they are described and claimed in the context of operation in a technical system or control of a technical process. Careful drafting will be sufficient to ensure that this requirement is met – describe and claim the AI or machine learning component in the context of the technical system in which it operates, not as an abstract entity, to obtain a granted European patent. AI or machine learning algorithms that are put to work in the context of non-technical systems, such as business processes, are not likely to be patentable.
Misuse of buzzwords like "AI" or "AIpatents" to push software patents into Europe isn't a novel idea. In clear defiance of 35 U.S.C. § 101 the U.S. Patent and Trademark Office (USPTO) does something similar. Yesterday the EPO wrote: "For the #patent system, the Fourth Industrial Revolution has opened up a new era. For more from our Chief Economist's recent speech on the topic, click here: http://bit.ly/AIpatents"
"Short of murdering critics (don't laugh) and bribing constitutional judges there appears to be nothing left for them to do."This is the person who is speaking at a patent trolls' event (from the US). Having recently embraced the "SDV" buzzword (mostly computer vision) on the same day they wrote: "Self-driving vehicle applications at the EPO come from hundreds of different applicants operating in a wide variety of industries. The top 500 were responsible for 80% of all self-driving vehicle applications at the EPO between 2011 & 2017."
All these computer vision (algorithm) patents would likely be voided in Europe like they do — routinely in fact — in US courts. Team UPC was hoping to swap the courts with something farcical (presumably managed by corrupt Battistelli), but thankfully that hasn't succeeded. In recent months they defamed and libeled UPC critics; they also spread fabricated (baseless and refuted) rumours to no avail. Short of murdering critics (don't laugh) and bribing constitutional judges there appears to be nothing left for them to do. █
Permalink
Send this to a friend