03.24.19
Gemini version available ♊︎
Frakes, Michael and Wasserman, Melissa F., Irrational Ignorance at the Patent Office (November 13, 2018). Vanderbilt Law Review, Vol. 72, 2019, Forthcoming; Duke Law School Public Law & Legal Theory Series No. 2018-64.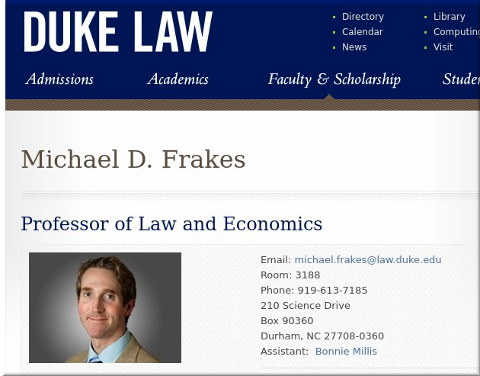 Homepage of Michael Frakes
Summary: Iancu and his fellow Trump-appointed "swamp" at the USPTO are urged to consult academics rather than law firms in order to improve patent quality in the United States
THE latest paper from Michael Frakes (Duke University School of Law) and Melissa F. Wasserman (The University of Texas at Austin School of Law) was last revised yesterday (23rd of March, 2019) and it is applicable to the European Patent Office (EPO) and U.S. Patent and Trademark Office (USPTO), especially under Battistelli, Campinos, and Iancu. The full paper is recommended by Lisa Ouellette, who has just added (having dealt with it elsewhere 11 days ago): "my latest Jotwell post highlighted a terrific forthcoming article by Michael Frakes and Melissa Wasserman."
Frakes and Wasserman had previous work indirectly (via the media) cited by the staff union of the EPO (SUEPO). We mentioned it a year and a half ago.
This is their latest abstract:
There is widespread belief that the Patent Office issues too many bad patents that impose significant harms on society. At first glance, the solution to the patent quality crisis seems straightforward: give patent examiners more time to review applications so they grant patents only to those inventions that deserve them. Yet the answer to the harms of invalid patents may not be that easy. It is possible that the Patent Office is, as Mark Lemley famously wrote, "rationally ignorant." In Rational Ignorance at the Patent Office, Lemley argued that because so few patents are economically significant, it makes sense to rely upon litigation to make detailed validity determinations in those rare cases rather than increase the expenses associated with conducting a more thorough review of all patent applications. He supported his thesis with a cost-benefit calculation in which he concluded that the costs of giving examiners more time outweighs the benefits of doing so.

Given the import of the rational ignorance concept to the debate on how best to address bad patents, the time is ripe to revisit this discussion. This Article seeks to conduct a similar cost-benefit analysis to the one that Lemley attempted nearly fifteen years ago. In doing so, we employ new and rich sources of data along with sophisticated empirical techniques to form novel, empirically driven estimates of the relationships that Lemley was forced, given the dearth of empirical evidence at his time, to assume in his own analysis. Armed with these new estimates, this Article demonstrates that the savings in future litigation and prosecution expenses associated with giving examiners additional time per application more than outweigh the costs of increasing examiner time allocations. Thus, we conclude the opposite of Lemley: society would be better off investing more resources in the Agency to improve patent quality than relying upon ex-post litigation to weed out invalid patents. Given its current level of resources, the Patent Office is not being "rationally ignorant" but, instead, irrationally ignorant.
Ouellette has noted: "Litigation savings depend on Frakes and Wasserman's prior finding that time-crunched patent examiners make mistakes, and that they are more likely to erroneously allow an invalid patent than to reject a valid one. When examiners are promoted up a step on the USPTO pay scale, they suddenly receive less time per application. Frakes and Wasserman found that they manage the increased workload by spending less time searching prior art and granting more patents. Based on both subsequent U.S. challenges and comparisons with parallel applications at foreign patent offices, these extra patents seem to involve more mistakes. Patents rejected by time-crunched examiners, on the other hand, are no more likely to be appealed within the USPTO. Extrapolating from these results, Frakes and Wasserman estimate that doubling examination times would lead to roughly 80,000 fewer patents granted and 2,400 fewer patent/lawsuit pairs each year, translating to litigation savings above $490 million. Similar calculations suggest about 270 fewer instituted PTAB challenges, for an annual savings above $110 million."
That's alluding to Patent Trial and Appeal Board (PTAB) inter partes reviews (IPRs) for the most part. In conclusion she says: "Most importantly, any of these interventions should be implemented in a way that aids robust empirical evaluation. The USPTO has shown an encouraging willingness to experiment with pilot programs that might improve examination, but has not implemented them in ways that make it easy to evaluate their effectiveness, such as by randomizing over applicants who want to opt in to the programs. Rigorous pilot programs may be both financially and politically costly, but how much effort to spend on examination is a core question of patent policy with tremendous financial implications. And I'm sure the USPTO could easily find free help from academics—perhaps including Frakes and Wasserman—excited to help design and evaluate these initiatives."
At the moment Iancu seems to be taking instructions and advice from law firms, neither from academics nor scientists. This isn't particularly shocking considering who gave him the job and where he came from. █
Permalink
Send this to a friend