12.22.19
Gemini version available ♊︎
Overview
Understanding Thierry Breton
Epilogue will follow.
---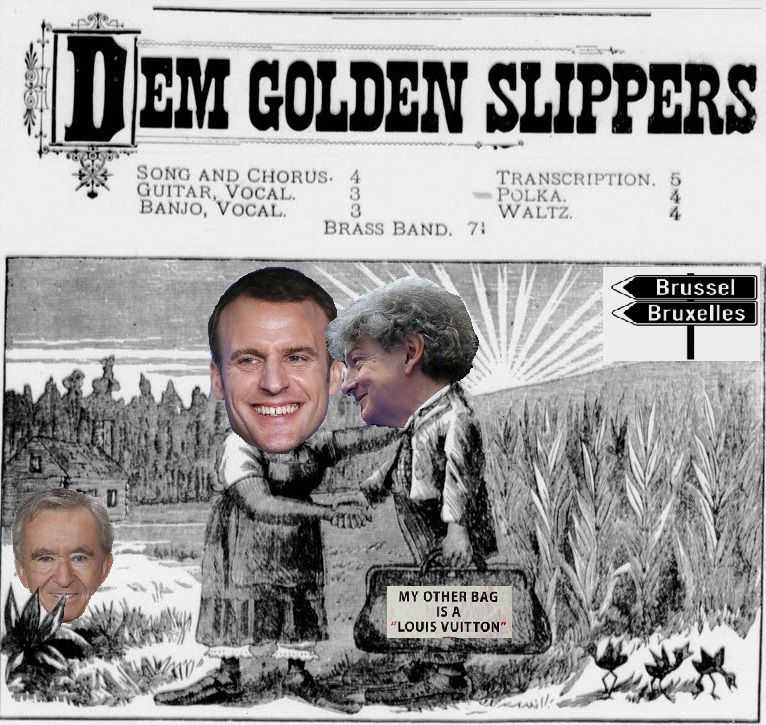 Exploring the connections between Macron and LVMH's "Lord of Luxury"
Summary: "In between cutting business deals and supporting the cause of international culture relations, Bernard is very much occupied with tax and inheritance planning as befits a wealthy oligarch."
In those far-off days between 1981 to 1995 when François Mitterrand, the champagne Socialist and scandal-ridden Machiavellian tactician, held court at the Elysée Palace, he lavished so much public money on grand schemes for the French capital and its monuments that he was often compared to the "Sun King", Louis XIV.
A couple of decades later, the recently established court of Emmanuel "Manupiter" Macron prefers to bask in the glory of Louis Vuitton rather than that of Louis Quatorze.
The First Lady is renowned for her immaculately coutured appearances in outfits from the LVMH stable that press all the fashionistas' buttons.
For example, while Emmanuel was busy at the G7 summit in Biarritz in August 2019 bromancing Justin Trudeau and chewing the geopolitical fat with Donald Trump, Brigitte was strutting her stuff on the G7 spouses' catwalk and wowing the fashionista press in her latest head-to-toe Louis Vuitton outfit which she wore for her photo-ops with Melania Trump.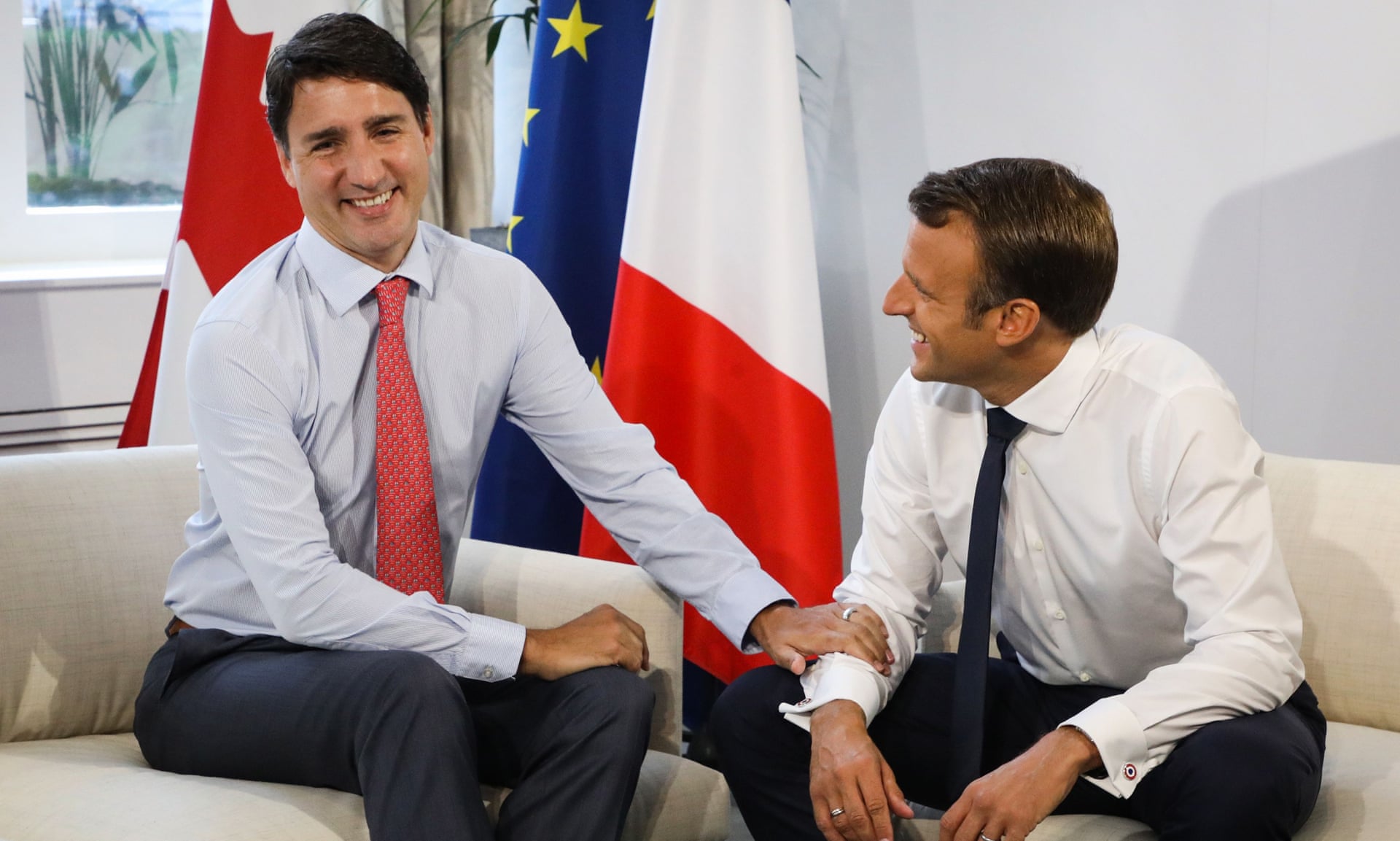 Emmanuel bromancing Justin at the G7 summit in Biarritz in August 2019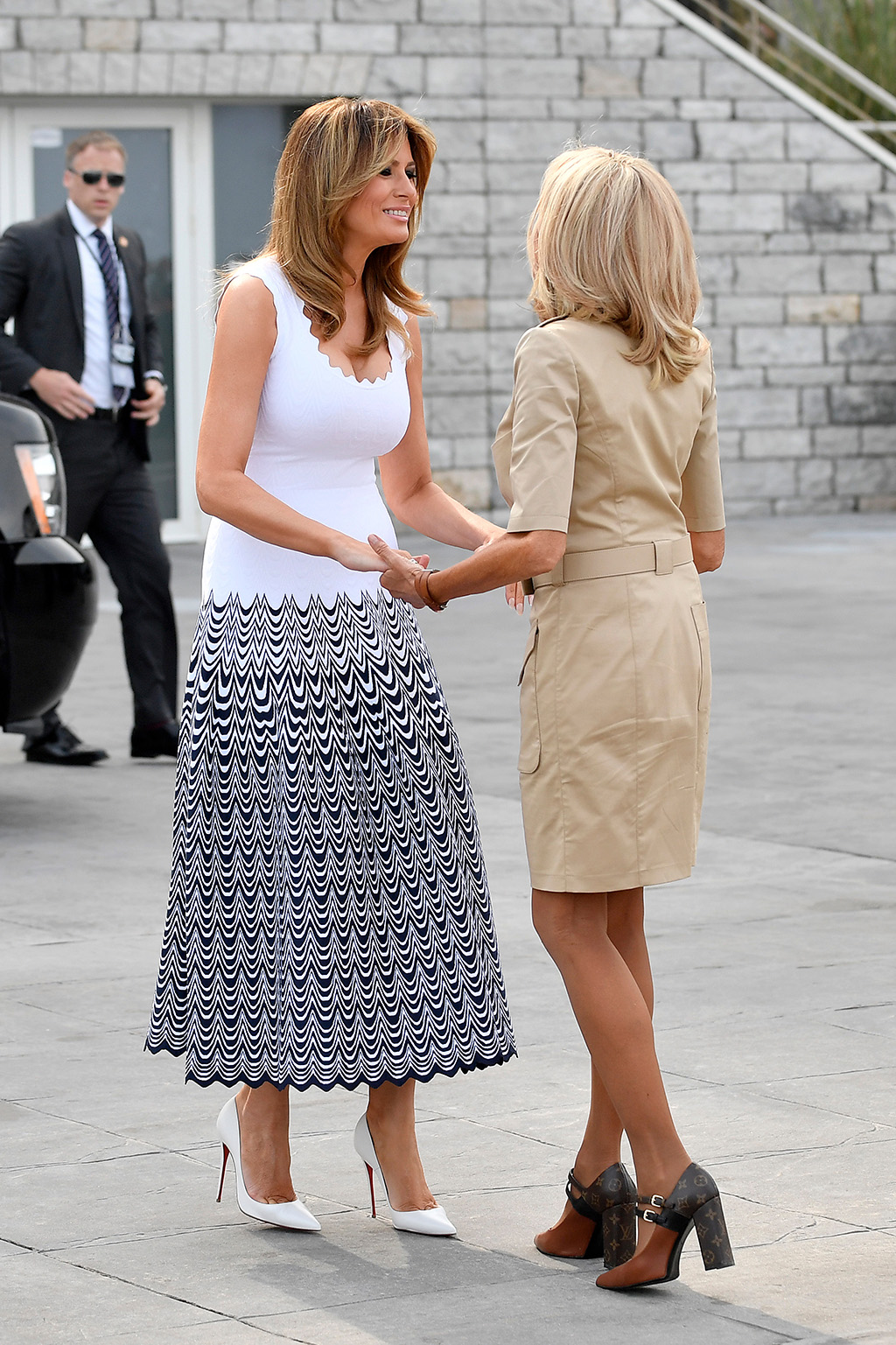 Brigitte's LVMH outfit caused a fashionista feeding frenzy in Biarritz in August 2019
However, the First Lady's penchant for the latest LVMH fashion accessories doesn't always meet with approval outside of the official PR echo-chamber.
For example, on a state visit to Egypt in January 2019, Brigitte was seen sporting Louis Vuitton "Run Away" sneakers featuring patent monogram canvas together with calf leather, complete with a gold-tone metal plaque and LV Circle logo at the heel during an excursion to the 3000 year-old Abu Simbel temple of Pharaoh Ramses II.
Her choice of footwear drew criticism from diverse quarters.
Some were upset by the alleged fashion faux-pas of wearing trainers on such a formal occasion. However, back home in France, the revolting sans-culottes of the yellow-vest movement seemed to be more concerned about the expenditure of € 750 of tax-payers' money on a pair of fancy shoes.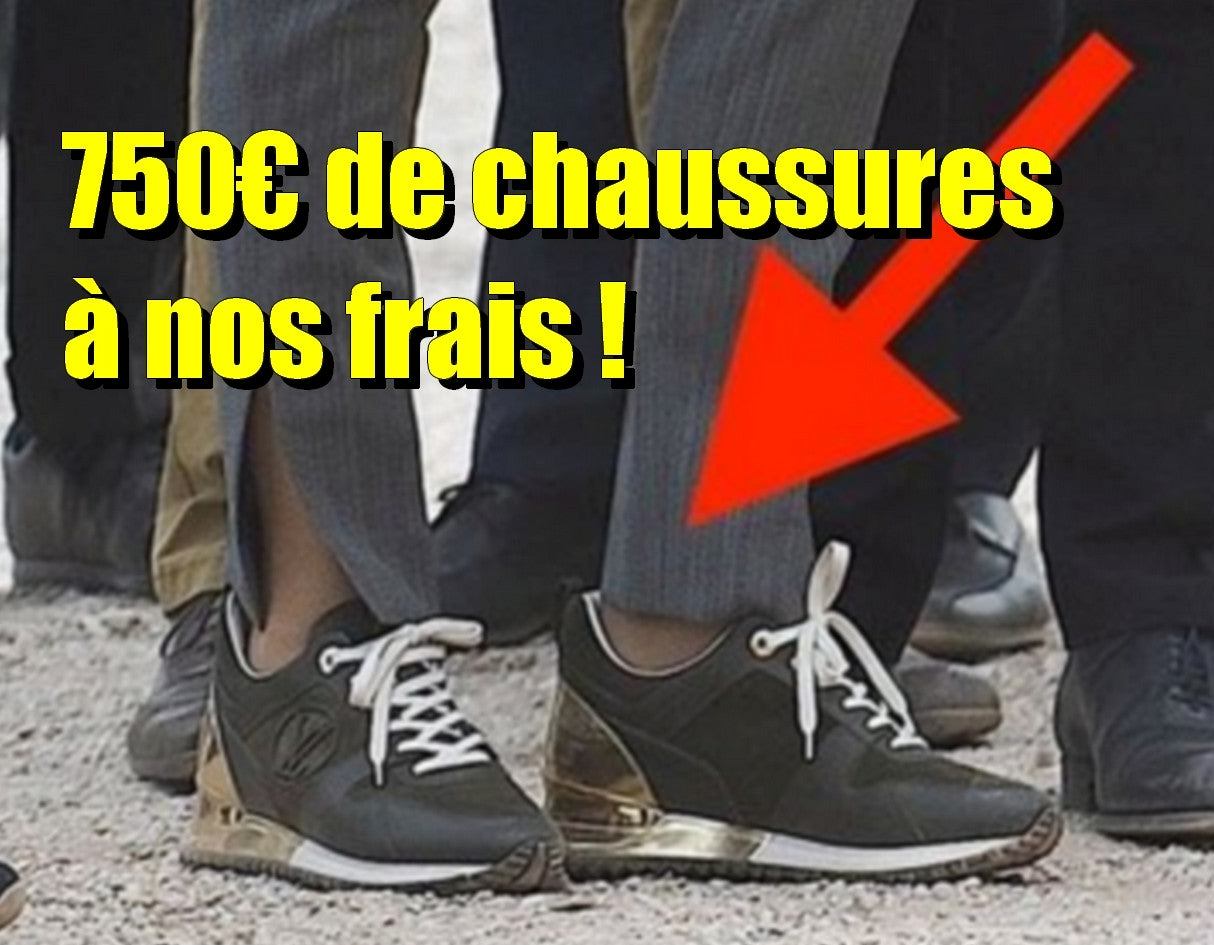 "A € 750 pair of shoes at our expense"
But enough of such fripperies. It's time to move on to more serious business.
The significance of the LVMH connection goes far beyond the First Lady's desire to position herself in the public eye as "a dedicated follower of fashion".
It would be all to easy to dismiss LVMH Group CEO, Bernard Arnault as a peddler of over-priced tat. But that would be a fatal underestimation of the influence of this latter-day Gallic Croesus and his significance as a global player in the interconnected worlds of business and politics.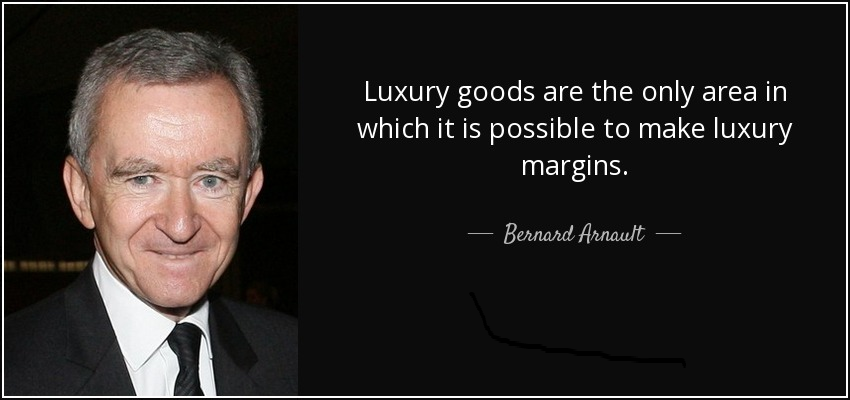 Some words of wisdom from Europe's richest man…
At the start of his career, Bernard realised that luxury goods are "the only area in which it is possible to make luxury margins". By acting on this insight and "following the money", he managed to amass an incredible fortune. He is currently estimated to be one of the three richest people in the world and is vying with Bill Gates for second place.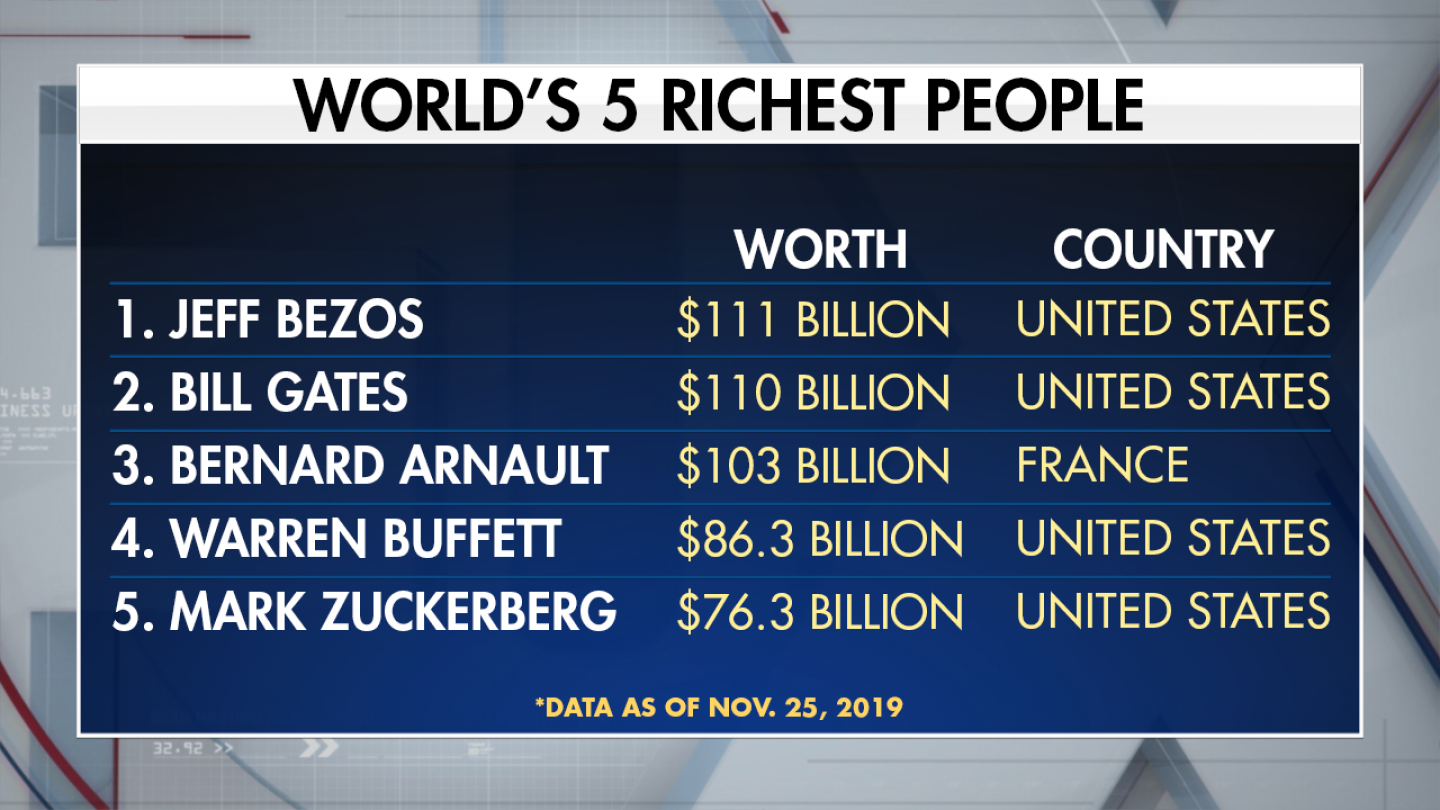 Real-time index on the wall, who is the wealthiest oligarch of them all?
For a brief spell back in July 2019, the Bloomberg Billionaires Index reported that Arnault had dislodged Gates from second place. Although he soon slipped back in to third place on the Bloomberg scale, a couple of months later in November 2019, the Forbes' Real-Time Billionaires List started listing him ahead of the Microsoft tycoon.
Whether Arnault is ranked in second or third place in these lists hardly matters. The point is that he has amassed sufficient financial clout to make him a force to be reckoned with both at home in France, elsewhere in Europe and further afield on a global level.
To properly appreciate his significance on his home pitch in France, it needs to be understood that Arnault's role goes beyond that of a mere supplier of haute couture to the First Lady.
Brigitte's connections with the Arnault family go back a long way to the days when she was a teacher of French literature at the prestigious private Jesuit school, Lycée Saint-Louis-de-Gonzague, commonly known as the "Franklin" because of its location on the Rue Benjamin Franklin in the 16th arrondissement of Paris.
Brigitte's pupils at the Franklin included Bernard Arnault's sons, Frédéric and Alexandre. Let's hope that she didn't get up to any "monkey business" with them.
Brigitte is also reported to enjoy a close connection with Delphine Arnault, the half-sister of Frédéric and Alexandre, and Louis Vuitton's vice president, after they struck up a rapport during a trip to New York in 2014 when Emmanuel was Minister for the Economy.
Ever since then Delphine has made sure that Brigitte is properly kitted out for her official photo-ops – in those days as a Minister's wife and now as the First Lady.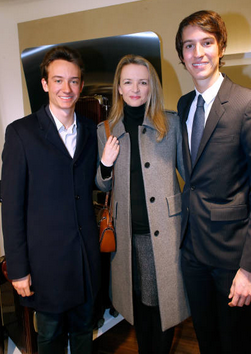 Louis Vuitton's vice president, Delphine Arnault flanked by half-brothers Frédéric and Alexandre
Brigitte is often seen hobnobbing with the Arnaults at various fashionista love-ins such as the event held to pay tribute to the late Karl Lagerfeld at the Grand Palais in Paris on 20 June 2019.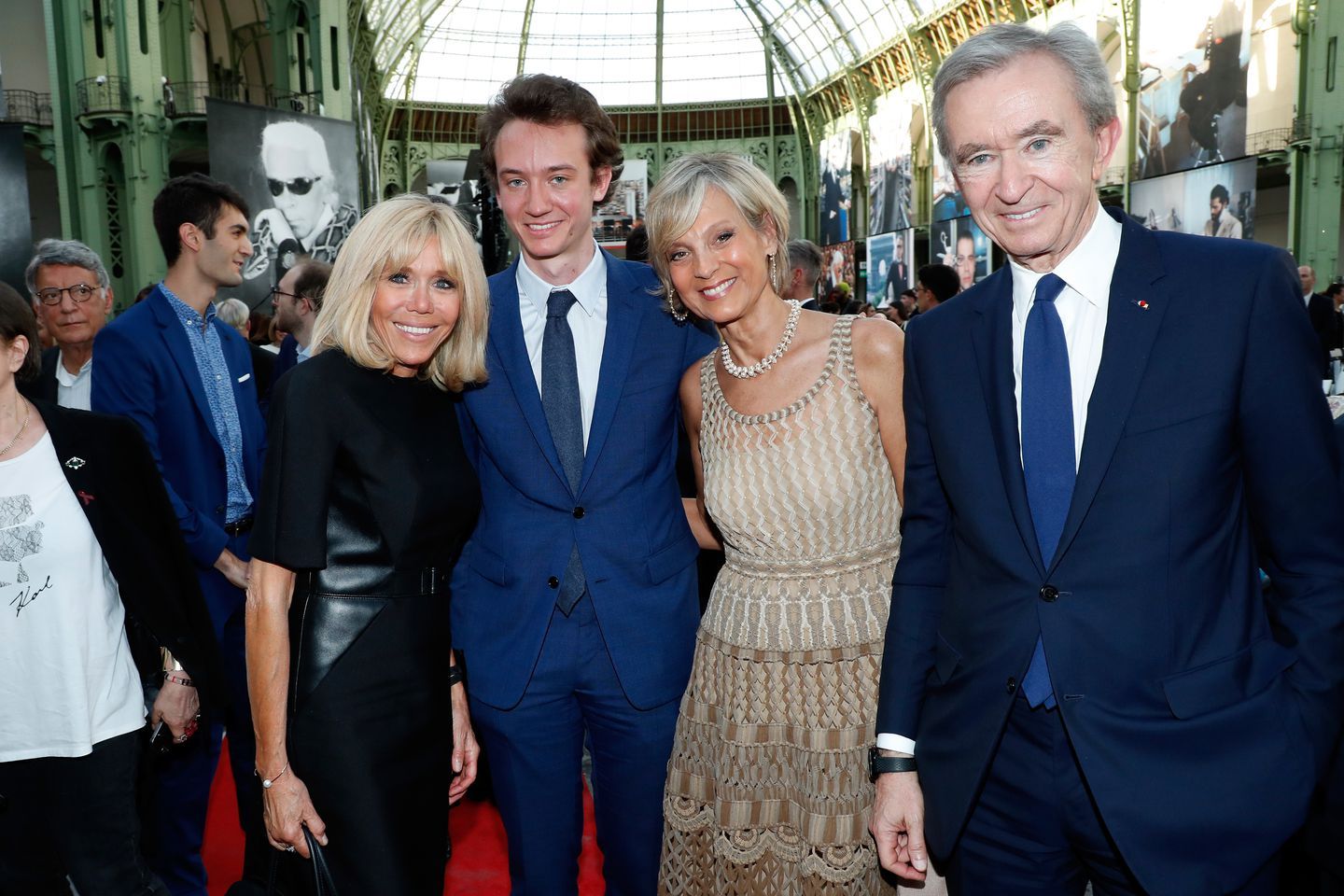 The First Ladywith the Arnaults at an event to commemorate Karl Lagerfeld
But it's not all champagne and catwalks for the Arnaults.
While daughter Delphine occupies herself looking after the couturial whims of Madame Macron, Papa Bernard has taken more than a passing interest in the political career of her hubby.
Shortly before the conclusion of the 2017 presidential election, the LVMH CEO expressed his confidence that the En Marche! candidate was on course to carry the day and defeat the far-right populist Marine Le Pen.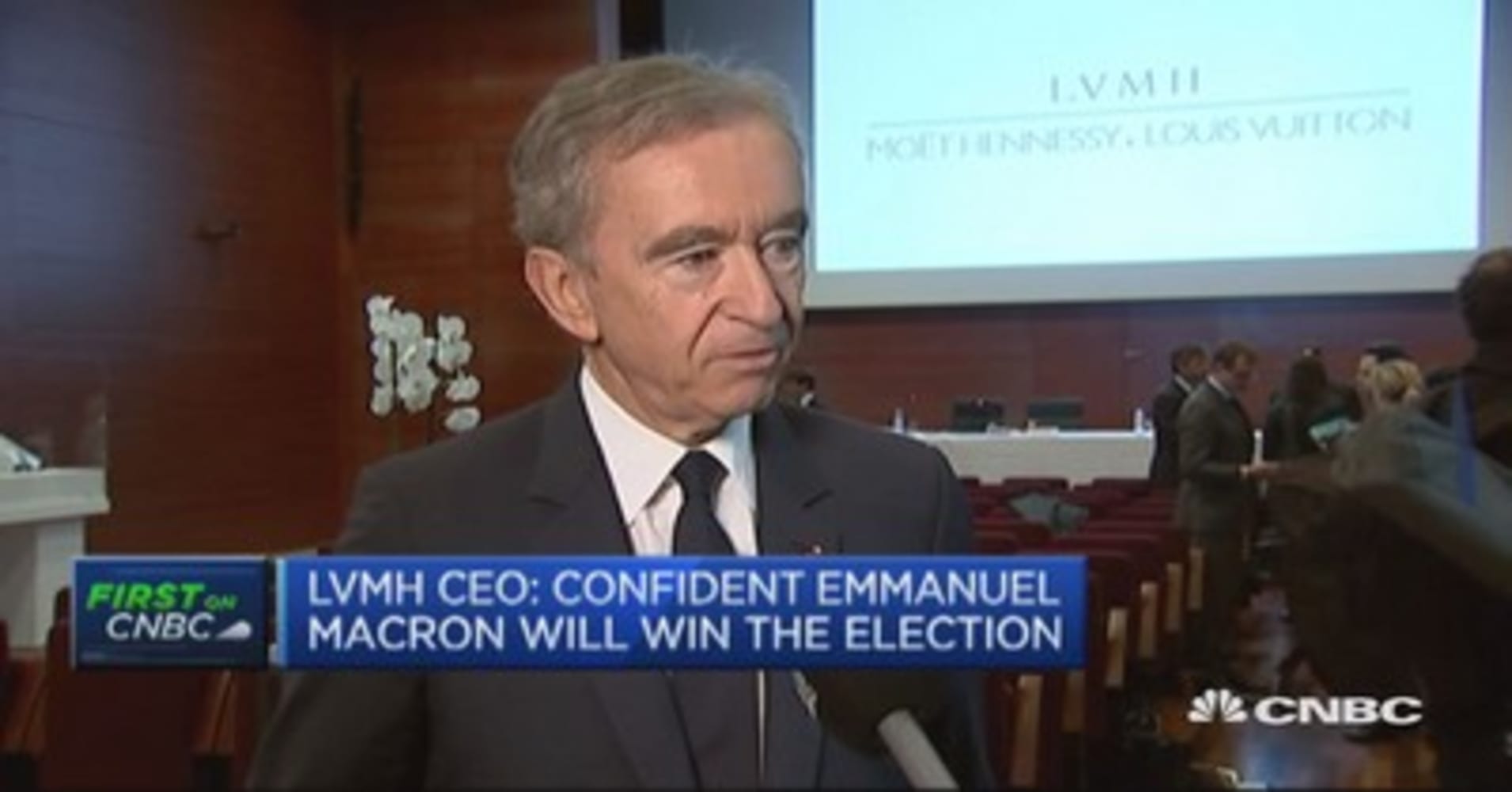 LVMH CEO Bernard Arnault expresses his confidence in a Macron victory in 2017
In June 2017, shortly after his self-fulfilling prophecy of a Macron victory, Arnault appeared at the Viva Technology conference, held in Paris where he took advantage of the occasion to congratulate the newly-elected President in person.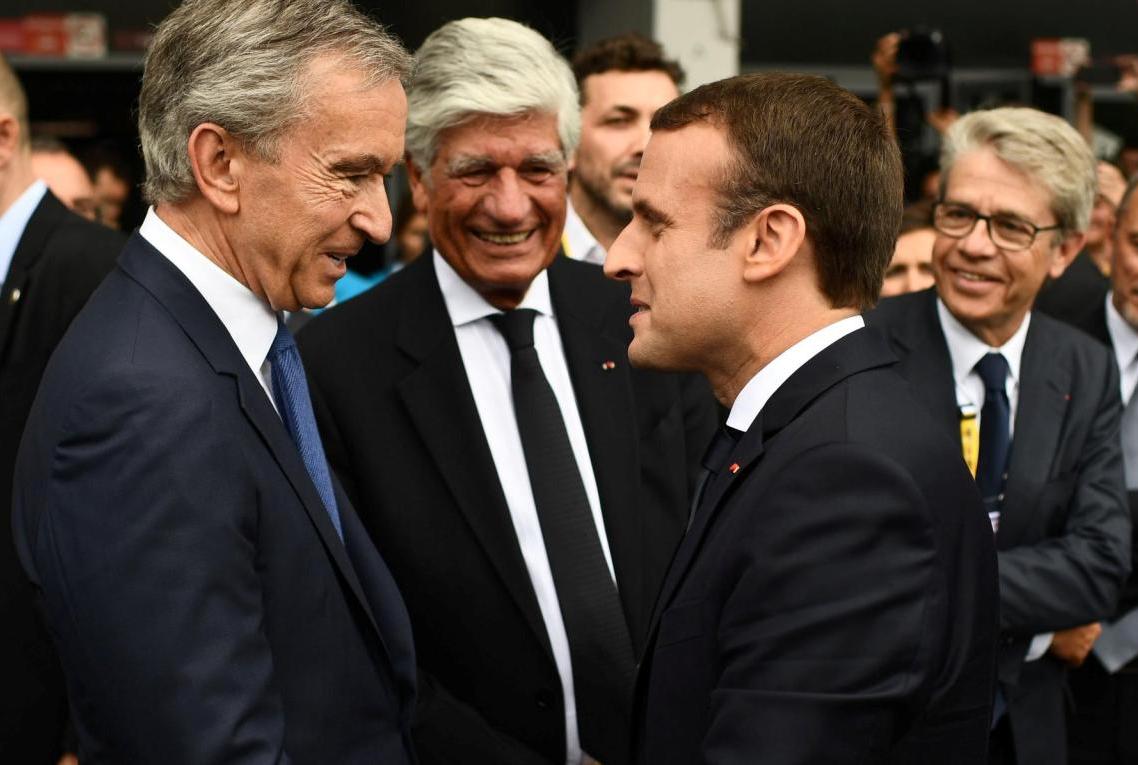 Arnault congratulates Macron on his election (2017 Viva Tech conference)
In April 2018, Arnault and his wife, Hélène Mercier, were on the VIP guest list to attend a banquet at the White House to mark the French President's state visit to the USA.
Donald's little soirée for his French friends seems to have been the kickback for the Michelin-starred meal atop the Eiffel Tower to which the Macrons had treated him during a visit to Paris in July 2017.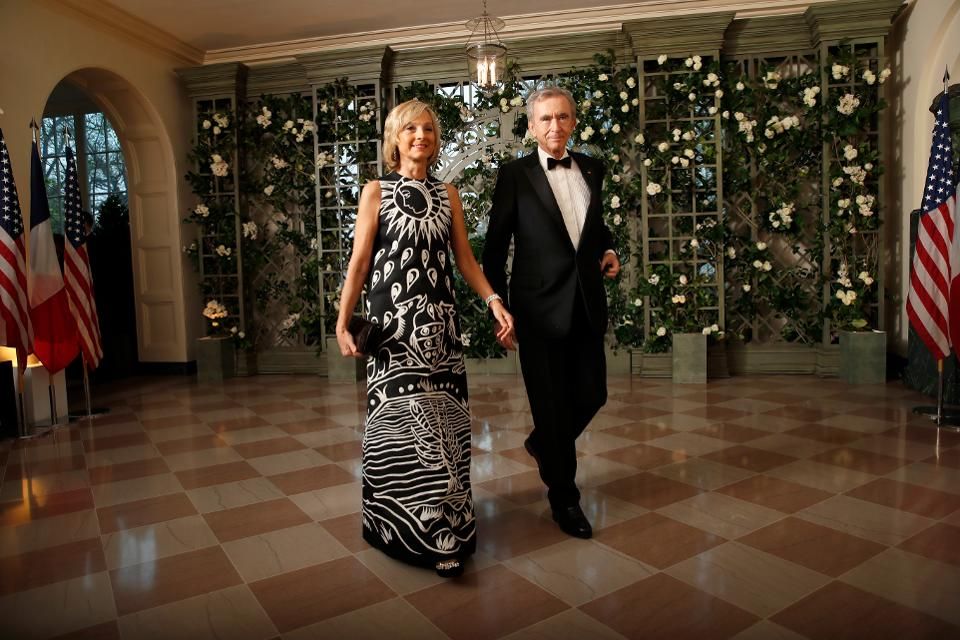 Bernard Arnault and his wife attending the "$132 million dinner" at the White House in April 2018
Forbes referred to the black-tie affair with its exclusive guest list as "the $132 billion dinner". Just in case it needs to be pointed out: Arnault's estimated net worth of over $80 billion back in April 2018 accounted for by far the biggest chunk of the $ 132 billion dollar bottom line estimated by Forbes.
This wasn't the Lord of Luxury's first encounter with the Tycoon of Trump Tower. Back in January 2017, he visited the then President-Elect in New York to discuss various issues including the opening of more LVMH factories in the USA.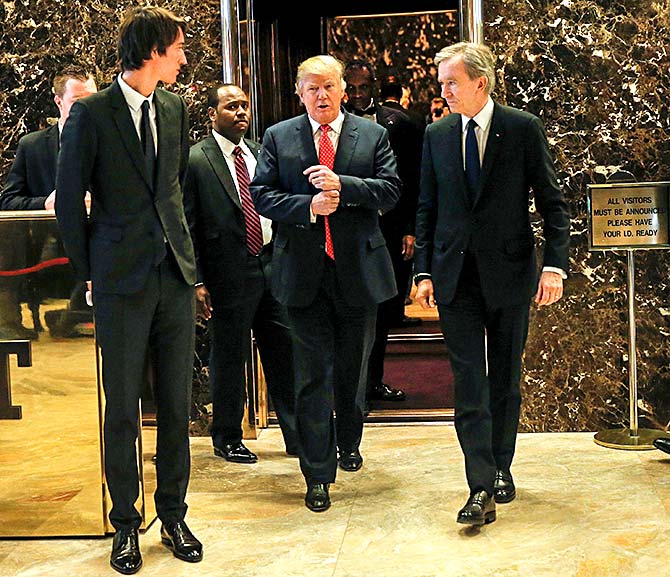 Bernard meets "the Donald" in Trump Tower, NYC (January 2017)
And, mirabile dictu, in October 2019 Arnault and Trump appeared together in Johnson County, Texas, to cut the ribbon at the opening of a new Louis Vuitton production facility.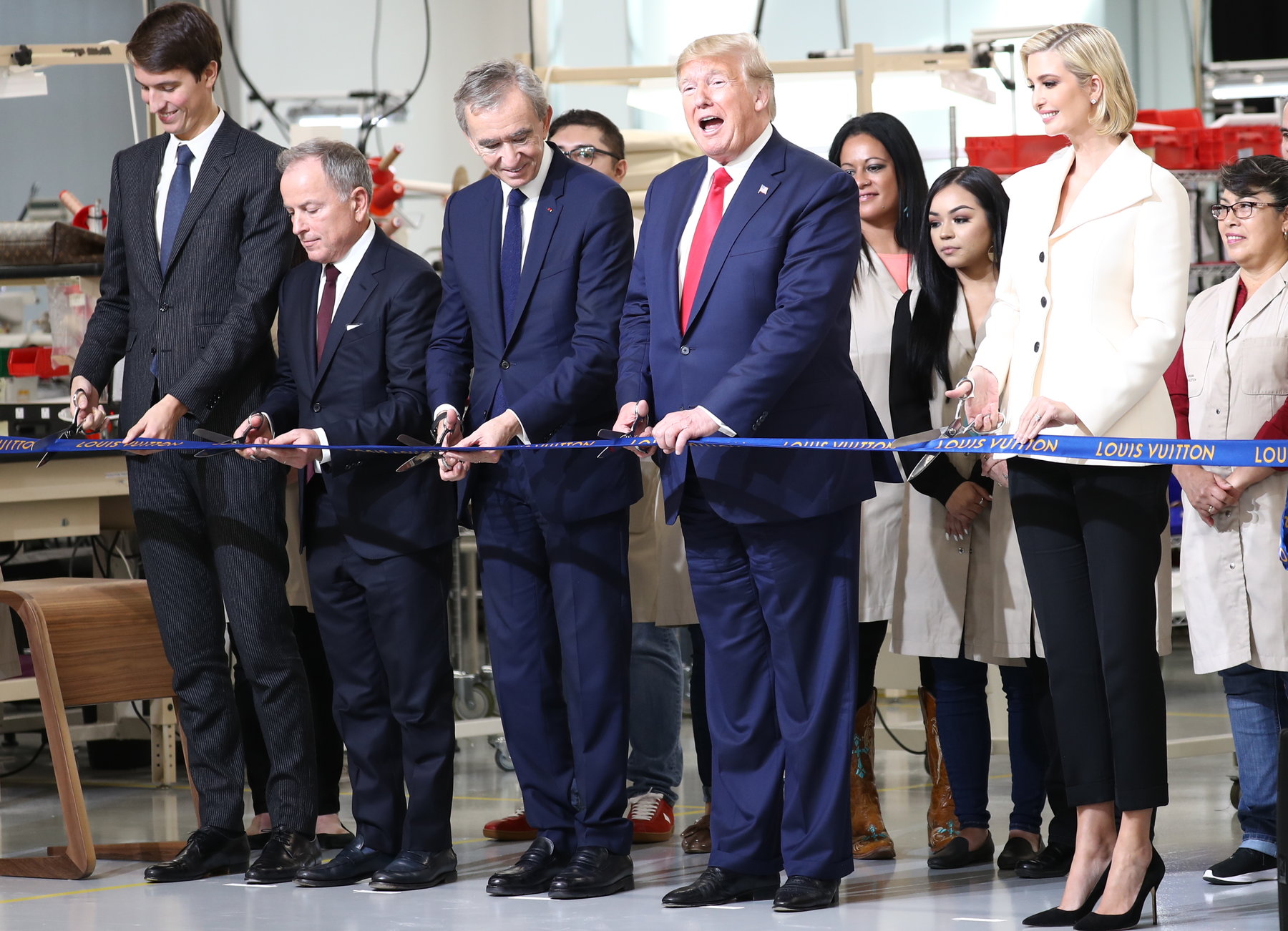 Arnault and Trump at the opening of the Louis Vuitton Rochambeau Ranch in Texas
The Washington Post commented on the event as follows:
"The ribbon-cutting was jarring in its utter nonchalance, in its unflinching fealty to corporate normalcy during these most abnormal times. Can there be neutral ground when the players are a president who has made women in general, along with immigrants and members of the LGBTQ community, feel as though they are under siege, and a billionaire mogul who reaps tremendous profits from those very people?"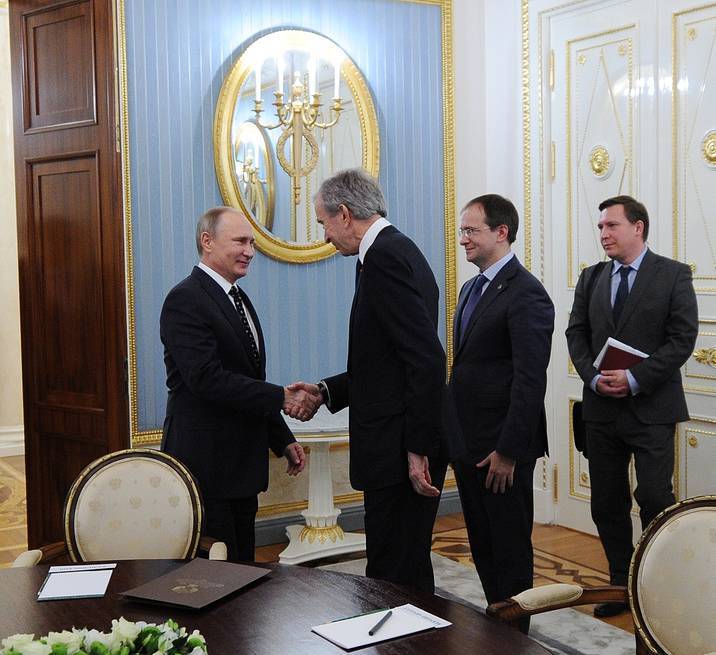 The Lord of Luxury meets the Czar of the Kremlin (November 2016)
So what's he up to when he's not wining and dining with the POTUS in New York or Washington or Texas?
Well sometimes the Lord of Luxury can be spotted over in the Kremlin enjoying a "flute" (of champagne) with Vlad the Pute, the Czar of the Kremlin — preferably Dom Pérignon of course.
There are no reports so far of any LVMH factories opening in Russia, but by all accounts the LVMH Foundation is heavily engaged on the artistic front in its efforts to cultivate the "close and unbreakable cultural relations between France and Russia".
In between cutting business deals and supporting the cause of international culture relations, Bernard is very much occupied with tax and inheritance planning as befits a wealthy oligarch.
Back in 2012, when François Hollande was rumoured to be planning new taxes on the ultra-rich, the Lord of Luxury transferred his multi-billion Euro fortune out of France to a Belgian foundation and it was reported that he was seeking Belgian citizenship. However he didn't meet the strictly applied three year residency requirement and so in the end he withdrew his application.
When news of Arnault's plans to go into "tax exile" broke in 2012, the left-leaning Rothschild-financed daily Libération, poked fun at him with a front-page headline that screamed "Get Lost, you Rich Jerk".
This was a jeu de mots alluding to an infamous outburst by former president Nicolas Sarkozy, one of Arnault's political buddies. Back in 2008, Sarkozy insulted a farmer who refused to shake his hand at an agricultural show with the dismissive retort "Casse-toi, pauvre con!" ("Get lost, you poor jerk").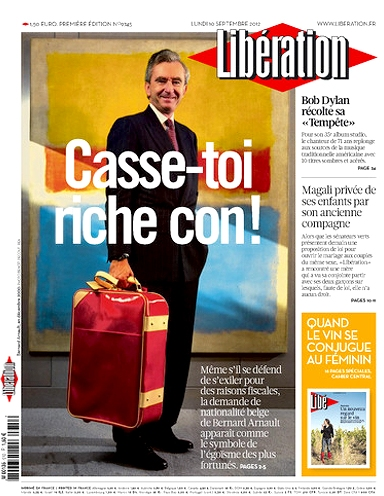 Libération poked fun at the would-be multi-millionaire tax exile with a word-play on Sarkozy's infamous insult to a French farmer in 2008.
Arnault reacted in the typically humourless and litigious fashion of French oligarchs by lawyering-up and trying to sue Libération for alleged "public insult".
Libération responded to Arnault's attempt to SLAPP it down with another cheeky front page headline: "Bernard, if you come back all will be forgiven!"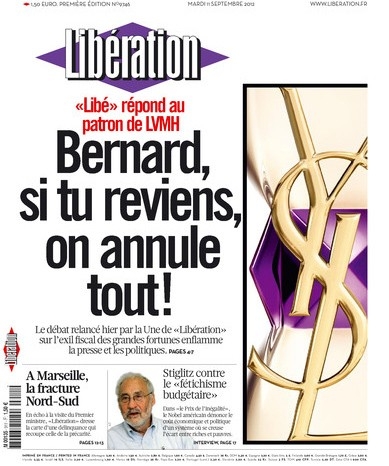 Libération chill-out response to Arnault's attempt to SLAPP it down:
"Bernard, if you come back all will be forgiven!"
In the next and final part of the series we will look how the "DSK boys" made a comeback under Emmanuel Macron.
Stay tuned for this tale of political derring-do featuring a "rutting chimpanzee", a rogue bodyguard and a happy ending with yet another revolving door, this time between the Elysée Palace of the French President and the upper echelons of LVMH. █
Permalink
Send this to a friend