08.15.20
Gemini version available ♊︎
Summary: Reminder that figosdev is a real person and if anonymity is a problem to some people, then maybe the real (underlying) issue one has is the message, not the messenger
THE previous article by figosdev struck a nerve because over a decade ago I became aware that I too was likely under very personal surveillance. This was mentioned in passing a few time over the years. Last night Ariadne suggested that we move to a datacentre somewhere in Europe; she is working on a similar migration herself. We might also be moving away from x86 and into ARM servers. Yesterday she said she had "signed the contract for new colo" with ARM.
Why does this matter?
"Site maintenance is a big overhead for us."Quite frankly, it's improbable that we're under no surveillance (either state or corporate) because of some of the articles we publish. Tomorrow we plan to experiment with containerising the site, one piece at a time, then adding SSL/TLS to everything. It's a slow process because, as we explained here earlier this month, a lot of testing must follow. We have over 28,000 blog posts along with many multimedia files and documents. We moreover have custom-made software for IRC, for Daily Links and various other operations that evolve over time. Site maintenance is a big overhead for us. It's not like running some Blogspot (Google) blog with ~100 posts (mostly text, not many links).
A week ago figosdev told me that he sensed he was likely under surveillance. To repeat my editorial comment from his post, I've seen similar things before (somebody else) and have solid reasons to believe I too was targeted; the presumed spy admitted to know Mark Kennedy, shown at the top of the aforementioned article, and later admitted to me that he had been infiltrating groups. That was "The Met" (London and sometimes beyond). It's a whole family of cops. Of course I might be wrong and maybe it was all just a coincidence, but I confronted the person to get some answers and confessions (like personally knowing Mark Kennedy).
"Having followed Wikileaks closely since the site was very young, I generally know typical tricks employed/attempted against whistle-blowing sites."I know where figosdev is based, but I do not know his name or even his age. His work, which has been around the Internet for quite some time, is all I need to know about figosdev. The vast majority of EPO sources I also don't know (not name, not even gender) and what matters is the substance of the leaks. That's usually enough to indicate benign intentions, no foul play or entrapment. Having followed Wikileaks closely since the site was very young, I generally know typical tricks employed/attempted against whistle-blowing sites. The only people with full access to everything in our site I've known for about a decade and a half. The degree of trust is very high. Almost like kinship (including Christmas gifts and cards).
I've seen a number of people personally attacking figosdev while expressing frustration because they know too little about him; as if they cannot respond based on facts, so they're desperately pursing ad hominem angles instead (people still do this to me). figosdev's style is very different from mine and his temper is also rather different. Two days ago he sent me this meme: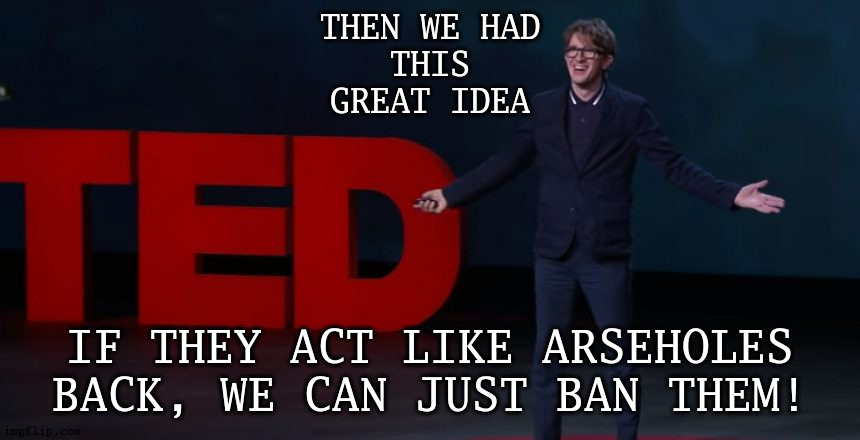 That's figosdev in a nutshell — a lot more blunt than yours truly. But I don't oppose strong language; in fact I never alter his strong words (even the "F" word) when he sends me articles to publish. Free speech means no censorship and resistance to censorship means willingness to listen also to what's less comfortable/agreeable. Sometimes to even give that a platform, assuming it's sincerity rather than marketing/PR (indistinguishable from spam and hardly any more noble).
To be clear, I don't think any Code of Conduct is entirely bad and it doesn't sound bad on the surface. It depends on its substance and its motivations. I dread the consequences of what I see in the Linux Foundation and especially the enforcers; just look at them! Do we want companies that attack poor charities in charge of a project as important as Linux, with the power to blacklist developers based on something like politically-correct language or political views?
"If it bothers some people that they can't put an actual name on him (only his dev name, which is a consistent pseudonym alluding to the Fig OS project), that says more about those people than it says about figosdev."The Linux Foundation is totally happy to lie for Facebook, as it did over the past few days in exchange for payments to the Linux Foundation (basically spam for money), but at the same time it bans and reprimands people for having perfectly legal views that those Linux Foundation sponsors (de facto spammers) dislike.
The bottom line is, figosdev is a genuine individual, legitimate critic, real character and technical person. Sometimes he and I speak about personal matters. If it bothers some people that they can't put an actual name on him (only his dev name, which is a consistent pseudonym alluding to the Fig OS project), that says more about those people than it says about figosdev. █
Permalink
Send this to a friend