09.24.21
Gemini version available ♊︎
Video download link | md5sum 947bdc12bc6c62024fd91ec991e4791b
Summary: There's no sign of the EPO actually trying to obey the law and correct the mistakes of the past; to make matters worse, the existing administration adds yet more corruption to an already-massive pile while dismissing any form of oversight
THE EPO reaffirms its conceited attitude by refusing to acknowledge that it broke the law, even when international tribunals unequivocally state so. We should not be too shocked that António Campinos is covering up for Benoît Battistelli, who basically set up a job for him and his friends from Alicante (millions of euros per year). What else can be expected from a family that crashes cars while drunk and then invokes "immunity"?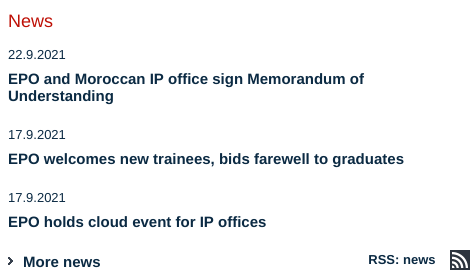 Today is Friday, so we can expect some more shallow pieces like the ones shown on the left (including cover-up of privacy abuses using buzzwords like "clown computing").
As I've noted in the video (which was not scripted in any way), the EPO loves using COVID-19 for PR stunts, even though the EPO has done nothing about it except increase the price of vaccination (a price hike which is definitely a negative thing that harms the public interest). Earlier this week, as we noted in Daily Links, the EPO issued yet more patent monopolies on cancer [1, 2] and in past years we already explained the ethical implications.
"In short, the media is totally failing to do its job; not only does it not inform the public but it actively misinforms everyone on those important issues."I'm sad to say and was saddened to discover that major political parties in Europe are falling for the propaganda of the EPO and sometimes Team UPC as well. The liars invest a lot in control of the media and publicity stunts (now it's Slovenia). We'll say more about this in weeks to come. In short, the media is totally failing to do its job; not only does it not inform the public but it actively misinforms everyone on those important issues. █
Permalink
Send this to a friend