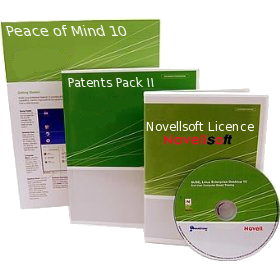 Summary: Surviving Novell's ordeals based on the lessons supplied by PCLinuxOS and MariaDB
E
ARLIER this year we suggested once again that OpenSUSE should become an independent project not subjected to Novell's rule.
Novell's sale
appears to be imminent
(Novell-oriented sites
do take note
), so now is a good time for OpenSUSE community members and developers who are paid by Novell to look for contingencies. Would Novell's new owner/suitor be interested in investing in OpenSUSE? We are not talking about SLE*, which is predominantly closed through restrictions imposed by Novell (we named them before).
Andrew Wafaa from the OpenSUSE community continues his long series about this community [
1
,
2
], ending his ramble as follows:
So getting back on track(ish) how many of you guys and gals use SLE professionally? It could be either SLES or SLED. If you do use a SLE product do you partake in the openSUSE community professionally or is it purely part of your undying love for the Geeko? If you don't is there a particular reason why not, anything blocking you joining in, or do you just choose not to? If you do participate as part of your job, what issues do you encounter, what could be improved etc?
We reckon that not many people in OpenSUSE would buy SLE* because they already know what they are doing and they can use OpenSUSE as a server operating system (with short-term support).
"Novell is still creating its own kernel, which one reader of ours suspects is hard for competitors to access (for licensing reasons)."We have already mentioned SP1 of SLE* 11, just the other day in fact (here is the press release and copies). Based on this report, Novell is still creating its own kernel, which one reader of ours suspects is hard for competitors to access (for licensing reasons).

The VAR Guy is uploading promotional Novell videos about this latest service pack as he has a special relationship with Novell and some Novell partners synchronise their announcements so as to increase Novell's "SP1" hype (Novell and its allies are still uploading videos).


LINBIT and Novell offer Enterprise clients a stable base for their businesses by delivering well-tested, enterprise-grade Open Source solution stacks. SUSE Linux Enterprise 11 contains a complete and stable cluster stack, based on Pacemaker, which is now better than ever.
Watch
what's new in SP1
: [also published
here
]
Novell has introduced a significant update for its Suse Linux Enteprise 11 software, Service Pack 1, which includes the integration of components for Microsoft's Hyper-V hypervisor.
Microsoft support, eh? Proprietary software.
SUSE is still
prominent in Europe
, especially
in Germany where it comes from
:
BMW is using the Xen para virtualisation tool in SuSE Linux Enterprise Server to run test and development production systems. The company has deployed Xen to replace its ageing PA-Risc, Sun Sparc and IBM Power 4/5 Unix server hardware with industry-standard PC servers.
Fortunately, if Novell collapses and SUSE goes under, BMW can do what the Kuwait Ministry of Electricity & Water did [
1
,
2
,
3
,
4
]. It can move quite swiftly to another GNU/Linux distribution. If OpenSUSE makes a Novell-independent fork/branch available, that might help SUSE stay relevant in this game of Free software evolution (where any weak player perishes sooner or later).
⬆