Netrunner 2 (Codenamed "Blacklight") is Released - Ubuntu Without Mono
Dr. Roy Schestowitz

2010-06-29 14:51:41 UTC
Modified: 2010-06-29 16:06:36 UTC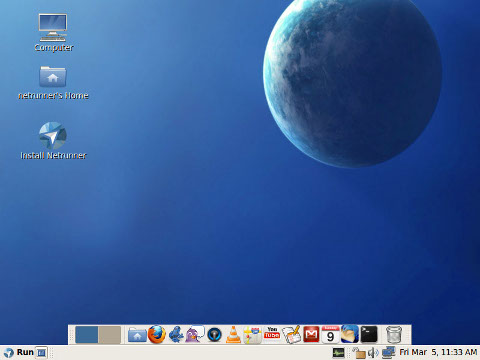 The first release of Netrunner
Summary: A Ubuntu-based GNU/Linux distribution which excludes Mono reaches its second release
N
etrunner submits: "
just dropping a line to say we released the second version of Netrunner. From our website
:
Netrunner 2 is re-based from Gnome to KDE! Yet it still aims to be fully Ubuntu/GTK+/Gnome-compatible! Netrunner 2: Blacklight features well-known Gnome-apps like nautilus, synaptic and more out-of-the-box: * Firefox 3.6.3 * installed web browser plugins (Java, Flash) * OpenOffice Software Suite 3.2 * VLC media player with codecs * Thunderbird email client * WINE 1.42 * GIMP paint program * audacious (winamp-like music player) * Pidgin * vuze (filesharing program) * and even more All that on top of a well-tuned and easily customizable KDE 4.4 Desktop Environment!
"And of course we still ditched mono completely and installed a lot of software instead," remarked the lead developer.
⬆
Update
: Here is
a screenshot of the new version (Netrunner 2)