Campaigner for Hire Blames IBM for Air Crash
Dr. Roy Schestowitz

2010-08-21 14:09:50 UTC
Modified: 2010-08-21 14:09:50 UTC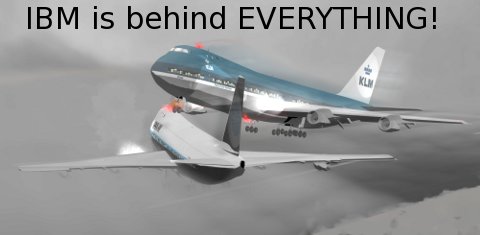 Summary: Without any supportive evidence, Florian Müller blames IBM for the Spanair crash, though not without a challenge
MICROSOFT apologist (presumably for a living) Florian Müller continues his endless campaign against IBM -- a campaign which even the FFII is publicly denouncing him for. As André Rebentisch puts it, "I am stunned, a top-competition lawyer like Thomas Vinje (who usually restrains himself) claims you worked for Microsoft Corporation in the Oracle case. You don't refute it. I guess SAP pulled more strings behind the scenes in this case and Monty didn't just pretend to be mad about the sale. But when Vinje says so the Commission does believe the same." Read on, it's worth it.
It has gone too far. Müller is even bringing up World War 2 to serve his cause when he loses the argument over IBM (trying to describe Microsoft is the "lesser evil").
If that's not bad enough, last night we spotted Müller sinking to new lows, trying to ascribe a tragic plane crash to IBM's position in the mainframe market. "Shocking," Müller states, "mainframe trojan may have contributed to fatal Spanair crash that killed 154 people"
Steven J. Vaughan-Nichols (SJVN) immediately responded to him by saying: "I don't see the word 'mainframe' anywhere in the story or its links. What's described sounds more like a Windows PC."
Now watch Müller grasping at straws by saying: "I quoted ZDNet. El País: "el ordenador central de la compañía Spanair" = Spanair's central computer. Airlines typically use mainframes"
"I suspect a Windows PC used as a mainframe gateway"
--Steven J. Vaughan-NicholsSJVN says: "Could be. But, it was the 'monitor' computer that was infected with Trojans. I suspect a Windows PC used as a mainframe gateway"

The Müller spin machine does not give up yet. "The mainframe was supposed to raise the alarm => theoretically a frontend can also raise an alarm but usually it's the central system," he writes.

SJVN says: "In any case, the system was updated over 24-hours later. Seems more of a policy than a system problem"

Müller's spin machine is now contracting itself and never retracting the original accusation (Müller is a longtime Windows user). He says: "Security is always a matter of policy as well: failure to install security patches, bad password choices. I didn't say mainframe bug."

He said "mainframe trojan". What a weak spinner. It was probably a Windows Trojan (if anything), but campaigner-for-hire Müller does not let the burden of proof stand in his way. ⬆